One reason I became interested in financial independence was that I wanted to travel more.
I want to live a life full of travel and adventure. I want to see and appreciate the beauty in the world. I want to climb mountains and see beautiful architecture. I want to gaze at the northern lights, watch the sunset behind the horizon, and see the milky way in the darkest of places.
And… I don't want to be restricted to 15 vacation days each year.
Many years ago, Corey and I set a goal of traveling to 100 countries before we got too old to travel. This love for travel started in high school for each of us. We went on volunteer trips in high school. Corey went to Brazil, and I went to Ecuador.
In college, between the two of us, we spent months in Mexico, Ecuador, Costa Rica, El Salvador, and Nicaragua. We even had the opportunity to spend about 3 weeks in the Galapagos Islands together one summer.
Working full-time put a damper on our travel goals. At first, we didn't make enough money to travel. Then, we got into a routine of traveling internationally for 1-2 weeks every 2-3 years.
We started to think, "How will we ever travel to 100 countries if we only get 3-4 weeks of vacation each year?"
So, we started to pursue FI. If we retired early, we could travel as much as we wanted.
As we learned more about financial freedom, we started to realize that pursuing FIRE was not the only option.
Financial independence is not all or nothing. There were other options, besides early retirement, to become location-independent.
What is Location Independence?
Location independence means that someone's professional life doesn't tie them to a particular location.
If you aren't tied to a particular location, this means that you could work from anywhere with an internet connection (if you need one for your work).
To be clear, location independence is not the same thing as a digital nomad. A digital nomad is location-independent. But, becoming location independent does not mean you must be a digital nomad.
Just like financial independence, there are many different flavors of location independence. Let's explore the different options.
Option 1: Digital Nomad
Being a digital nomad is one option when you are location-independent. Being a digital nomad means that you travel full-time and do not maintain a home base.
Because your work does not tie you to a particular location and your work is online, you can work wherever there is an internet connection.
There are so many options for digital nomads. You could:
Travel domestically or internationally by planes, trains, and automobiles.
Slow travel and stay in one place for a significant amount of time (typically at least a month).
Live out of an RV or campervan as you travel your country or continent. In rare cases, I've even seen people ship their RVs or campervans to other countries!
Option 2: Become a "Snow Bird" (or Take Advantage of a Seasonal Living Arrangement)
I love Boston, but it gets cold and dark here in the winter. And, we're not even that far north! Depending on where you live, you may decide to choose a seasonal living arrangement.
Examples include people who choose to:
Escape the cold weather and snow during the winter. Alternatively, someone who loves skiing might choose to live somewhere snowy during the winter.
Escape super hot and muggy weather in the summer.
There are many different options for people who decide to take advantage of seasonal living arrangements. They might:
Maintain two homes (one in each location). They might even rent out their houses during the time they aren't there.
Maintain one home and rent another in a location of their choice for a season.
Travel in an RV staying in a variety of different places or in an RV park they go back to again and again.
Option 3: Maintain a Home-Base and Travel Frequently
You may want to travel frequently but don't want to give up your home base. This is a great option. People can choose to maintain their home (and rent it out if they want) and travel frequently if they are location-independent.
Depending on their preferences, they can choose to take short or long trips. These trips can be domestic or international. People can choose to stay in hotels, Airbnb, or their own RV. They can choose to work along the way or take time off for the experience.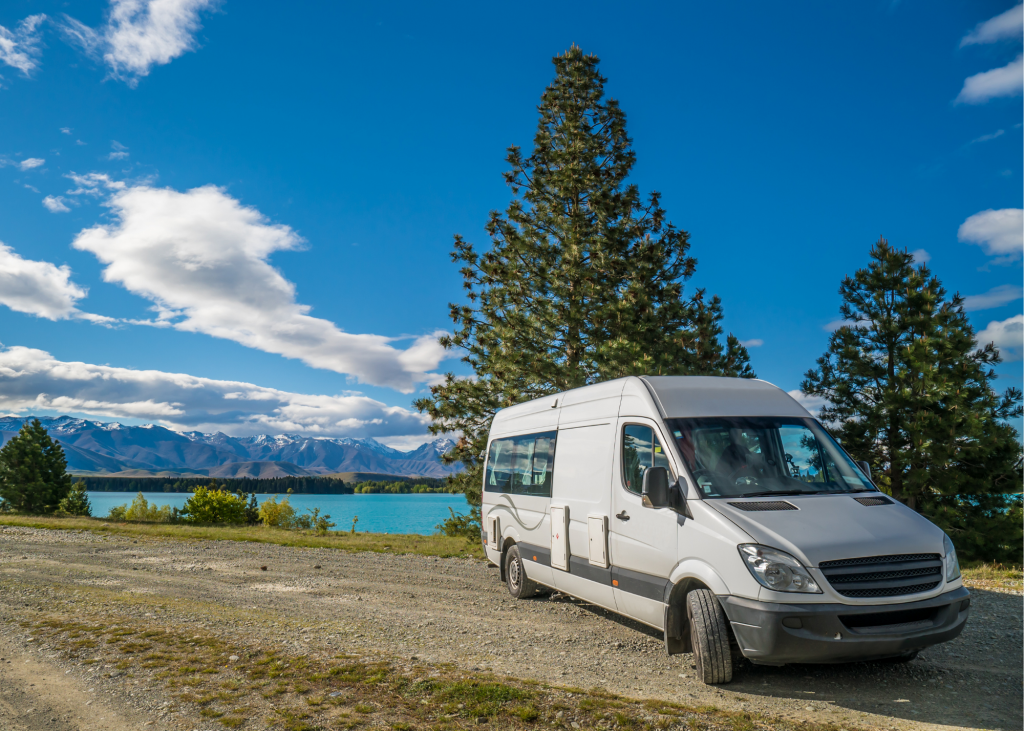 When we are fully location-independent, this is the option that we are most excited about. We love our home in Boston and have a strong community here. We love to travel. And, we know there's something special about coming home after a long trip and sleeping in your own bed and making food in a full kitchen.
Option 4: Short-Term Location Independence
Some people don't want to live a location-independent lifestyle for their entire life. Yet, they might choose to take a period of time (a few months to a few years) to travel.
After this, they don't mind being tied to a particular location.
Ways to be Location-Independent Without Retiring Early
I used to believe that I needed to retire early to be location independent. Now I know that there are many ways to achieve location independence without retiring early.
My thought process went something like this:
I want to be location independent, so I need to retire early.
Wait… are there other lifestyle options that would allow me to be location independent earlier? Even if I still need to generate income?
I started to hear stories about people who were designing their lives long before reaching FI, and I started to believe it was possible.
Here are the ways to be location-independent before reaching FI:
Fully Remote Work
Working seasonally or on contract for a part of each year
Becoming a self-employed freelancer or contractor
Start your own business that you can run online
Take a mini-retirement or sabbatical.
Below, I'll be exploring each option and sharing examples of people doing each of them.
Find a Fully Remote Job
The first (and easiest) option to be location independent is to find a fully remote job. Within the last few years, there are now more jobs than ever that are remote. You might need to search for a new job that's remote. Or, you might even be able to negotiate remote work with your current employer.
In 2019, when we went to Panama, we met a woman who works remotely as a CPA. She lives in the USA but has family in South America. She told us that she spends the spring and summer in the United States. During the fall and winter, she travels around Central and South America. She can work from anywhere there's an internet connection and explores wherever she's living on weekends.
A past participant in Design a Life You Love decided that her goal was to find a fully remote job so that she could explore a digital nomad lifestyle. As of this year, she's successfully found a flexible, remote job. When her lease is up this fall, she's going to embark on some experiments living in a few different locations as a digital nomad.
Work Seasonally for Part of the Year
If you've reached Coast FI and beyond, you might have the ability to work for part of the year and travel the rest.
When I first met Michelle (from Frugality and Freedom) this is exactly what she was doing. She worked in administration for arts festivals and organizations. She'd take a contract gig that would last anywhere between 2-6 months.
During the contracts, she'd make enough money to cover her actual expenses during the year. This would allow her to travel for the rest of the time and allow her investment portfolio to continue growing in the background.
You might also be able to find a job that's seasonal that you can come back to year after year. In a recent Slow FI interview, Natalie shared how she works 4 months/year in a seasonal tax business. This allows her to take 7-8 months off each year. She says it feels like she gets to take a mini-retirement every year!
Become a Self-Employed Freelancer or Contractor
There are so many examples of people who became location independent after becoming a freelancer or contractor. When you do freelance or contract work, the employer has very little say about how you do your work. The vast majority of the time, you can choose to work remotely.
A few years ago, Kevin decided to transition to part-time contract work. This allowed him to travel in an RV full-time and follow his fiance who was working contracts in medical facilities around the US.
Kim decided to do part-time contracts in engineering after her daughter was born. This allows her to take time off whenever she wants to and take extended trips to visit friends and family. If she needs to work, she simply needs to pull out her laptop and do a few hours of work.
A few years ago, Lauren quit her job and put together some freelance marketing work for a few different clients. This allowed her and her husband to travel and visit all 61 US National parks.
Start a Business that Doesn't Tie You to a Particular Location
Another way to become location independent is to start a business. You can sell products or services that don't require you to be in a particular location. You could even choose to sell physical products. You'd simply need to use a fulfillment center (or hire someone) to ship them out for you.
Examples of location-independent businesses include:
Content creation (blogs, podcasts, YouTube channels, books)
An eCommerce Store (Shopify, Etsy, Amazon FBA, etc.)
Create digital products (courses, ebooks, templates, workshops, applications, etc.)
Provide coaching services about a topic you have expertise
Providing services like graphic design, video editing, marketing/branding services, accounting, bookkeeping, tax preparation, photography, etc.
Investing in rental properties and hiring a property manager to oversee them in your absence
This is the path that we've chosen to help us become location independent long before reaching FI. I currently create content (through this blog), have a variety of digital products (like my online course, the 10-Day Intentional Living Challenge), and provide lifestyle design group coaching programs.
Take a Mini-Retirement or Sabbatical
To be location independent for a defined period of time, one great option is to take a mini-retirement or sabbatical from work.
Here are a few examples of people who have done this:
I hope you now see that you don't have to wait until you reach full financial independence or early retirement to become location independent. There are so many options for us to do this along our path to FI.
What We Will Do With Location Independence
We aren't yet location independent, but we are working toward this lifestyle. Because we've reached coast FI, we only need to cover our actual costs of living. Our goal is to build up a location-independent business that will allow us to cover our expenses and continue to save a little (~20%). We are hoping that Corey can join me as an entrepreneur within the next year and a half.
We don't plan to become digital nomads. We love our home and community in Boston, and this is not something that we want to give up. Because of this, we're planning to take the approach of maintaining a home base while doing frequent travel.
Once we are fully location-independent, I envision us traveling for 1-3 (or even 6) months at a time (depending on where we go. We want to travel slowly so that we can have a robust experience in each location and be able to work part-time along the way.
But, we aren't waiting until we are fully location independent to explore these dreams. In 2021, we bought a campervan that's currently being converted into a tiny home on wheels.
By pooling Corey's vacation time, we are planning to take a three-week-long road trip to Maritime Canada this summer. This will help us learn how we like to travel and the number of activities we want to plan on any given day or week. We do not plan to work on this trip though. It will be a true vacation.
We are also hoping to experiment with some working road trips over the next year. Depending on how much Corey can still work remotely, we will figure out what's possible. All we would need is an internet connection to work while we travel.
Are you interested in location independence? What would you do if you were location-independent?