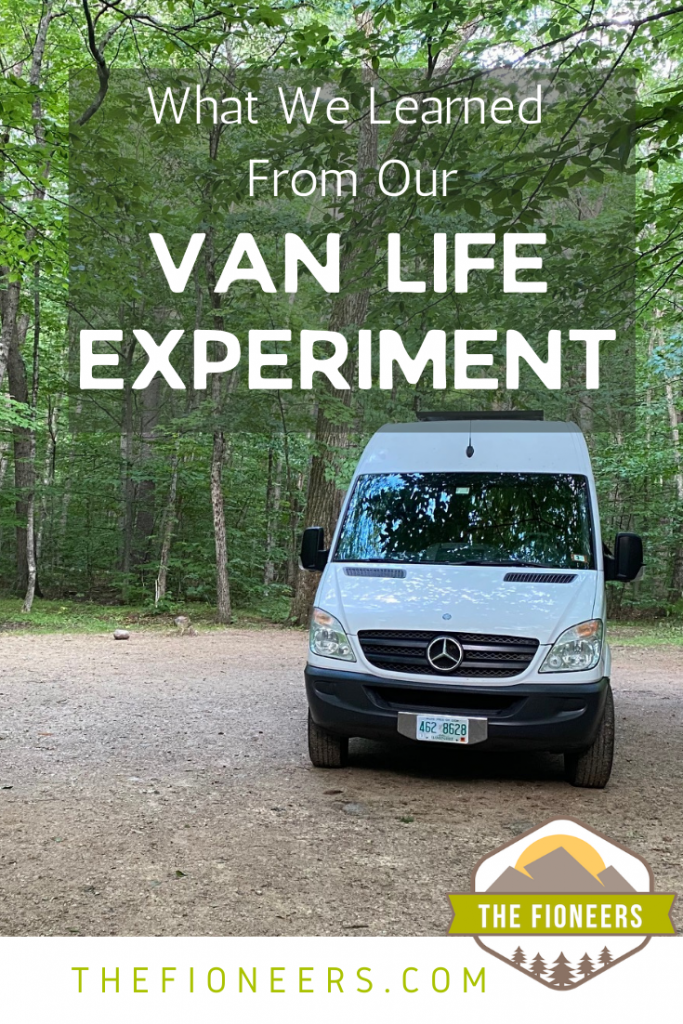 ​We recently got back from a 10-day trip where we traveled around Maine and New Hampshire in a campervan. It was amazing!
The purpose of this trip was two-fold.
First, we love to travel and explore new places. Back in late 2020 when we were planning the trip, we were confident that we could make it happen even if COVID wasn't in retreat.
Second, we also love camping. We have been exploring the possibility of traveling around the country in an RV of some sort. We suspected we might be interested in something smaller, like a campervan.
But, we knew we'd want to test it out before deciding if we wanted to invest in buying (or building) our own.
So, we were treating this trip as an experiment for van life. Besides having tons of fun on the trip, we had some hypotheses to test and questions to answer. This would help us to know if we wanted to do more of this in the future.
Experimentation is an Important Part of Designing Your Life
When you think of experiments, you probably think of high school chemistry class. We had the goggles, the chemicals, and the inevitable explosions. That's is a lab experiment.
Experimentation is actually much broader.
Here's the actual definition of experiment: To try out a new concept or way of doing things, to make a discovery, or to test a hypothesis.
You don't need to be in a lab to run an experiment. You can simply try something new. You can ask a new question or create a new hypothesis and figure out the answer through conversation or experience.
When designing your life, experimentation is important for so many reasons:
Human beings are terrible at predicting what will make us happy! Experimentation allows us to test things to make sure we enjoy them before going "all in."
When we take small steps toward our goals, we build confidence to take the next larger step. When we experiment, our goals feel less like a big, scary leap and more like the next, logical step toward our goals.
Experimentation helps us to cultivate a growth mindset. Because the focus is on learning, an experiment is successful if we learn something valuable. Success is not measured in the conventional sense. We can learn by taking action without taking the results of the experiment as a personal success or failure.
Trying things out can help us answer questions we have about something.
Experimentation allows us to reflect and adjust our course based on what we learn.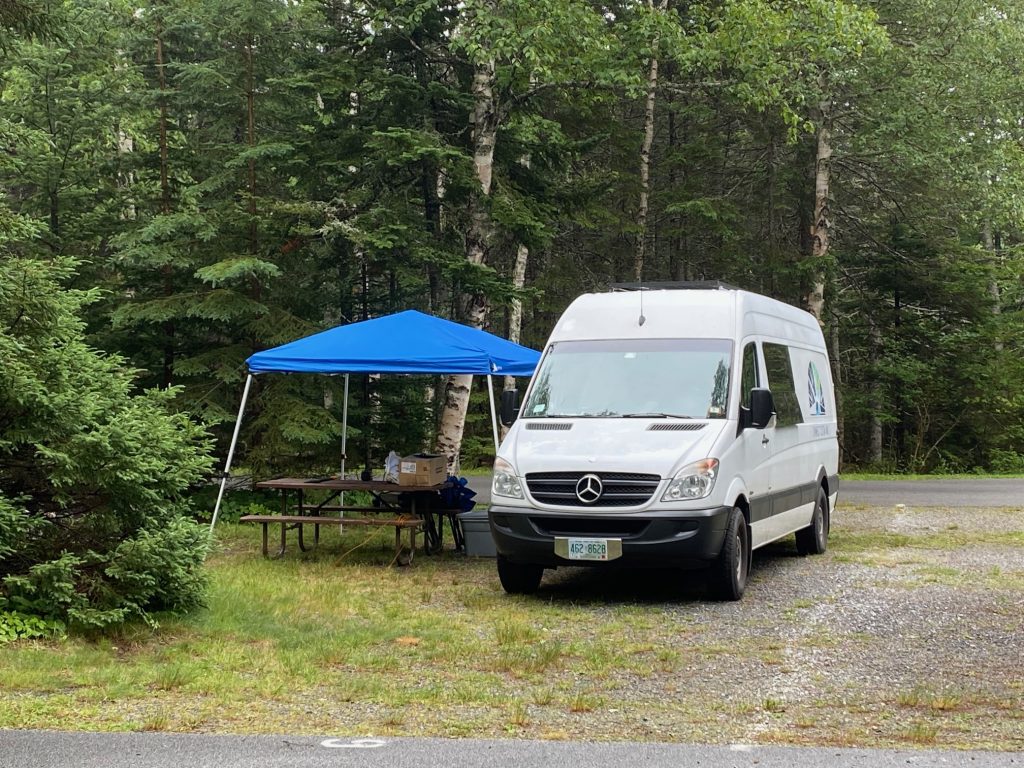 For us, testing out van life was very important for so many reasons.
We suspected we would enjoy it. But, we needed to experiment to make sure we weren't predicting poorly what would make us happy.
Taking a 10-day trip makes us so much more confident that we would be able to figure everything out for a 30-day trip.
Even if there were aspects of our trip we didn't love, we were able to treat it as an experiment, asking, "how might we do this differently?" Even with the ups and downs, the trip felt "successful."
We had a lot of questions about van life that we wanted to learn more about. We watched so many YouTube videos. But, until we had the experience ourselves, we wouldn't know what would work for us.
Experiments Help us Answer Questions about our Future Plans
No matter what your own future goals are, I encourage you to think through the questions you have about those goals. This will allow you to design experiments that will help you to answer the questions.
Experiments can help us answer questions like:
What resources (money, skills, connections, etc.) are needed to do this? How can I build those resources?
If I worked toward this goal, what would it look and feel like day-to-day? Does this align with what's most important to me?
Will it provide me with enough ___________? (Fill in the blank with whatever's important to you, such as free time, connection, alone time, the ability to focus on my health, family/friend time, etc.)
Will I actually enjoy it?
(For something work-related): Is there a way to make money doing this? How?
Other specific questions related to the particular experiment.
Our Questions about Van Life
So, let's talk about this using our van life experiment as an example. We had many questions and hypotheses that we wanted to test.
Here are some of the questions we hoped to answer during the trip:
Would traveling in a campervan solve some of the challenges we have with tent camping? Some of the challenges we hoped would be alleviated included: spending lots of time/effort to set-up/pack-up a campsite, having an uncomfortable sleeping arrangement, and needing to walk to the bathroom in the middle of the night.
Would there be enough space? We were worried that it would feel really tight and that we wouldn't have enough storage space.
Would we actually enjoy it? Would it be a good way to explore and see things? Or would it feel big and bulky?
If we did decide to build out our own van, what would we want? What size van would we want? What are our must-have features?
Do we want to get our own van? If so, when?
As you consider your own goals, I'd encourage you to come up with a list of questions that you have. This will help guide the experiments that you do.
Design Your Experiments
Once you have your list of questions, you can begin to design experiments. One question I ask my coaching clients is, "How many ways can you think of to answer this question?" You don't have to do all of them, but brainstorming a lot of ideas helps.
3 Types of Lifestyle Design Experiments
As you think through the potential experiment ideas, it's helpful to know that there are 3 main types of experiments:
Conversations with people who are already doing the thing (or a component of the thing) you are interested in exploring.
Observation of someone doing something similar to what you might want to do yourself.
Test it Out Yourself. Shrink the dream to something that would feel similar that you can try out in a few days, weeks, or months. This way you can learn more and gain confidence.
A quick side note – I loved this episode of the Rebel Entrepreneur podcast about running mini-experiments. While the episode focuses on how to run mini-experiments with business ideas, the concepts can apply to experiments of all types.
It's easy to see how doing these 3 types of experiments will help us:
Know if we'll enjoy something
Build confidence as we take each step
Learn a lot about what we want
Answer the questions we have
Our Experiments to Answer Questions about Van Life
The 10-day trip we took to New Hampshire and Maine was simply one experiment amongst many.
We did experiments in all categories:
Conversations: We connected with a few people we know who have campervans. We also connected with people who have traveled for long periods of time in other types of RVs. Since returning from the trip, we've spoken with a van-builder about our ideas and what he could do for us.
Observation: We have probably watched every van-build and van-tour video on YouTube to get a sense of how people have set up their vans to support their lifestyle. We also follow a lot of "vanlifers" on Instagram to see what their day-to-day life looks like.
Test it out: We rented the campervan for our 10-day trip around Maine and New Hampshire to answer the questions we couldn't answer in any other way. We also considered doing another rental next summer (more on that below).
Generating Insights from Your Experiments
When you do an experiment, it's important to take time to reflect on the experience. This allows you to generate insights about what you want to do next.
There are two main ways to generate insights from experiments.
First, it's important to pay attention to how we feel during the experiment.
What feelings and emotions come up while doing the experiment?
Did I feel energized or drained?
Was I engaged in the experience? Or did I feel bored?
Do I actually like it? Or do I feel like I should like it?
Second, both during and after the experiment, it's important to reflect on the following things:
What you learned about your questions or hypotheses
How it was different from what you expected (in either a good or bad way)
Limiting beliefs that arose that you want to work through
Questions you still have
The action you want to take next
What We Learned from our Van Life Experiment (So Far)
Over the course of the trip and in the recent weeks since we've returned, we've done a ton of reflection about the trip and what we want to do next.
I'm excited to share what we learned. First, I'll walk through the answers to the questions I outlined above and then share some overall reflections.
Question 1: Did the campervan solve the traditional issues we have with camping?
For most things, yes!
Set-up and tear-down of our campsite were incredibly easy since the vast majority of what we needed was built into the van. We didn't need to set up tents, pull out sleeping bags, set up our camp stove, etc. All this stayed in the van. All we needed to do was get out our camp chairs, hammocks, tablecloth, and our grill.
Sleeping in a van allowed us to sleep on an actual mattress – not a 1-2 inch thick camping mat. It was a lot more comfortable for sleeping (even though the bed in the van we rented was quite small).
The kitchen in the van was a good size. We were able to store all our food away in cabinets and drawers. The fridge was quite small, so we needed to store a lot of the produce in a cooler that we put in the "garage" (i.e. the storage space under the bed).
Lastly, having a compost toilet in the van was fantastic. This might be TMI, but I know that people are always curious about the facilities in these types of situations. When there were facilities (up to our standards) in the campgrounds, we'd use those. The compost toilet was great for when the facilities were not up to our standards and if we needed to pee in the middle of the night.
Question 2: Would there be enough space?
Even though the campervan we rented wasn't optimized well for storage space, there was still so much storage. We were able to fit everything we brought from home and had room to spare both in the van and in the "garage."
Besides the bed being quite small, everything felt quite spacious. We had a few days of rain on the trip, and we spent those full days in the van reading and playing board games. There was plenty of room. We also appreciated having the seating area right next to the sliding door. This made it feel even more open, and we got a lot of natural light.
The biggest thing we'd change would be to put a larger bed in our future van. Instead of an (almost) full-size bed. We'd want to go with an (almost) queen-size bed.
Question 3: Would we actually enjoy traveling this way?
We found that we loved traveling this way, even more than we expected to. It was so relaxing to travel around in the van.
We never felt like we were rushed. Getting in the van after an activity felt so different from getting into a car. When we get into a car, we always feel like we need to immediately go somewhere.
With the van, we could finish up an activity and simply go back to the van in the parking lot. We could relax, eat lunch, and then decide what we wanted to do next. We didn't need to find another place to go. We didn't need to go back to the campground. We had the feeling of home wherever we were.
This was especially great because of my mobility issues. You may know that I've dealt with chronic foot pain from a nerve in my foot for the last few years. Whenever I'm on vacation (or even out for a full day), I get stressed about figuring out when I'll be able to take a break and sit down, so that I don't overdo it. Because of this, I usually plan activities for only part of the day to make sure we have downtime.
Traveling in a van did not require me to reserve half of each day for downtime. We were able to do an activity, relax in the van, and move onto the next thing. There was no need to stop adventuring and head back to the campground for half of the day.
Question 4: If we decide to build out our own van, what would we want?
There are many things that we appreciated about the van we rented. There are also many things that we'd do differently. There are three main things we focused on here: size, layout, amenities.
Size
The van that we rented was a Mercedes Sprinter van with a 170-inch wheelbase, so it was about 23 feet long.
We felt like the van was a good size, but it might be bigger than we'd want or need. Even though the van wasn't optimized well for storage, we had more space than we needed.
It was also comfortable to drive. But, if we didn't need all the space, it could be worth having a smaller vehicle to be able to get around more easily.
Depending on the amenities we decide for our own van, we'll likely go with a van that is a few feet shorter.
Layout
The biggest debate when building a van is whether you decide to have a fixed bed or a bed that converts into a table and seating area.
Here's an example of a fixed bed.
The reason that one would choose a convertible bed is that it provides you with a lot more usable living space. With a fixed bed, you lose about 25% of the cubic feet in the van to the garage space. Since you don't need another seating area in the van, it provides more space for other things.
Here's an example of bed converts into a table and seating area.
There are many downsides to this type of set-up:
The bed is less comfortable because it's made out of the cushions used for the table set-up.
You have to set up and tear down your bed every day. This includes removing and storing sheets and blankets and setting the table back up.
If someone is sleeping and the other person would like to get up, the only place they have to sit is in the cab in either the driver or passenger seat.
You have a lot less storage because you lose almost the entire garage space. The garage typically houses the battery bank, fresh water tank, and all outdoor gear. While you are able to put the battery bank and water tank under the benches, you lose out on the storage in the garage space.
We appreciated having a fixed bed that allowed for a garage space. Ultimately, we're lazy. The main challenge we wanted to mitigate from tent camping was needing to set up and tear down camp. If we had to set up and tear down our bed every day, we'd be really annoyed. Plus, comfort is a priority for us.
Amenities
There were many amenities in the campervan rental that we'd want to keep for the future, including:
Having a seating area inside that allowed us to eat and play games indoors together.
Kitchen amenities like a sink, cooktop, fridge, kitchen cabinets for storage, etc.
Compost toilet, fan, bug screen (so we could keep the side door open without worrying about bugs getting in), storage drawer below the bed and seats, etc.
Here's what we would do differently:
Get a queen-sized bed. For two people and a dog, that would be a lot more comfortable. We'd also lower the bed a bit so that we'd have more space above our heads.
Better optimize the van for storage. We'd add upper cabinets which would allow us to have a similar amount of storage in a smaller space.
Add a shower. We struggling to find showers in certain places throughout our trip. When we did find them, they were coin-operated. Having a shower would allow us to shower for free whenever we wanted to. There are also ways to have a shower take up minimal space in a van. For example, we're exploring the option of building a shower pan in a pull-out drawer with a 360-degree curtain that would connect to the ceiling.
Get a larger fridge. Hopefully, this would help us not need to store as much food in a cooler and store it in the garage.
The Van Life Experiment Was a Success. Here's what We're Doing Now.
The experiment was a success! I don't say this simply because it was successful in the conventional sense (i.e. we had a ton of fun). We also had an opportunity to reflect on our experience and answer our questions.
Here are the things that we are currently doing as a result of this experiment:
Research and narrow down the choice of vans: After doing some research on quality and cost, watching Youtube, and seeing different vans in person, we've decided that we will likely choose a van that's smaller than the one we rented.
Determine our ideal van layout: We've narrowed down the different amenities that we want in the van and started mapping out our ideal layout
Determine if we'd hire someone or if we'd build it ourselves: We're leaning toward having someone build out the van for us. Since Corey is still working, building out our own van would probably feel like a second job. We met with a van-builder last week to learn more about the cost and timeline.
Determine the timeline for the van build: Originally, we were thinking that we'd do another van life experiment next summer and consider building out our own van in 2-3 years. But, we loved the trip so much that we're confident that we will want our own. Instead of spending thousands of dollars on a rental, we're thinking that we may want to build out the van within the next 6-8 months. This will allow us to take our planned month-long trip next summer in our own van.
Determine the budget for the build: We've priced out the cost of the van. We roughly know what the build costs would be for both the materials and labor. To pay cash, we would need to start diverting the money we currently (automatically) have going to our taxable investments. This would allow us to cover the costs of the vanbuild, and ensure we have a full year of expenses in our emergency fund.
We are so excited about the prospect of building out our own campervan! We've had so much fun with this experiment, learning about van life, and planning out exactly what we want. We'll be sure to keep you updated on the status! 
If you want to try out van life, we'd encourage you to check out Outdoorsy! It's like Airbnb for RVs, so you can experiment with van or RV life before jumping in.