I grew up in a middle-class family with hard-working parents. Neither of my parents graduated from college with a four-year degree. Since my parents did not come from money, they worked hard to provide for the family and made the most of what they earned.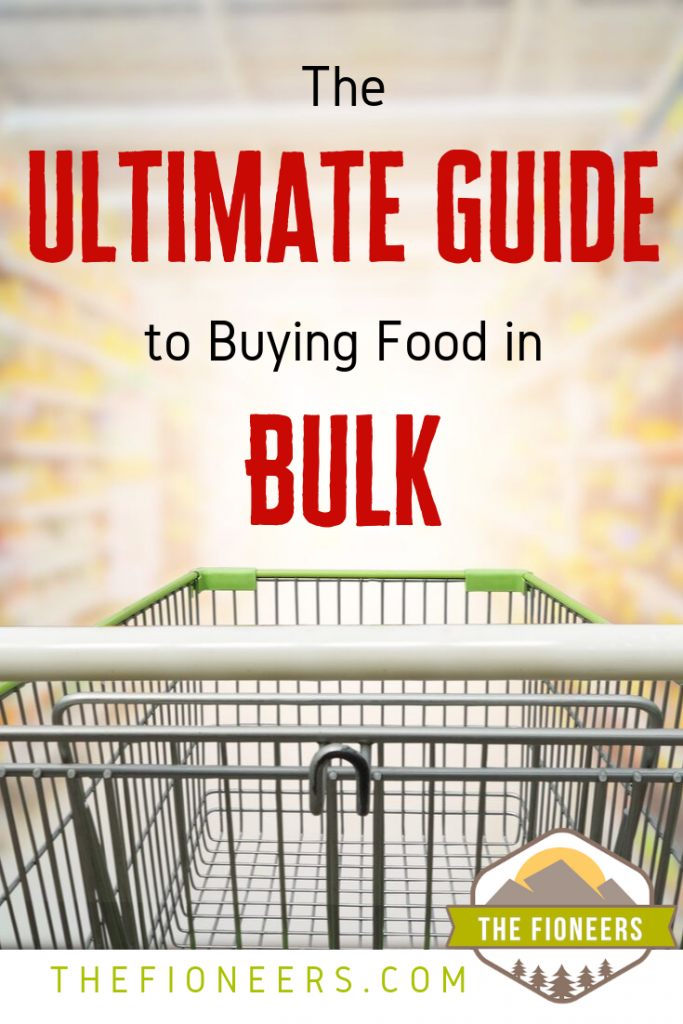 This often meant strategizing on how to spend less on everyday activities. But they were strategic in how they spent their time. My parents were never the ones who committed time to clipping coupons. Instead, they spent time buying items in bulk to save money.
Growing up, my family lived in Costco, a popular wholesaler. As a child, I would spend my weekends at baseball practice, hanging out with friends, and on a family trip to Costco. I learned quite a bit about buying food in bulk from my childhood and I lived off of $1.50 hot dogs from Costco. To this day, I still struggle to resist those hot dogs.
Because it's what I've always known, it was not until recently that I came to appreciate the value of buying food in bulk. Over the past year, I've learned that buying food in bulk is not as popular as I once thought. There are many who claim that it's not worth the time or make up other excuses to avoid it altogether.
This is surprising to me. Buying food in bulk is an essential part of optimizing our life. Buying the majority of our groceries in this way allows us to save money on food and does not require much time or energy. I find that it actually saves us time, so it's a win-win. 
To help explain why this is such an important part of our journey and how to do it (because there are ways to do it incorrectly), I've decided to create this guide to buying food in bulk.
This guide will answer the two main questions around buying food in bulk:
Why should I buy food in bulk?
How do I buy food in bulk?
Why Should You Buy Food in Bulk?
There are many reasons to consider buying your groceries in bulk. I want to focus on four main reasons that keep us committed to this strategy.
1. Buying Food in Bulk Saves You Money
The primary reason that buying food in bulk is worth it is the cost savings. This isn't a hypothetical situation. This is a fact.
Jess and I save approximately $2,050 per year. I estimated this by comparing prices between Costco and Amazon Fresh for 44 of our most popular food items.
Just from buying food in bulk. Buying groceries in bulk is quite simple and straightforward. We do apply some advanced strategies (more on that later), but this is not complicated.
Top 28 Food Items that Save Us the Most Money
To help illustrate how we save money in the most simple manner, I've provided a table of the items that save us at least $25/year or more.
| Item | Annual Savings |
| --- | --- |
| Frozen Blueberries | $210.32 |
| Ground turkey | $208.30 |
| Tomatoes | $175.11 |
| GF Bread | $142.83 |
| Frozen Pizza | $129.24 |
| Almond Milk | $110.70 |
| Onions | $94.65 |
| Peppers | $78.60 |
| Bread | $62.14 |
| Shredded Mozarrella Cheese | $59.88 |
| White rice | $59.83 |
| Peanut Butter | $54.00 |
| Walnuts | $46.44 |
| Granola | $46.19 |
| Frozen Mango | $42.36 |
| Kielbasa | $42.22 |
| Shredded Mexican Cheese | $39.88 |
| Salsa | $39.14 |
| BBQ Sauce | $36.46 |
| Cheerios | $32.87 |
| Cheddar Block | $30.00 |
| Brussel Sprouts | $29.76 |
| Beef Ribeye Steak | $29.75 |
| Spinach | $28.80 |
| Canned Tuna | $28.77 |
| Maple Syrup | $27.2 |
| Chicken Thighs (boneless, skinless) | $25.96 |
| Almonds | $25.44 |
Please note that these estimates are based on per unit savings and the frequency that we purchase those items, so this will vary from family to family based on different eating habits.
Economics of Buying in Bulk from Wholesalers
In case you think this is a scam, it's not. This is a different business model.
Wholesale stores like Costco, BJ's, and Sam's Club are able to sell items at prices with a lower price per unit. Explaining the full business model of wholesalers is beyond the scope of this article.
It is worth highlighting a few reasons why these businesses are able to sell at a lower cost per unit, including:
A mandatory paid membership to shop at the store. This provides an incentive to visit the store more often (to take advantage of your paid membership). It also provides the store with some revenue that is not dependent on sales or margins.
Selling more volume (especially volume per storefront or square footage)
Minimizing expenses by building warehouses with concrete floors
Decreasing labor expenses by not shelving products and keeping items on pallets
2. Fewer Trips to the Stores Save You Time
Besides saving money, buying in bulk also saves you time. Jess and I go to Costco about once per month. This saves us a lot of time even with a farther distance to the store.
We also have it down to a science at this point. We know exactly which items we prefer to buy, so we don't waste time wandering around.
It is hard to compete with online shopping in regards to the time spent shopping. It takes us more time to drive to the store and buy food than it would if we were to buy all our food online. But it doesn't have to be an either-or. We decide to use both, and the time spent shopping at Costco is more than worth it for us.
On average, we collectively spend about 4 total hours per month buying food in bulk, including the driving time and unloading the car. Based on our estimate above of how much money we save per year, that equates to an hourly rate of $42.71.
3. Buying in Bulk is Takes Less Mental Energy
Shopping for food in bulk takes less mental energy. It simplifies the shopping experience as well as the meal planning process.
This is how we use to do our meal planning:
Identify which recipes that they would like to make this week
Create a list of ingredients for all these recipes
Compare that to the food that they have in their house
Create a shopping list for anything that they do not have
When you buy food in bulk, you reverse this order. You start with something completely different:
Identify the core ingredients or food items with which to make meals
Buy these items in bulk and keep them in stock. (Don't waste any mental energy on steps 1 or 2)
Identify what you would like to make using a mixture of core ingredients that you already have
Buy odds and ends for any special recipes from your local grocery store
You have fewer ingredients to worry about. As a result, you spend less mental energy on grocery shopping and meal planning.
4. Buying Food in Bulk is Good for the Environment
Last, but not least, buying the majority of our food in bulk also reduces the amount of waste.
Buying bulk food means that you are using fewer items to either recycle or throw away. For example, we could buy a smaller plastic bottle of ketchup each month at our local grocery store.
Instead, we are using a larger plastic bottle of ketchup that lasts several months. Not only is it less material to recycle, but it's also more efficient to produce and package.
How to Buy Food in Bulk
You may think that buying items in bulk is pretty straight-forward, but not all items are worth buying. You have to know:
Where to shop
How both to assess a deal
Which techniques to apply to make it efficient and effective
Where to Shop: Costco vs Sam's Club vs BJ's
The first decision that you have to make is at which wholesaler you would like to shop. There are three big names that many people recognize.
This includes Costco, Sam's Club (a subsidiary of Walmart), and BJ's.
I've compared the three companies in the table below:
| Feature | Costco | Sam's Club | BJ's |
| --- | --- | --- | --- |
| Membership Option 1 Fee | $60 | $45 | $55 |
| Membership Option 2 Fee | $120 | $100 | $110 |
| Membership Option 2 Rebate | 2% | 2% | 2% |
| 2nd Card included? | Y | Y | Y |
| Featured Credit Card | Y | Y | N? |
| Gas Available | Y | Y | Y |
| Shopping Hours | M-F: 10AM-8:30PM; Sat-Sun 10AM-6PM | M-F 10AM-8:30PM; Sat: 9AM-8:30PM; Sun 10AM-6PM | M-Sat 9AM-10PM; Sun 9AM-8PM |
| Online Shopping | Y | Y | Y |
| Pharmacy | Y | Y | Y |
| Optical | Y | Y | Y |
| Tire/Auto | Y | Y | Y |
| Travel | Y | N; Suspended 1/1/2017 | Y |
| Return Policy | Anytime; limitations on electronics & major appliances | Anytime; limitations on electronics and specialty items | <1 Year; Severe limitations on electronics and other items |
| Other member services (i.e. | Y | Y; Auto buying, accounting, payroll, online marketing, etc. | Y; auto buying, home improvement, home/auto insurance, etc. |
| # of Stores Nationwide | ~740 | ~660 | ~210 |
| Annual Sales (2018) | $142B | $59B | $12.8B |
| Summary: | Most expensive membership rates, great return policy, most extensive member services | Cheapest membership rates, no travel services | Better shopping hours, poor return policy and limited additional services |
As you can see, all three have many features in common. They all have very similar hours, similar membership fees, rebates, and departments (optical, pharmacy, tires, etc.). The main items that are different are:
Return policy – Costco and Sam's Club have a much better return policy than BJ's
Travel – While this may not be a critical item, Costco and BJ's offers travel benefits. Sam's Club suspended theirs in 2017.
The number of stores/distance to stores: Costco has the most stores nationwide with ~740. Sam's Club is second with ~660. BJ's doesn't even come close with 210.
Sales: Costco is by far the largest of the three with $142B in sales in 2018.
Costco edges out its competitors based on three reasons: its return policy, the benefits that it offers its members, and the number of stores.
You should do your own homework, paying close attention to store locations near you. Proximity to the store can sway the balance in a large way, at least as it relates to life optimization (both time and money).
For example, when I search for stores near me for all three wholesalers, I'm able to determine:
Costco is the closest of the three at 5.8 miles from my house
BJ's is next closest at 6.3 miles
The closest Sam's Club store is 32 miles away
It's important to note that Costco does NOT compensate me for my opinion here. As with all the opinions expressed on The Fioneers, they are genuine opinions of the authors. We refuse to accept any compensation to adjust our opinions.
How to Find a Good Deal on Food
If you teach a person to fish…
Learning how to assess a good deal is the most fundamental skill when it comes to buying items in bulk. While we save a lot of money by buying food in bulk, we also skip over items.
Not all products sold at Costco (or at any wholesaler) are a good deal.
The most important part of assessing a good deal is to look at the unit cost. The actual unit will vary depending on the type of food item. This may include a pound, quart, ounce, or some other increment if the product is not sold by weight.
It's quite easy to calculate the unit price. Divide the sale price by the number of units in the item that you are purchasing.
For example, if a 4-pound bag of frozen organic pineapples costs $9.69, the unit price would be $2.42 per pound.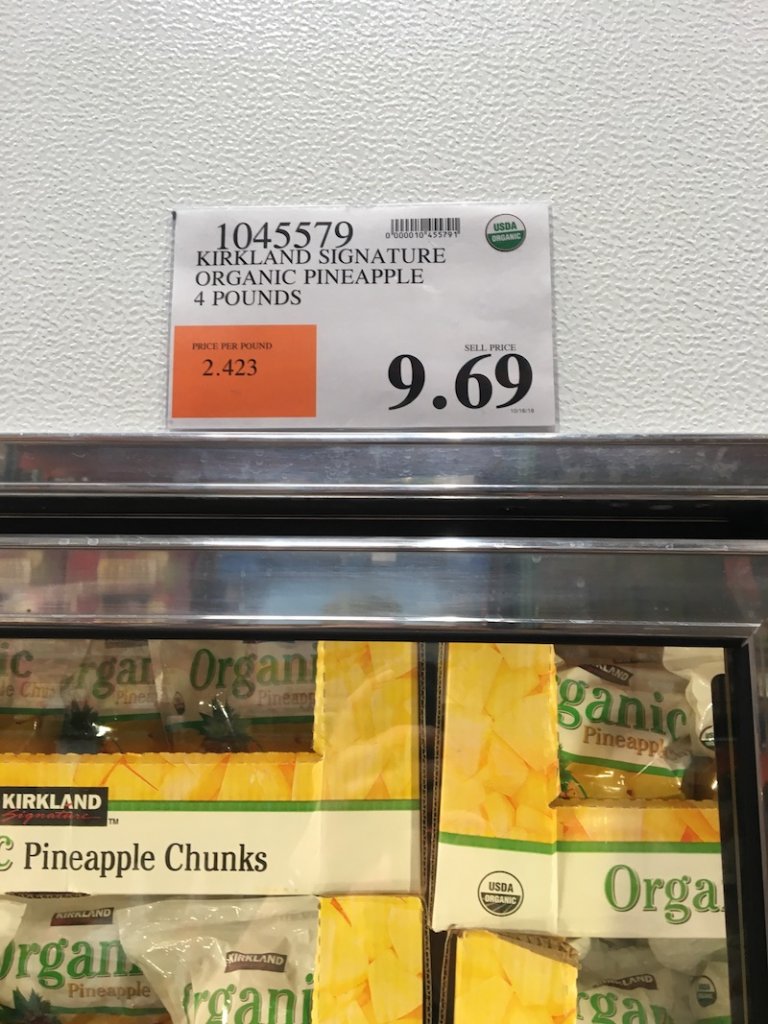 Wholesalers understand this value so they make it easier on you. They will often include the unit price on the sticker price, as you can see in the picture above.
To determine if this is a good price for the item, you then have to compare this to an alternative store. I prefer to compare it to Amazon Fresh, which is what we use for our supplemental groceries.
Using the Amazon app, I can pull up frozen organic pineapple. The first item that I see listed is $3.32 for a 12 oz (or ¾ of a pound), which is $4.43 per pound.
As you can see, the frozen pineapple from Costco is a much better price, at almost half of the unit cost from Amazon.
If you have smoothies every day for breakfast (as we do), it would be safe to assume that you'd go through at least 1 bag of pineapple per month. By making this one decision to buy frozen pineapples at Costco, you've already saved $24.12 per year.
And that's one random item from our shopping list.
That's it. Pretty straight forward, and simple.
The best part is that you don't have to do this comparison every time. Once you know something is a good deal, you can add it to your list of regular items. We'll talk more about this in our next section.
Expert Tips for Buying Food in Bulk
Now that you have the fundamentals down, it's time to talk through my tips for buying food in bulk. This list will help you balance both saving money while also making it as easy as possible.
1. Don't buy food that will go bad before you eat it
The first question (after comparing prices) that you need to ask yourself is if you will eat all this before it goes bad. If it's a frozen item or something that you can freeze to help preserve it, it's less of a concern.
You don't want to buy something because it's a good deal IF you are not going to eat it. For example, pasta sauce costs approximately $0.05 per ounce at Costco compared to $0.07 per ounce at Amazon.
If we don't eat pasta regularly, this sauce won't last and it won't make the small savings worth it.
2. Create a list of items to buy at the wholesaler
You may be thinking that this is a lot of work to do the math for every single item. But that couldn't be farther from the truth.
I only look at the comparisons when there's a new food item that I'm considering purchasing.
Once I vet it, I add it to my digital list of foods to buy at Costco.
To be specific, I prefer to use the "Reminders" app on my iPhone. This allows me to preserve the list of items as well as to use it for our shopping list, by toggling the items as complete or not.
This list becomes the approved items. I don't have to re-evaluate them ever again unless I want to do so.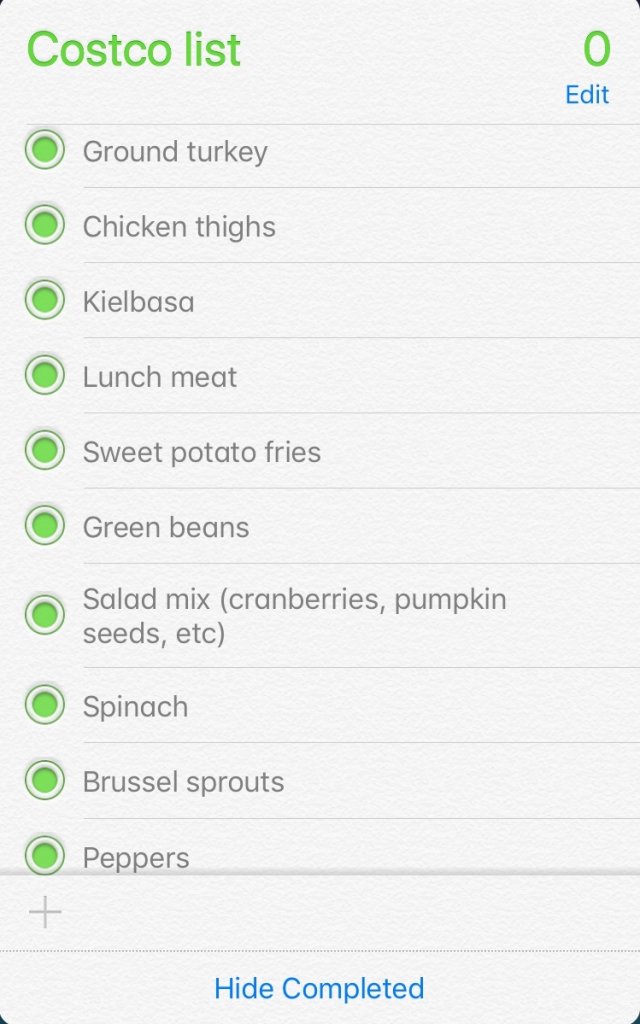 A side benefit of this is that I then have an inventory list that I can review once a month before we make a trip to Costco.
For those readers who don't have an iPhone, Android phones may have a similar list app. Ideally, you would have a couple of core features, including:
Ability to toggle items on/off, or check them off (or mark as complete). This is helpful when you use it as a shopping list. As you put items in your cart, it removes it from your screen.
Ability to see completed/checked off items. When you do remove them from the shopping list, you don't want to lose the list of items that you buy in bulk.
I click "show completed" at the bottom of the screen and it shows me all the items that I've purchased at Costco before. This helps to make sure we don't forget to check the inventory of one particular item.
3. Never run out of the essentials
One of the biggest mistakes you can make is to forget to buy something. We used to do this before creating such an efficient shopping list/inventory system.
Buying a full shopping cart full of food can do this to you. Forgetting one of your essentials, like meat or frozen food, will force you to buy the item from your local grocery store at a premium.
Don't beat yourself up over this, but try to minimize these occurrences as it eats into your savings.
4. Balance how frequently you visit the wholesaler
Because our Costco store is about 6 miles away from our house (which, believe it or not, is a lot of city driving), we try to limit the trips that we make. The fewer trips that we can make, the less time and money we are spending on travel costs, the more money we can save.
Part of the value of buying in bulk (beyond a lower price per unit) is being able to go a longer time between trips to the store. You are stocking up on a lot of food to last you a while.
You'll need fresh produce between Costco runs, but this approach will allow you to go several weeks if not months between visits.
Our sweet spot is around 4-6 weeks between trips. Find out what works best for you.
5. Buy a Chest Freezer to Store More Food
One of the BEST tips that we have in this article is to buy a chest freezer. This was a game-changer for us.
We like to have smoothies for breakfast almost every day. This requires a large volume of frozen berries, which take up a lot of freezer space.
We bought a 7.0 cubic foot chest freezer from Costco last August for $139.99. That investment has more than paid for itself by allowing us to extend the time between trips to Costco.
The best part is that we store perishable food in the freezer to give us more time to eat food after buying it. Our popular items in the freezer include:
bread
frozen pizza
frozen strawberries
frozen blueberries
meat,
and a few others.
6. Combine Purchases with Credit Card Rewards
While all executive members receive a 2% rebate, it's also smart to use credit card rewards to boost your return. Costco now accepts VISA credit cards at their stores.
Our approach to using credit cards to buy things at Costco follows these guidelines
If we are purchasing a major appliance or electronic device, use the Costco Citi Card. This adds an extended warranty and is worth having an extended warranty. For example, we recently bought a new TV and this extended the standard warranty from 3 to 5 years.
If not that, then we default to the credit card with a sign-up bonus that we are trying to hit.
If neither of the two above, default back to the Costco Citi Card. This gives you 2% back on all purchases from Costco.
We might be able to optimize this approach. But again, our intent is to balance returns with the limited time and energy put into buying in bulk.
Are You Ready to Buy Food in Bulk?
Getting started with buying food in bulk is easy. It does have some barriers to entry and this guide would be incomplete without addressing them. In order to buy food in bulk and take advantage of these strategies:
You must own or have access to a car. This could be as simple as borrowing a friend's car once a month or using a Zipcar if you do not own one.
You should not be living paycheck to paycheck. Buying food in bulk is paying a lot of food upfront for items that you may not eat for 4-8 weeks (some even longer). It's not a lot of money, but you should not be strapped for cash. I recommend having an emergency fund of some sorts before doing this.
You should not live in a tiny home. While it's possible to live in a tiny home and buy food in bulk, I can't recommend it. We don't have a food pantry and we get by. Most of our food fits in our chest freezer, 2-3 kitchen cabinets, and a small overflow in our spare bedroom. It takes space to store this food. You don't need a 1,000 square foot mansion like we have, but you should have storage space.
As I've mentioned, you need approximately 2-3 hours of time per month to make this happen. You might be able to spend less time if you live near a wholesale store, but otherwise, this is a good starting point. If you don't have this much free time (I'm not sure who that would be), then buying food in bulk is not going to be an option.
While purchasing groceries in bulk is not available to everyone, most people in the United States will be able to do this.
It's easy to get started, there are simple guidelines to follow, and best of all – it saves you money.