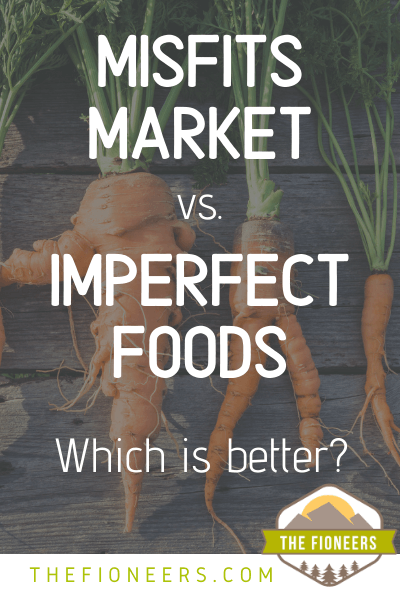 When we first learned about financial independence, we started to analyze our spending. One of the first things that we realized was that we spent way too much on groceries.
I eat gluten-free and have a variety of weird food allergies. We like to eat healthy, fresh foods, which also tend to cost a bit more. I would have assumed that we'd spend a little bit more on groceries than the average.
Through some research, we realized that we spent more money on food than the USDA's guidance for a (liberal spending) family of four.
We have taken steps to improve. We've focused on not wasting food, meal planning based on what we already have, and buying in bulk. We have reduced our food spending quite a bit, but we felt like it was still high.
I wanted to save more money on groceries. I didn't feel like we were getting the appropriate value for the money we were spending.
Someone mentioned that they save money by using a CSA (community-supported agriculture). What this means is that you buy a share in a farm and then you get a big box of produce each week for the summer and fall.
When I was doing research into this, I stumbled across ugly produce delivery services. I found these services appealing for two reasons. First, these services ship the produce directly to your house. CSAs typically require you to pick it up from a central location. The ugly veggie services also provide the option of customizing the size of the box you want and the products inside. CSA shares provide a lot of food, and I wasn't sure that we could use it all.
There are two options for ugly produce where we live: Misfits Market and Imperfect Foods. We decided to try them both, alternating weeks between the two. One week we'd get a Misfits Market box. The next week we'd receive an Imperfect Foods Box.
We originally wrote this review in the fall of 2019 and chose our favorite at that point. In late 2021, we realized that these services have both shifted their products and level of customization. Therefore, we've decided to try out both services again, so I can provide you with an updated review (as of November 2021)
Based on my test of both of these products again in 2021, it's time to again choose which service is better and write a review of both.
What is Ugly Produce Delivery?
In the united states, approximately 40% of our food is wasted. It isn't only consumers who are wasting food. Food is wasted for a variety of reasons and at different points along the supply chain. Farms, distributors, stores, and consumers are all guilty of too much food waste.
For the purposes of this post, let's focus on the beginning of the supply chain – farms. Farms waste food for a variety of reasons:
Hedging against Weather and Disease – Farms will often over-plant because they worry about bad weather or other potential harm to their crops. Because of this, they might have a surplus that there is not a demand for.
Buying Standards – As consumers in the United States, we have unrealistic cosmetic requirements for our produce. In a grocery store, we are likely to buy perfectly looking vegetables. This is problematic because this leads to edible but "ugly" crops being left in the fields or thrown into garbage cans.
Market Conditions – Sometimes the crop's price at the time does not warrant the cost of labor or transportation to bring it to market.
Order Changes – Sometimes a company will make a large order and later cancel their order. This leaves farms scrambling to figure out if they can sell the product.
The National Resource Defence Council makes a number of recommendations to help solve this problem. One of their main recommendations is to "expand secondary markets for items that do not meet the highest cosmetic standards."
This is precisely what companies like Misfits Market and Imperfect Foods are doing. They are the secondary markets. They are buying the produce from farms when there is a surplus or when the produce doesn't meet cosmetic requirements.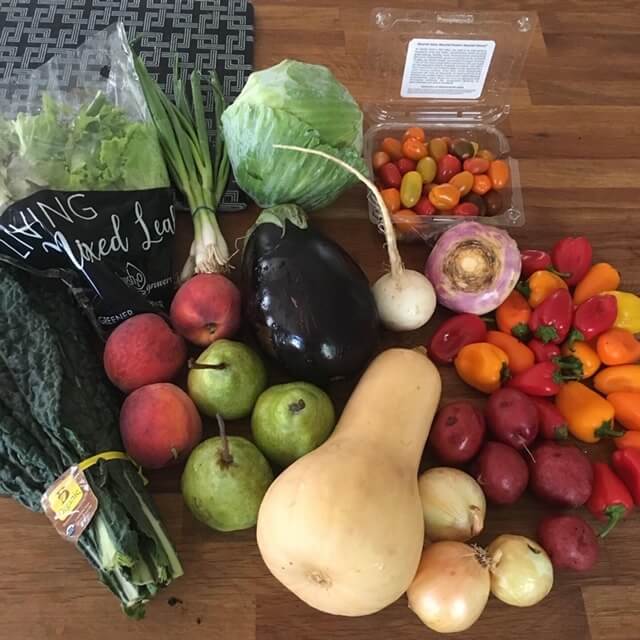 Instead of this produce going to waste, it gets sold at a discount to companies like Misfits Market and Imperfect Foods. These companies then ship the produce from their warehouse directly to customers.
What are the Benefits of using a Secondary Market?
There are many benefits to buying your produce through a company like Misfits Market or Imperfect Foods.
Cost Savings: Produce through these services are less expensive. When I first started using these services, I compared prices with my regular grocery store. The prices are typically 30-50% less, depending on the product.
Time Savings: These companies deliver the produce right to your door. This cuts down on the need for going grocery shopping. This has been particularly helpful during the pandemic.
Healthy Eating: Now that we use these services we eat more fresh fruits and vegetables than we used to. We eat fresh produce with every meal of the day and in between for snacks.
More inventive meals: Since we now plan our meals around the produce that is available, we've been more creative with our meals. We've made many recipes I would have never even considered. These new recipes include spaghetti squash boats, cabbage and sausage skillet, and even a curtido (pickled cabbage to put on tacos).
Good for the environment: Buying produce from these services helps to reduce food waste. These companies have also done due diligence to ensure that food pantries are not receiving fewer donations.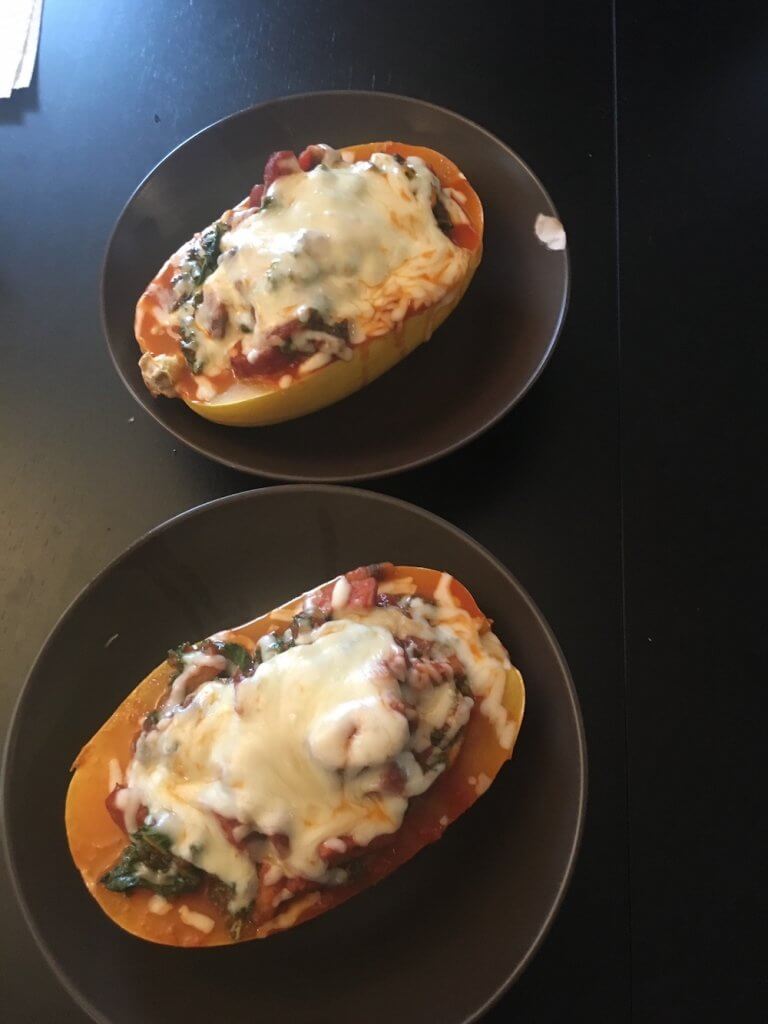 What are the Drawbacks?
If you use one of these services, there are certain drawbacks. You are no longer stopping at the grocery store to get exactly what you want or need.
Limited choices: While I feel like both services have a lot of options, you can only choose from what is currently available. There have been times where we'd love to get cauliflower, pineapple, or cilantro, but those simply aren't available that week.
Limited Delivery Frequency: Sometimes these products are shipped by FedEx, so they can arrive on any delivery day that you choose. Other times, a company might only deliver to your area once/week.
Product Quality is Sometimes Lower: There are occasions where I will receive a product that needs to be eaten within a couple of days. On rare occasions, some products will get smashed in transit.
How do Misfits Market and Imperfect Foods Compare?
Category
Misfits Market
Imperfect Foods
Contents
You choose from an assortment of fruits, vegetables, pantry items, dairy, and meat.
You have the option to choose a box that includes:
-Fruits and Vegetables
-Vegetables Only
-Fruits Only
-Fully Organic

You also have the opportunity to add pantry items, meat (and vegetarian substitutes), dairy (and nondairy substitutes), eggs, and more.
Order Customization
Complete customization (new as of 2021). A few days before each delivery, you have the opportunity to add exactly what you want to your box. You can add any item in any quantity.
Complete customization. A few days before each delivery, you have the opportunity to customize anything. You can choose to add and eliminate items. You can add any item in any quantity.
Organic Produce
Yes, all the produce is organic.
Some produce is organic. Even if you don't choose an all organic box, you have the opportunity to add organic items when you customize.
Price
Misfits Market now charges per item, and you must spend a minimum of $30 for your order. They say that their produce is 40% off grocery store prices, but it really depends on your grocery store.
You choose a box size to start with. There are 4 options:
Small (7-9 lbs) for ~$11-15
Medium (11-14 lbs) for ~$14-18
Large (17-19 lbs) for ~$20-25
XL (23-25 lbs) for ~$25-30

Organic boxes are generally 30-40% more expensive making them comparable to Misfits Market Prices.

Each item is priced individually, so you have transparency about how much each thing costs.
Delivery Schedule
You specify your delivery day - ships via FedEx, LaserShip or another 3rd party.
Imperfect tells you what day/time that they deliver to your area.
Delivery Fee
$4.50
$4.99-$8.99

I've found that they waive the shipping fee if you spend at least $60.
Locations
Delivers to all addresses in 44 states (and Washington DC).
Most places in New England, mid-Atlantic, the midwest, the west coast, the plains states, and Texas.
About Imperfect Foods
Imperfect Foods was started in 2015. While they previously focused on metropolitan areas, they now deliver to most or all zip codes in 31 states. They deliver to metropolitan areas in 12 additional states.
They differentiate themselves by allowing customers to completely customize their boxes. You can choose from 4 different size boxes and organic or conventional. They will add a set of items to your box. During a customization window, you can swap things out and add eggs, dairy, meat, or other pantry items if you'd like.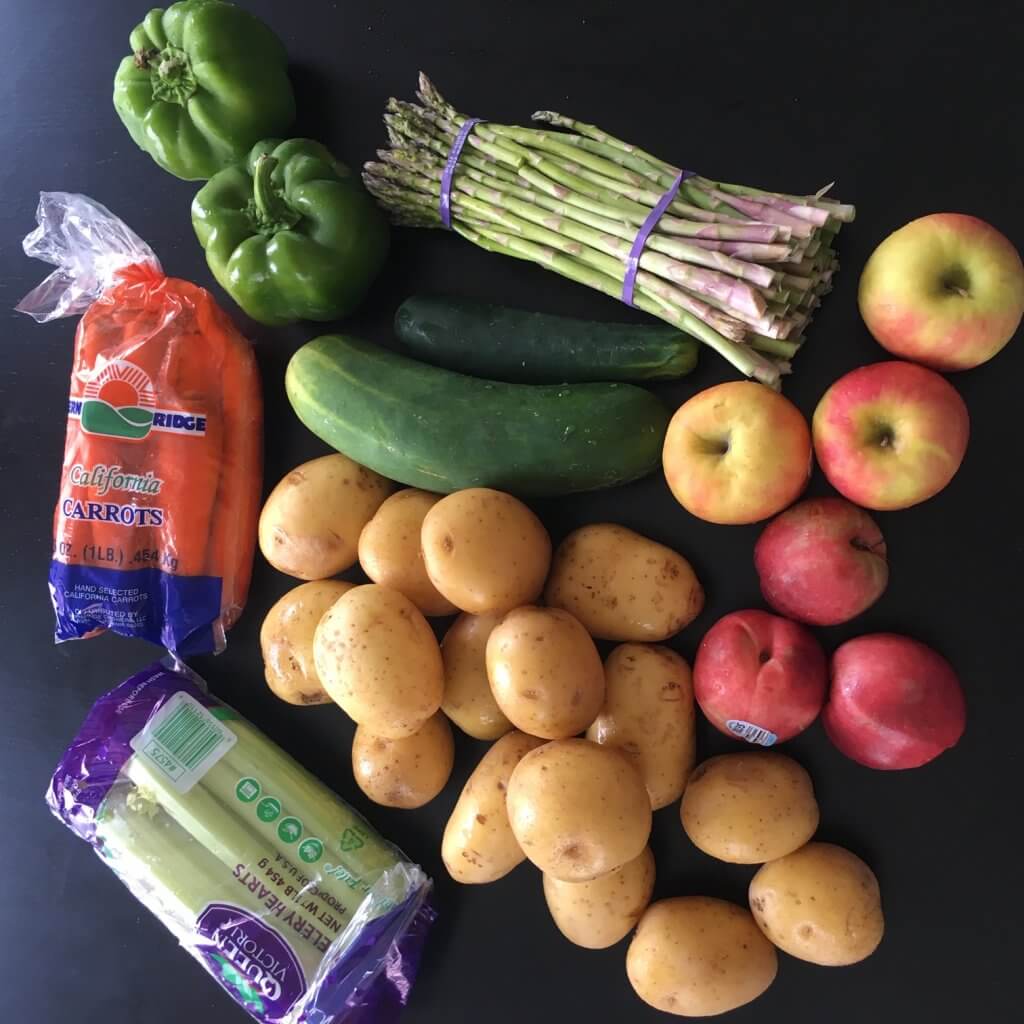 For most areas, Imperfect Foods has its own delivery drivers. Because of this delivery options are limited. For example, they only deliver to my area on Tuesday afternoons.
Click this button to get $20 off your first FOUR Imperfect Foods orders ($80 total discount!).
About Misfits Market
Misfits Market was started in 2018. They are based in Philadelphia and New Jersey.
Misfits Market has made changes in 2021, which allow you to completely customize your box as well. Each week, they will let you know the window of time in which you can choose your items.
Your box gets delivered to your doorstep by FedEx, LaserShip, or another third party.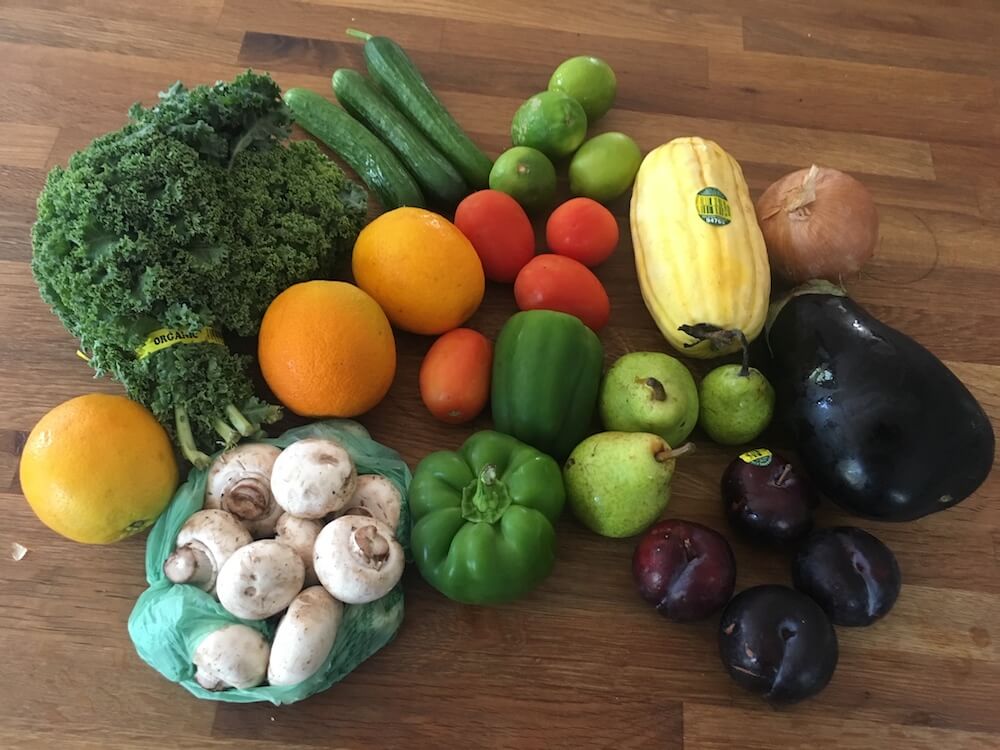 Misfits Market differentiates itself by not only focusing on urban, highly populated areas. They have a list of states where they deliver, and they can deliver to any address within the state.
Use this code to get $10 off your first order: COOKWME-KP3AIX.
How are they similar?
Misfits Market and Imperfect Foods have so many similarities.
Mission: Both companies have a mission to reduce food waste.
Sourcing: They both source the produce that would not sell in stores for a variety of reasons, whether it be surplus or cosmetic requirements.
Selection: Both companies now offer produce, pantry items, dairy, and meat.
Customization: Both companies allow you to customize your entire order based on their available selection, and you do not need to meet a minimum threshold for produce.
Price per Unit: Both companies now allow you see the cost of every item. This allows you to easily compare it to the prices in your local grocery store.
Delivery: Both companies deliver the box right to your doorstep.
Delivery Fee: They both charge a nominal delivery fee.
Referrals: They both offer a referral program. You will get a discount on your next order if a friend signs up.
How are they different?
These companies are different in a few ways. However, Misfits Market has changed its model quite a bit over the past two years, so the companies are now much more similar than different.
Organic vs. Conventional: Misfits Market offers 100% organic produce. Imperfect Foods offers both organic and conventional produce.
Coverage: Misfits Market delivers to all zip codes in the states it covers. Imperfect Foods focuses on many full states as well as highly populated metropolitan areas.
Delivery Schedule: Misfits Market uses a third party for shipping, so you get to choose your delivery day. Since Imperfect Foods has its own delivery services, delivery windows are more limited. For example, they only deliver to my area on Tuesday afternoons.
Best Ugly Produce Service: Misfits Market vs. Imperfect Foods
In 2019, we got both of these services for several months and decided that Imperfect Foods came out as the winner. Since then, we've heard a lot about Misfits Market's customization options. So, in the winter of 2021 (and again in the fall), we tried it again.
We had one key question to answer. Would Misfits Market's new customization allow it to jump ahead of Imperfect Foods in our ranking?
Now is again the time to decide which one we prefer!
Ultimately, your decisions will be based on what you value most (or where you live).
Imperfect Foods used to be the clear winner on almost every metric. However, Misfits Market has made significant changes over the last two years allowing for a lot more customization, transparency about the price per unit, and adding refrigerated items to their list of offerings.
Because all of these things are now comparable between the two companies, my decision comes down to two criteria:
In terms of cost, Imperfect Foods allows me to spend less on produce. While their organic produce is comparably priced, I don't typically eat all organic produce, so Imperfect allows me to keep my grocery budget lower.
On the other hand, Misfits Market's pantry items are often less expensive than Imperfect Foods. Because of this, I typically get all of my produce, meat, and dairy from Imperfect Foods. Then, I will sometimes supplement it with pantry items from Misfits Market.
Now, let's talk about quality. I did test out the produce from Misfits Market again so that I could compare the quality.
Misfits Market has done a lot over the last few years to better ensure quality. In 2019 when I first tried Misfits Market, it seemed like all of the items would get jostled and some would be smashed when they arrived by FedEx. Now, Misfits Market does very meticulous packing. I ordered peaches over the summer, and they packed each individual peach in its own separate box. I was impressed.
Sadly, those meticulously packed peaches never ripened. While Misfits Market has dramatically improved its shipping and delivery process, it still falls behind Imperfect Foods in the quality of its produce.
It's incredibly rare that I receive something I can't eat from Imperfect Foods, but this still happens from Misfits Market on occasion.
While Misfits Market has certainly closed much of the gap between itself and Imperfect Foods, Imperfect Foods still comes out on top as our winner. Click this button to get $20 off your first FOUR Imperfect Foods orders ($80 total discount!).
It's okay if you have different priorities than we do! If you prioritize organic food, Misfits Market could be a great option for you. Or, if you are not in a location where Imperfect Foods delivers, Misfits Market is a great alternative.