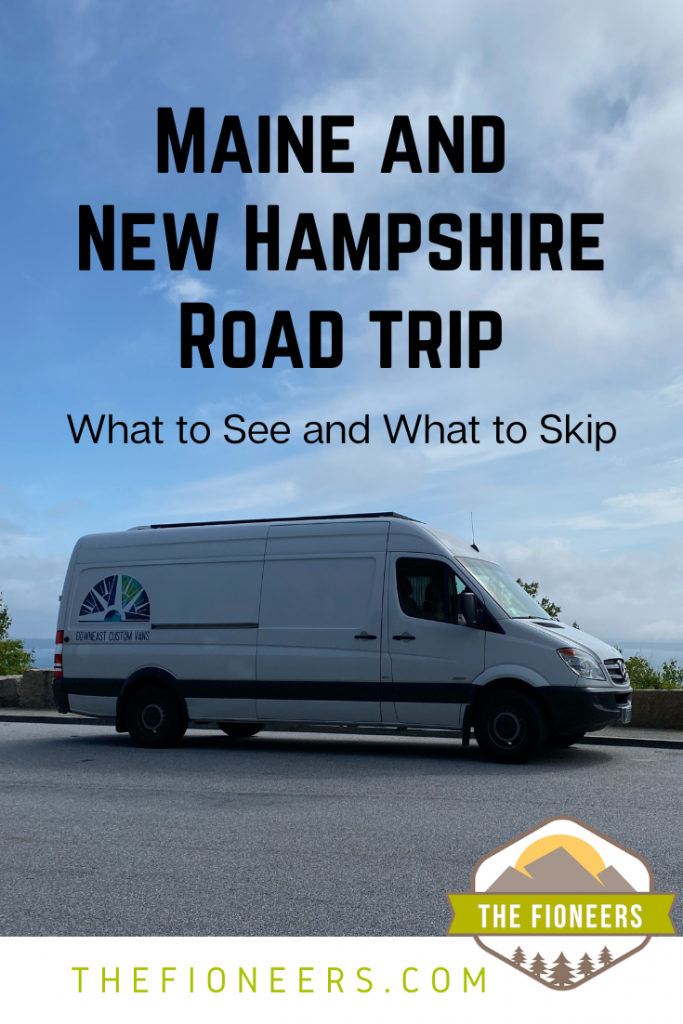 We just got back from an incredible 10-day road trip along the Maine Coast and throughout the White Mountains of New Hampshire.
We rented a campervan for this trip. Traveling in a campervan allowed us to explore the areas with relative ease. Plus, we could stay in campgrounds without needing to waste time setting up and tearing down tents and all the other camping gear. We also stayed dry and happy on the few days where it rained!
Before I get into the highlights of the trip, I want to share a quick overview of our 10-day road trip.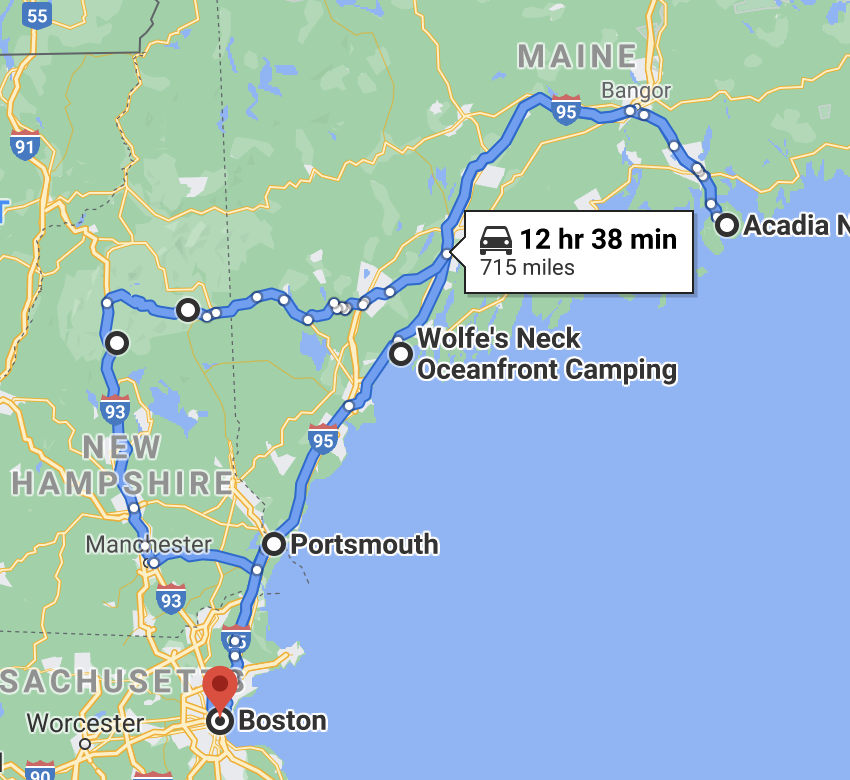 We drove from our house in Boston, MA to pick up the campervan rental outside Portsmouth, New Hampshire.
Then, we drove up and stayed at Wolfe's Neck Oceanfront Campground in Freeport, Maine for 2 nights.
After that, we went up to Acadia National Park further up the Maine coast for 3 nights.
For the last half of the trip, we headed over to the White Mountains in New Hampshire. We stayed on the eastern side of the White Mountains for 3 nights and the western side for 2 nights before dropping off the van and heading home.
I'm excited to tell you about the highlights of the trip! Of course, I also don't want you to think that everything was perfect. So that you can avoid the pitfalls that we fell into, I'm also going to share a list of things to avoid.
Renting a Campervan for the Road Trip
We love camping, being outdoors, and exploring nature. But, our current limit for tent camping is 3-4 days.
Why?
It's uncomfortable to sleep on a 2-inch thick camping mat for too many nights.
It's annoying to have to walk back and forth to the bathroom (especially in the middle of the night).
It's hard to keep food cold without constantly buying new bags of ice.
When it inevitably rains, everything gets wet, and then, we just want to go home.
We loved the idea of camping for 10 days. In practice, we knew we wouldn't enjoy tent camping for that long.
I had heard about the benefits of renting a campervan for outdoor adventures from my friend Melody who writes the blog Cash for Tacos. So, we started watching campervan and #vanlife videos to learn more.
We got really excited about this idea, but we weren't sure how to go about it. There were a bunch of companies out west that rented out campervans. Here in New England, that didn't exist!
Luckily, I learned about Outdoorsy! Outdoorsy is like the Airbnb for RVs. You can find all types of RVs – everything from campervans to travel-trailers to massive motorhomes. Like Airbnb, you are renting from a particular person. But, Outdoorsy provides you with insurance and roadside assistance.
On Outdoorsy, we found many different campervans in our areas. We eventually chose a van that we could pick up in Portsmouth, New Hampshire.
We had a fantastic experience with Outdoorsy. We'd highly recommend using them if you would like to rent any kind of RV.
If you'd like to learn more about renting an RV through Outdoorsy, I'd encourage you to use our refer-a-friend link. You'll get $50 off your first trip, and we'll get a small discount on our next rental as well.
What to See and Do on Your Maine and New Hampshire Road Trip
We had such a fun trip that it was so hard to narrow it down to our favorite things. Here are the things that we truly enjoyed and would highly recommend if you take a road trip through Maine and New Hampshire.
To better organize it, I'll break the trip into three segments:
Wolfe's Neck on the Southern Maine Coast
Acadia National Park
The White Mountains of New Hampshire
Wolfe's Neck on the Southern Maine Coast
For our first stop, we spent our time in the Wolfe's Neck area. Wolfe's Neck is a peninsula jutting into Casco Bay near Freeport, Maine. While Freeport is known for being the home of L.L. Bean and its flagship store, we prefer to avoid the crowds.
Stay at Wolfe's Neck Oceanfront Camping
We spent 2 nights at Wolfe's Neck Oceanfront Camping. If you have kids, this would be a super fun campground to visit, since there are farm animals and you can learn all about the farm they run on the property. It was great for adults as well. We enjoyed it mostly for its seclusion and water views.
We had a view of the ocean right from our campsite, and we could walk down a trail nearby and be right at the water's edge.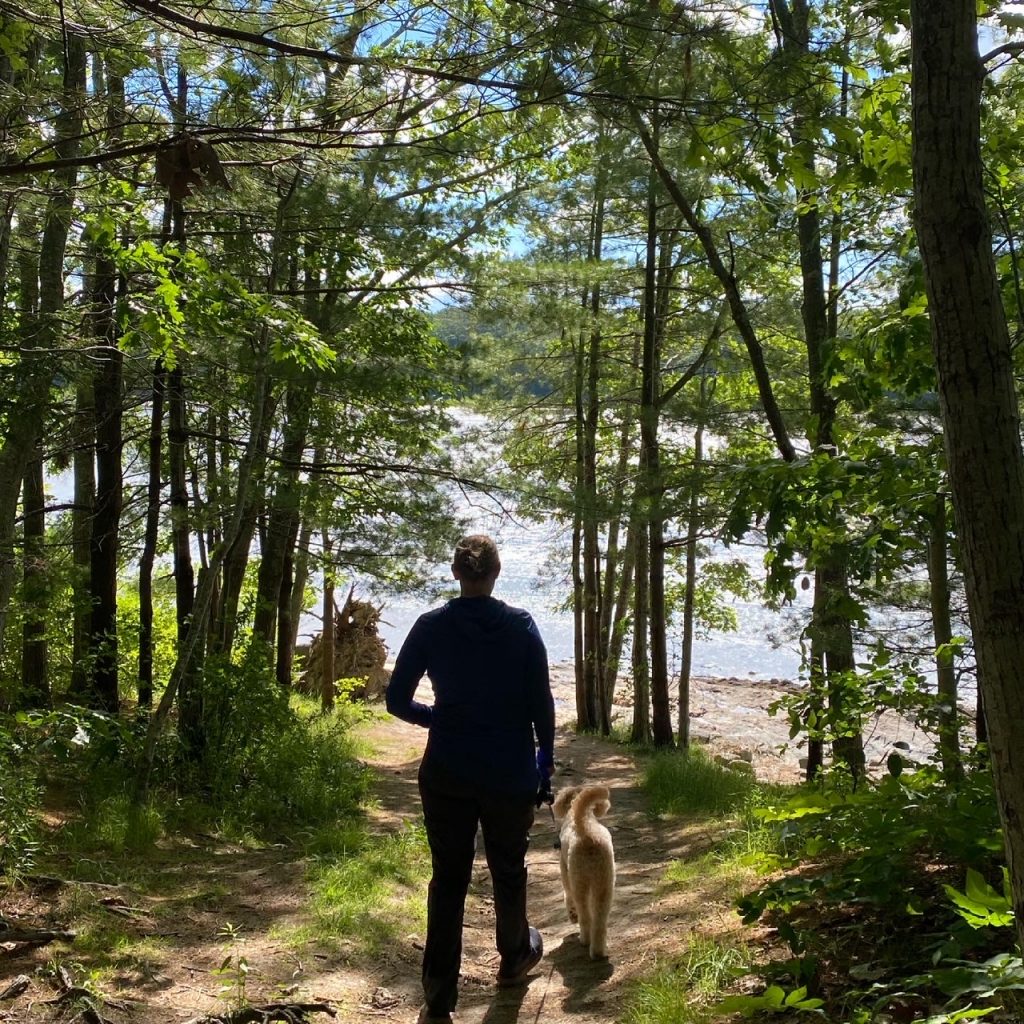 I will also note that this was the only campground we stayed at that had unlimited hot water for showers. The other places we stayed either didn't have showers or they had coin-operated showers. Until later in the trip, I didn't realize how much I appreciated this amenity!
Explore Wolfe's Neck Woods State Park
A short distance down the road from the campground was the beautiful Wolfe's Neck Woods State Park. This is a small (~240 acres) day-use state park that has hiking, beautiful ocean views, and picnic areas. This park even has handicap accessible trails!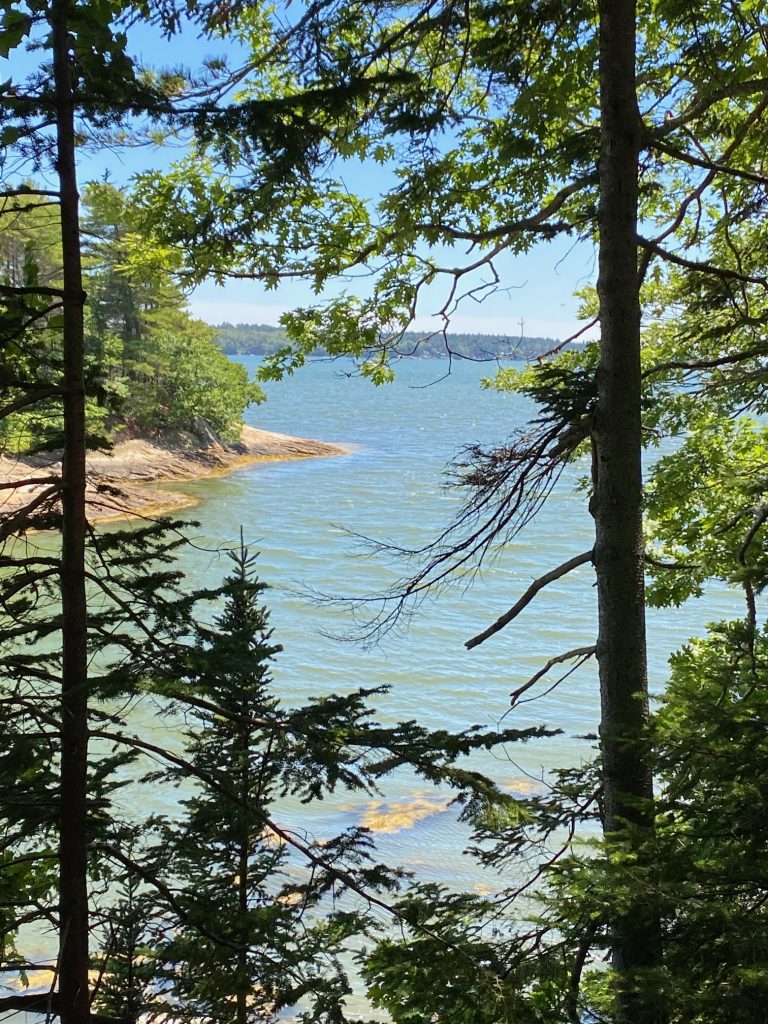 We had the opportunity to hike along the Casco Bay Trail. On this trail, we could hike along the iconic Maine coastline as well as see views of Googins Island, which is a sanctuary for ospreys.
Acadia National Park on Mount Desert Island, ME
While in Acadia, we stayed at Seawall Campground. This is one of two campgrounds within the national park. This one is located on the "quietside" (or the west side) of Mount Desert Island. We've stayed on the east side of the island previously, and we enjoyed how this campground was so quiet and serene.
While I wouldn't necessarily say you have to stay here, staying at Seawall gave us an opportunity to explore the hiking trails on the "quietside" of the island. To be honest, the trails on this side weren't quite as impressive. But, we enjoyed them because there were fewer crowds.
As a note, the campgrounds in Acadia don't have showers. We were lucky to find Seawall Camp Supplies, a camp store one mile outside of the campground. They had coin-operated (hot) showers. For $1.50, you get 2 minutes of hot water.
Note: They aren't open on Sundays… I got so fed up with how gross I felt by then that I washed my hair in the tiny campervan sink. I suppose that allowed me to take a 2-minute shower on Monday since I didn't need to wash my hair.
Now onto the things I'd highly recommend doing when you are in Acadia!
Go Hiking Along the Park Loop Road
Acadia has a park loop road that will take you along the beautiful coastline. I'd recommend:
Driving along the full scenic road
Stopping at various scenic viewpoints along the way
Parking your car and hiking along the coastline somewhere between Sand Beach and Otter Point.
Along this hike, you'll have the opportunity to see Maine's iconic rocky coastline and enjoy the ocean breeze.
To have the best experience possible, let me share some advice.
Go early. We arrived around 9:30 AM to start driving the Park Loop Road, and we barely beat the rush.
Drive at least 1 mile past Sand Beach before trying to park. Everyone and their brother will be trying to park at Sand Beach. Instead, you can simply drive further down the road, and there's a ton of parking. You'll just need to drive until you find a spot on the street (they allow people to park in the right lane throughout most of the park) or a small lot along the path. In fact, if you really want to avoid the crowds, you could drive all the way down and park near Thunder Hole.
Drive to the Top of Cadillac Mountain
Even though we didn't end up driving up Cadillac Mountain on this trip (it was too foggy), I've done this three times before and would highly recommend it.
I've driven to the top of Cadillac Mountain both during the day and for the sunrise. I'd recommend doing both if you are in town for a long enough period of time. For a portion of the year, Cadillac Mountain gets the first sunlight in the United States, and the sunrise is incredibly beautiful.
The park now requires you to book a "ticket" to drive up the mountain, so that they don't have too many people up there at one time. One hitch is that you have to book it online. You can't get your ticket on-site. Since cell service is quite spotty within Acadia, you'll want to look at the weather ahead of time and book your ticket a few days before you arrive.
The White Mountains in New Hampshire
After Acadia, we headed to the White Mountains, and it was hot! It was over 90 degrees F for our first few days, so that definitely impacted the things we decided to do.
Swim at Swift River Lower Falls
Since it was so hot, we spend our first two days at the Swift River Lower falls. This is a beautiful waterfall on the Swift River that has a bunch of different areas where you are able to swim. We enjoyed two relaxing days of swimming, relaxing, and reading by the water.
We've heard that this site can get quite busy on the weekends. We were there during the week and felt like the crowds were very manageable.
Drive the Kancamagus Highway and Stop at Every Overlook and Waterfall
The Kancamagus Highway is a beautiful two-lane "scenic byway" that runs from east to west through the White Mountains. In fact, it runs along the Swift River for a good portion of it, and the Swift River Lower Falls is one of the first sites if you are driving from east to west.
We drove on this road when we were going from one campground to the next, and we decided to make a day of it. We stopped at every scenic overlook and waterfall we saw. A few recommended stops include: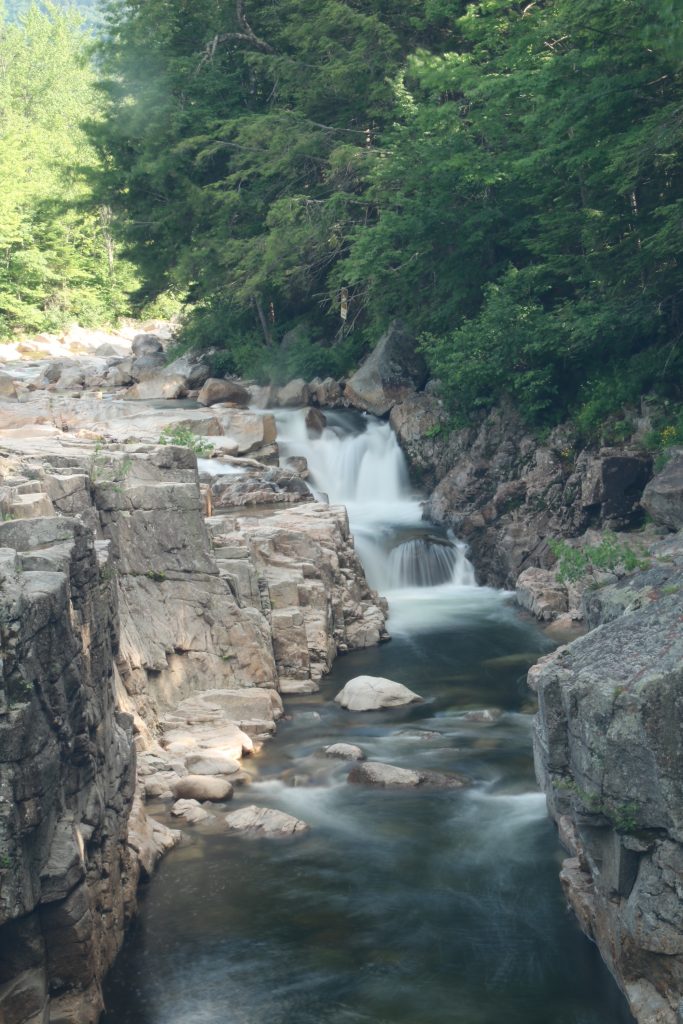 Rocky Gorge
Sabbaday Falls
All the scenic overlooks!
Eat at Wicked Fresh Burgers in North Conway, NH
Since we had everything we needed to prepare food in the van, we didn't eat out very often on this trip. We did eat out a few times, and there's one place I couldn't leave out!
On the east side of the White Mountains, you'll find North Conway. If you ever find yourself there, do yourself a favor and go to Wicked Fresh Burgers.
This was quite possibly the best burger I have EVER eaten. Burgers are complicated for me because I can't eat a whole slew of things that make burgers good, including ground beef, gluten, and eggs (so no mayo). This place had turkey burgers, awesome gluten-free buns, and bacon onion jam as a substitute for mayo. Delicious!
What to Skip
While it's helpful to read about things you'll want to consider doing, it's equally important to know what you should avoid!
No matter how much research I do before a vacation, there are always a few things that I don't love. I am sharing these with you, so you aren't equally disappointed!
Jordan Pond in Acadia National Park
When I was researching things to do while we were in Acadia, many people highly recommended hiking around Jordon Pond, an inland lake in Acadia. There's also a restaurant found on the banks of the lake that came highly recommended as well. The photos looked beautiful, so we added them to our itinerary.
Jordan Pond is located on the scenic Park Loop Road (mentioned above), so at least we didn't drive too far out of our way. When we arrived, it was completely overrun with people. People were everywhere! I wish I had thought to take a photo to show you how many people there were.
When we saw this, we just kept on driving. We didn't plan this outdoor adventure trip to spend lots of time in crowds and long lines.
If you are in Acadia and would like to hike around an inland lake with similar scenery, I'd recommend Long Pond instead. It's on the "quietside" of the island, has similar views, and you'll see very few people along the hike.
Covered Bridge Campground in the White Mountains
There were certainly good things about this campground. It was very quiet, the campsites were huge, and it was near a historic covered bridge. Sadly, these were the only redeeming qualities besides the fact that we had a place to sleep.
We knew the campground didn't have running water, but we weren't prepared for how disgusting the vault toilets/outhouses would be. I've been to places that had outhouses with compost toilets before, and I was assuming it was similar. It wasn't…
We were hoping that we wouldn't need to use the compost toilet in the van (so we wouldn't have to dump the pee tank at the end of the trip). After trying to go to the bathroom and gagging the entire time (even while I was wearing a facemask), I started using the compost toilet in the van. Dumping the pee tank ended up not being so bad anyways.
The other issue with this campground was that the main way into it was through a covered bridge that had a clearance of 7 feet 9 inches. All vehicles taller than that (including the campervan) had to take a roundabout way to get there. Because of this, we had to drive about 15 miles out of our way every time we wanted to get back to the campground.
In hindsight, we realized that we could have simply left after one night and found a first-come/first-served campsite in another park. But, since we had this one booked, we didn't even consider it until later. ?‍♀️ Next time, we'll forfeit the $50 and find a new campsite!
Cheese Louise in Conway, NH
I thought the name of this cute little grilled cheese restaurant was so creative that I got really excited to eat there! We ended up trying to go to two separate locations during the trip.
The first one ended up taking our order, not having any gluten-free bread in stock, and trying to refund us for the single sandwich. We had to insist that they refund us the full order because Corey didn't want to eat without me.
We ended up trying a different location another day, mostly because a pizza place we wanted to try (that was associated with Wicked Fresh Burgers) closed early that day.
To be honest, it was quite disappointing. There wasn't really anything special about it, and the gluten-free bread tasted like cardboard. Sure, the name is cool, but you can skip it.
You'll Love Your Road Trip Through Maine and New Hampshire!
We absolutely loved our campervan road trip through Maine and New Hampshire! If you enjoy camping and outdoor adventures, we'd absolutely recommend doing something similar!
One important thing is that we were also treating this trip as an "experiment" to see if we might want to buy and build out our own campervan in the future. I will be sharing more about what we learned from the experiment in a few weeks here on the blog!
Where would you recommend going on a Maine and New Hampshire road trip? What did we miss?