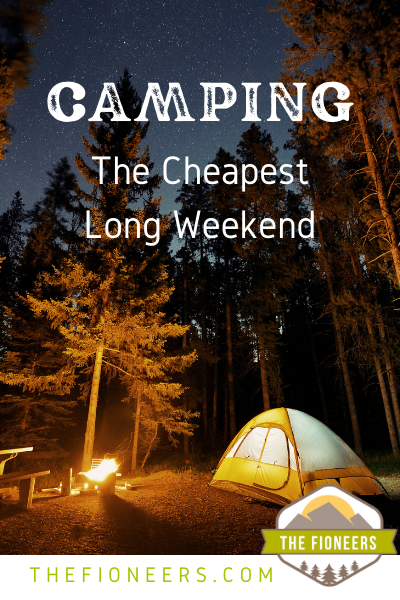 In 2009, we graduated from college, got married, and started our careers. We were in the middle of a recession. Corey was going to grad school and working part-time. I had a hard time finding a job. So, I worked as a street canvasser for a charity before getting a job with AmeriCorps which paid me $11,000 (before taxes) for the year.
We lived in northern NJ (the NYC metro area) and could barely make ends meet.
Yet, we still wanted to go on vacation! We knew we'd need to do it in an economical way. Using travel rewards wasn't in the cards (pun intended) for us because we were still so young and needed to build up our credit.
So, we decided to go camping for the weekend. We loved hiking and being outdoors. During college, we had done some camping and backpacking. Camping was an inexpensive way for us to get out of the city and relax. 
When we lived in New Jersey, we'd drive a couple of hours to a campground on the border with Pennsylvania. Now that we live in Boston, we have so many options for camping. We've gone to the Berkshires (western Massachusetts), Cape Cod, New Hampshire, and even Maine.
Weekend Camping: The Cheapest Vacation
You may be new to camping. Or, you may simply not have thought about camping as a viable cheap vacation option. If you fall into either of these camps (again, pun intended), this post is for you.
In this post, I'm going to discuss:
Types of camping
Where to look for campsites
Activities to do while camping
Camping supplies you'll need
What to eat while camping
Hopefully, this will provide you with the information (and confidence) you need to take your own camping trip!
Types of Camping: Front-country vs. Backcountry
There are two main types of camping: front country camping and backcountry camping.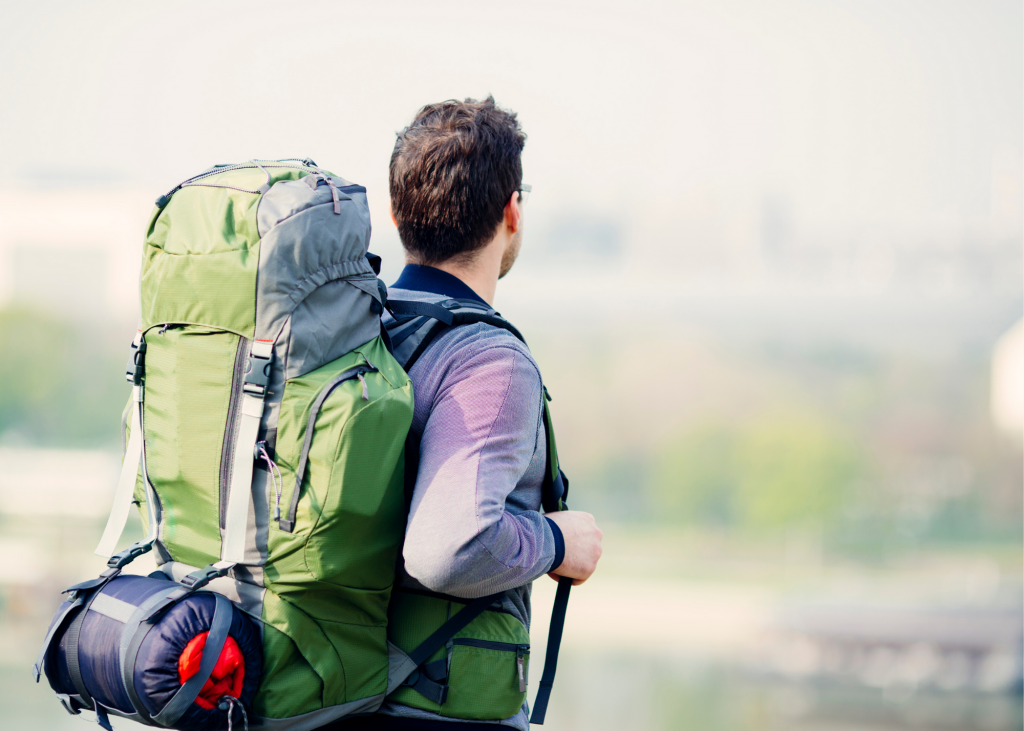 I think of backcountry camping as backpacking. This is where you pack everything you need for the length of your trip into a backpack and you hike to wherever you'll be camping. This is often free because no campsite is needed.
But, it's hard. You have to carry everything with you. The one time I went backpacking, I came home with massive bruises on my hips from the backpack I was using.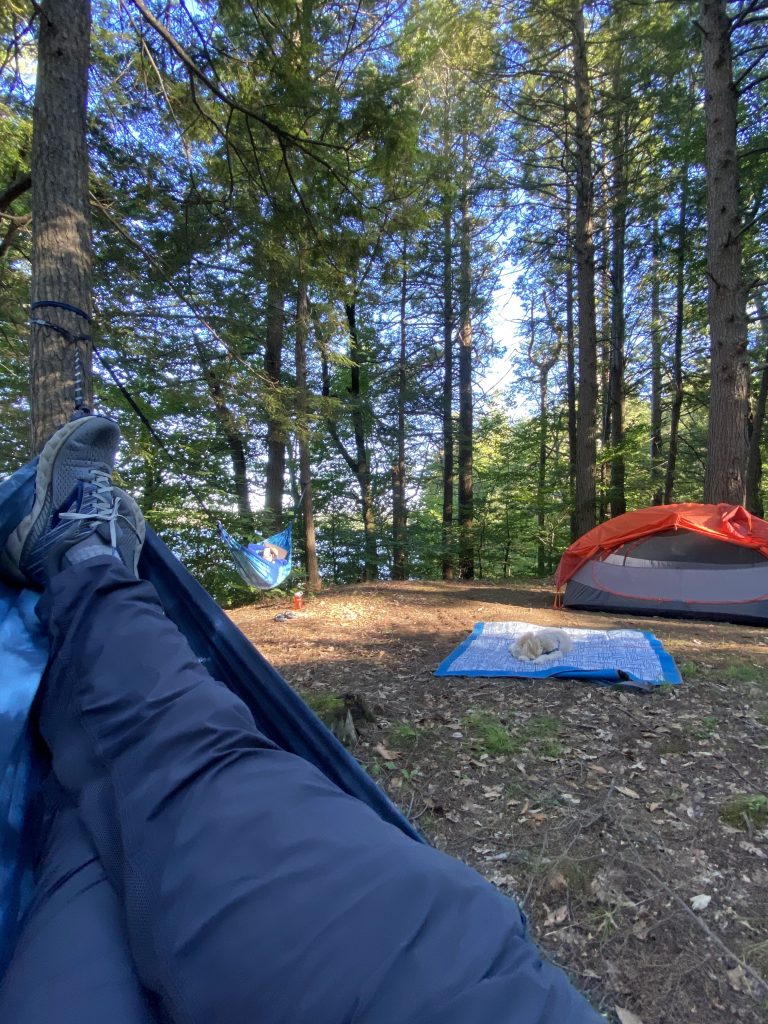 I prefer front-country camping, which people sometimes call "car camping." For front-country camping, you book a campsite at a campground. You can drive directly to your site and pitch your tent. There are often campsites that accommodate RVs or campervans in most campgrounds as well.
Whenever you book a campsite, it's essential to understand what amenities are available. Some campgrounds have flush toilets, hot showers, and even dishwashing stations. Others don't. You'll want to choose campground amenities based on your comfort level.
For example, I prefer to camp in places that have flush toilets and hot showers (even if they are coin-operated). But, for a short trip or a trip to a place that has a lake or river for swimming, hot showers may not be essential.
In certain areas of the country (mostly out west), you can also camp for free on Bureau of Land Management (BLM) land. You can drive to many of these places, so it is possible to backcountry camp in your car or RV. This gives you some of the benefits of both backpacking and car camping.
Since I live in New England and haven't had the opportunity to camp on BLM land (yet…), I'm going to focus this post on front-country or car camping.
Where To Go Camping
When looking for a campground, there are a few options:
National Park Campgrounds
State Park Campgrounds
Private Campgrounds
National or State Park campgrounds are within the bounds of the parks themselves. This means you usually have access to a lot of outdoor activities (i.e. hiking trails, lakes, beaches, etc.). National and state park camping are usually quite inexpensive, costing only $20-30/night.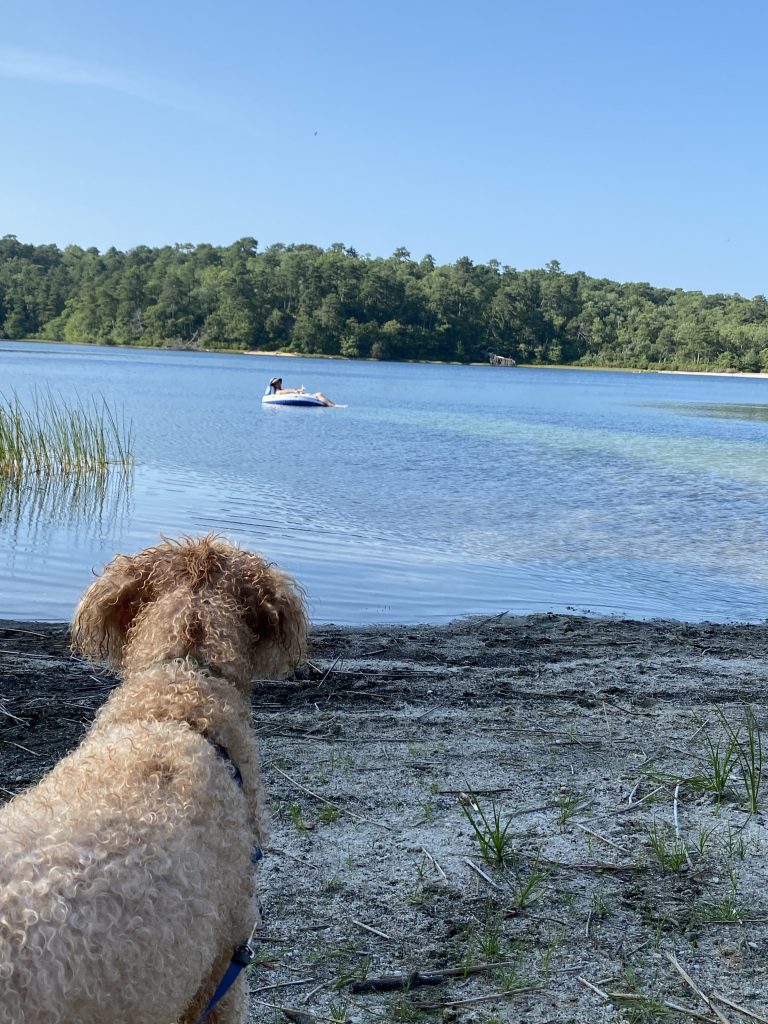 The downside of National or State Parks is that they often have fewer amenities. They often don't have RV hookups for water and electricity or only have a few sites with hookups. As long as you do your research though, you typically can choose parks that have flush toilets and showers.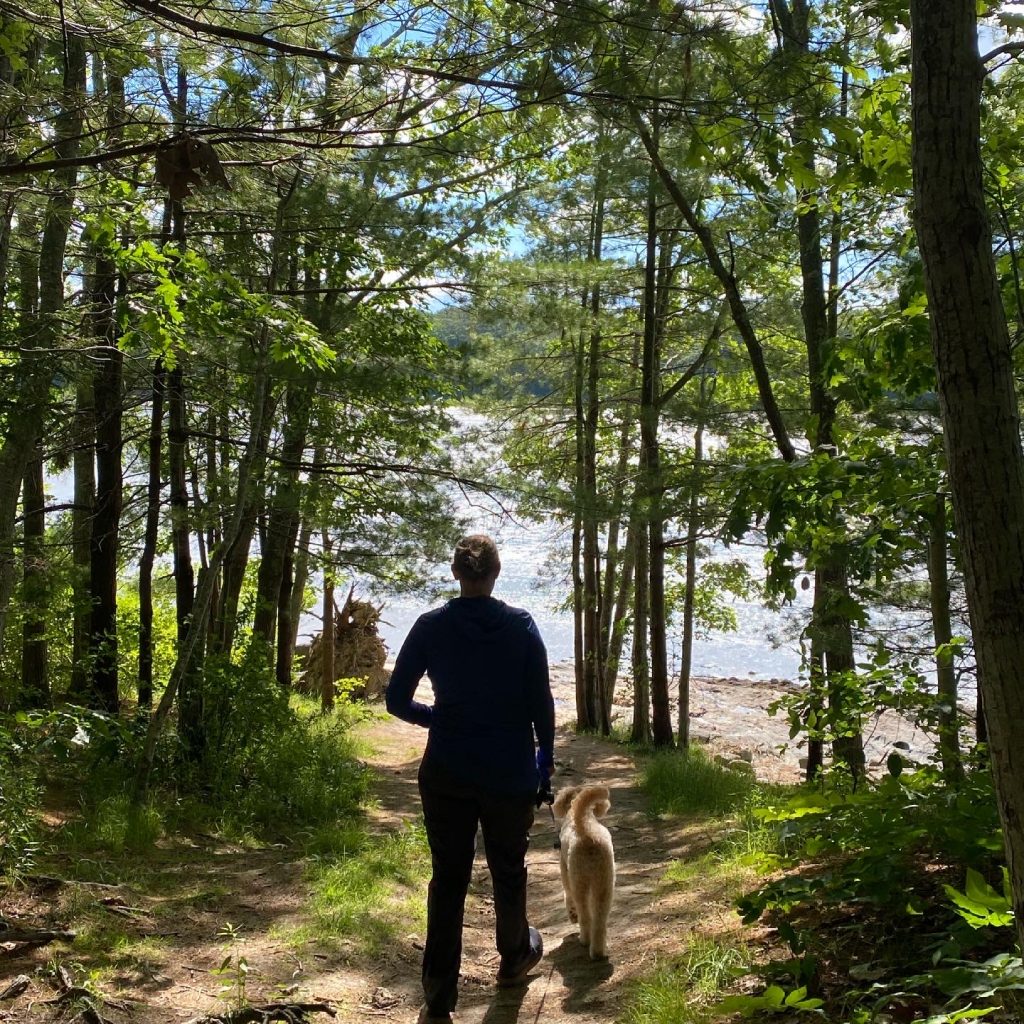 On the flip side, private campgrounds are often more expensive. But, they offer more amenities and family-friendly activities. But, you are more likely to need to leave the campground for other outdoor activities.
Our favorite places to camp in New England over the past few years have been:
Nickerson State Park (Cape Cod, MA)
Acadia National Park (Maine)
Wolfe's Neck Oceanfront Camping (Maine)
What to Do When You Go Camping
We absolutely love being outdoors, so there is a lot to do when camping, including:
Hiking on nearby trails (or simply walking around the campground)
Riding bicycles (around the campground or on nearby bike trails)
Swimming or other watersports (many campgrounds are on the water)
Relaxing at the campsite (building a campfire, reading in a hammock, playing games, cooking food, etc.)
Exploring the local area (For example, Corey likes to check out the local disc golf courses.)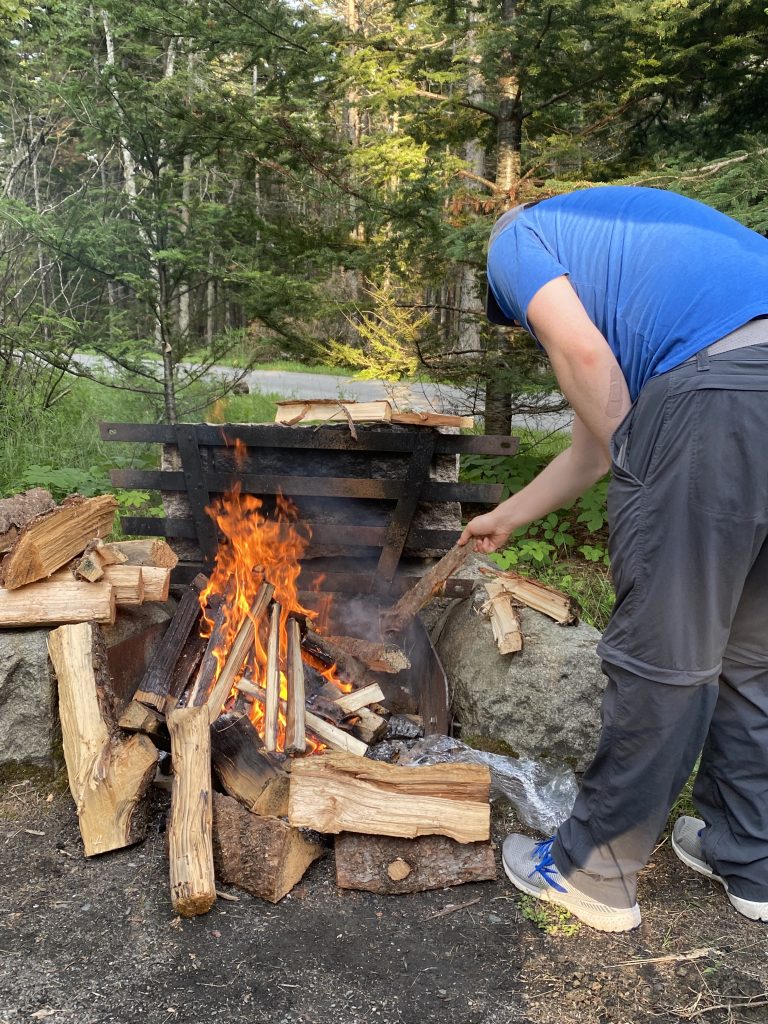 When we go camping, we want to make sure we're relaxing and enjoying time in nature. Many days, we'll stay at our campsite or within the state (or national park) itself to explore. This often doesn't even require us to drive anywhere. When we do excursions out of the campground, we tend to only do one thing each day because we want it to be a chill, relaxing vacation.
What Supplies You Need to Go Weekend Camping
One barrier that keeps people from considering camping is the gear they might need to get started. Because of that, I'm going to break down the gear into categories and share what's essential vs. optional.
Sleeping Essentials:
Tent
Sleeping Bag
Camping Mat (you could also use an air mattress, yoga mat, or pile up a bunch of blankets)
Pillow
Campfire Essentials:
Camp Chair
Axe or Hatchet (to cut the wood into smaller pieces)
Lighter or matches
Newspaper (or any other paper to help get the fire going)
Cooking/Cleaning Essentials:
Cooler with ice for perishables
Plates/Bowls/Cutlery (re-usable or paper/plastic)
What you need to prepare food: skillet, aluminum foil, teapot, tongs, serving utensils, can opener, marshmallow roasters, cutting boards, coffee pour-over, etc.
Other paper/cleaning products: paper towels, dish soap, garbage bags, etc.
General camping Essentials:
Bug spray (long pants and a long-sleeved shirt in case there are a lot of bugs)
Sunscreen and Hat
Flashlight
Beach towels and hand towels
Optional Items:
Sleeping: Tarp (in case it rains)
Campfire: Lighter Fluid
Cooking/Cleaning: Camp Stove with propane
General: Rope (for a clothesline), table cloth, hammocks, games
If you don't already have the stuff that you need to go camping, you have a few options:
Borrow camping supplies: People who enjoy camping are often willing to lend camping supplies to others. For example, we've borrowed a lot of camping equipment over the years including camp chairs, a camp stove, and even a cooler.
Buy the camping supplies you need for the trip (and add to your supplies over time): You don't need all these things before you take your first camping trip. You could buy the things you feel like you need slowly and add to them over time.
Find a campground that offers "furnished" campsites, cabins, or yurts: Certain campgrounds will offer sites with all the gear already set up for you. This is usually more expensive, but it could be worth it if you don't have anyone to borrow equipment from (and you'd prefer not to buy it).
Since we know that we enjoy camping, we wanted to get our own supplies. But, we didn't buy it all at once. We bought things slowly over time to build up our stash of camping equipment.
What to Eat While Camping
One of the biggest questions people have is what to eat while camping since you don't have access to a full kitchen.
For breakfast and lunch, we typically eat easy stuff that doesn't need to be cooked, such as:
Breakfast: Cereal, Granola, Bagels and cream cheese, fruit, etc.
Lunch: Sandwiches, chips, fruit, vegetables, cookies, etc.
If you have a camp stove, you'd also be able to eat eggs or pancakes and make hot coffee for yourself. If you don't have a camp stove (but need your coffee), you can bring cold brew in your cooler.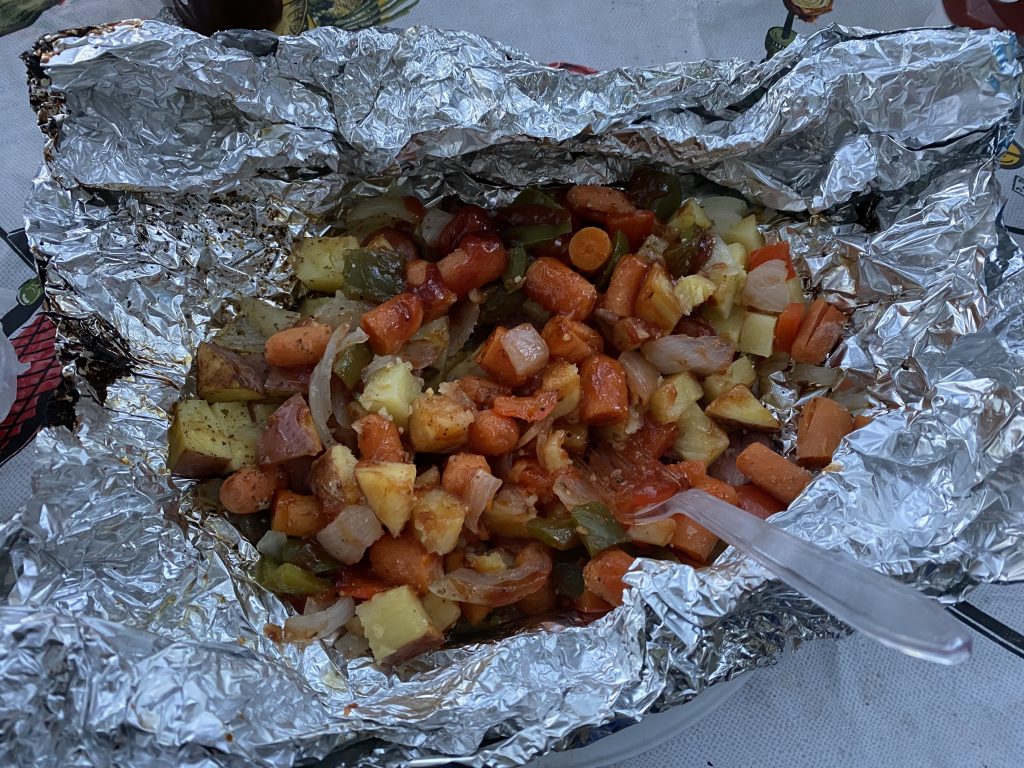 For dinner, we typically eat things that can be made over the fire or on a portable grill. Options include:
Foil Dinners: We put cut-up potatoes, vegetables, and kielbasa inside aluminum foil and cook them on the coals of the campfire. It's our favorite camping food.
Hot Dogs or sausage cooked over the fire with cold sides (like potato salad, vegetables, and hummus) or canned "baked" beans cooked on the camp stove.
Reheating leftovers: For example, it's actually quite easy to reheat pizza on a camp stove.
When we go camping, we also make sure to bring special snacks, including:
Stuff for S'Mores: Graham crackers, marshmallows, chocolate, and sometimes even nut butter.
Special snacks for camping (which helps us look forward to it): Cool Ranch Doritos and Chewy Chips Ahoy
Many campgrounds (mostly state parks) do not allow alcohol. But, most campgrounds do not enforce these rules. To be safe, we typically bring travel mugs to transfer alcoholic beverages into. This disguises what we are drinking and, as a bonus, keeps it cold.
The last thing I want to mention about food is that it's important to know what animals are in the area and take that into account.
If you are in an area with bears, you'll want to ensure that all your food is secured inside a locked vehicle. Some campgrounds will even have bear boxes that are some distance away from where you set up camp to keep your food.
Even if we aren't in an area where there are bears, we typically leave all food in our vehicle so that squirrels or chipmunks can't get into it.
How Camping Has Evolved For Us
Until 2021, we had always camped in a tent. It was such an inexpensive vacation that we didn't even need to budget for it. All we'd need was food and to cover the cost to book a campsite.
There are a few downsides to tent camping though. Now that we are 35, sleeping on the ground (even with a camping mat) is sometimes uncomfortable. I don't want to do it for more than three nights in a row.
Last summer, we wanted to take a longer camping trip, so we decided to rent a campervan for 10 days through Outdoorsy (it's like Airbnb for RVs). It was amazing. Being able to go camping while having a real bed, a fridge, and a kitchen was awesome.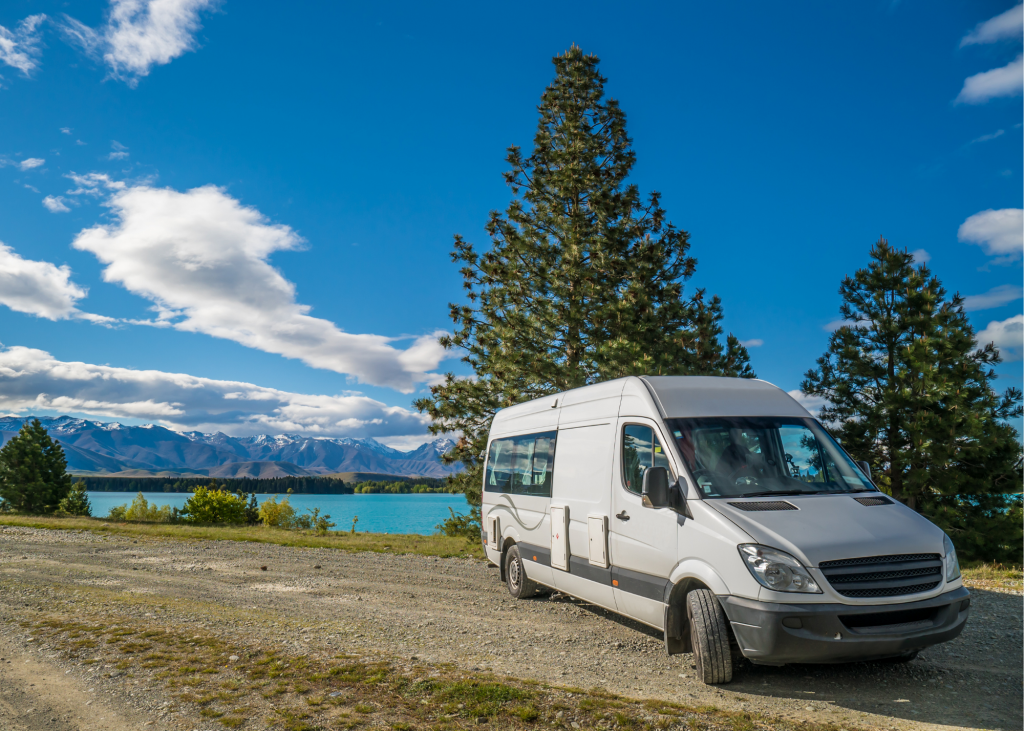 It definitely cost quite a bit more to do it this way, but it did allow us to go camping for a longer period of time and have some of the comforts of home.
Because we loved it so much, we actually decided to buy and build out our own campervan. From now on, camping will look very different for us, but we look back fondly on almost 13 years of tent camping. We highly recommend it as a cheap long weekend!