We spent the second leg of our three-month campervan adventure exploring Utah's Mighty Five, the five national parks in Utah, and the surrounding area. (Read about the first leg here.)
Before this trip, I'd never spent much time in the desert, and I was excited to explore the canyons, rock formations, and red rocks of this area. This was the part of the trip I was most looking forward to, and it did not disappoint.
We decided to explore the parks from west to east since we were coming up from the Grand Canyon.
Our itinerary included:
Zion National Park
Bryce Canyon National Park
Grand Staircase-Escalante National Monument
Capitol Reef National Park
Goblin Valley State Park and the San Rafael Swell
Canyonlands National Park
Arches National Park
In this post, I will share:
What to see: our favorite places and activities
What we've added to our future travel list that we learned along the way
What to avoid (or do differently): what we'd recommend you do differently from us
Zion National Park
Located in southwestern Utah, Zion is one of the most beautiful places in canyon country. Zion Canyon features 2,000-foot Navajo Sandstone cliffs with seeps, springs, and waterfalls that create an oasis of life. It is truly one of the most beautiful places I've ever been.
We spent five days exploring this beautiful place
Here were our favorite things we did in the area:
Take the Zion Canyon Scenic Drive: Because parking is limited, you need to take a free shuttle. This shuttle will take you up the canyon, share some helpful information, and drop you off to hike or explore different areas.
Hike the West Rim Trail up to Scout's Lookout: Though we applied every day to get an Angel's Landing Permit, we sadly never got one. We still hiked up to where the Angel's Landing portion of the trail starts, and it was still an incredible day hike!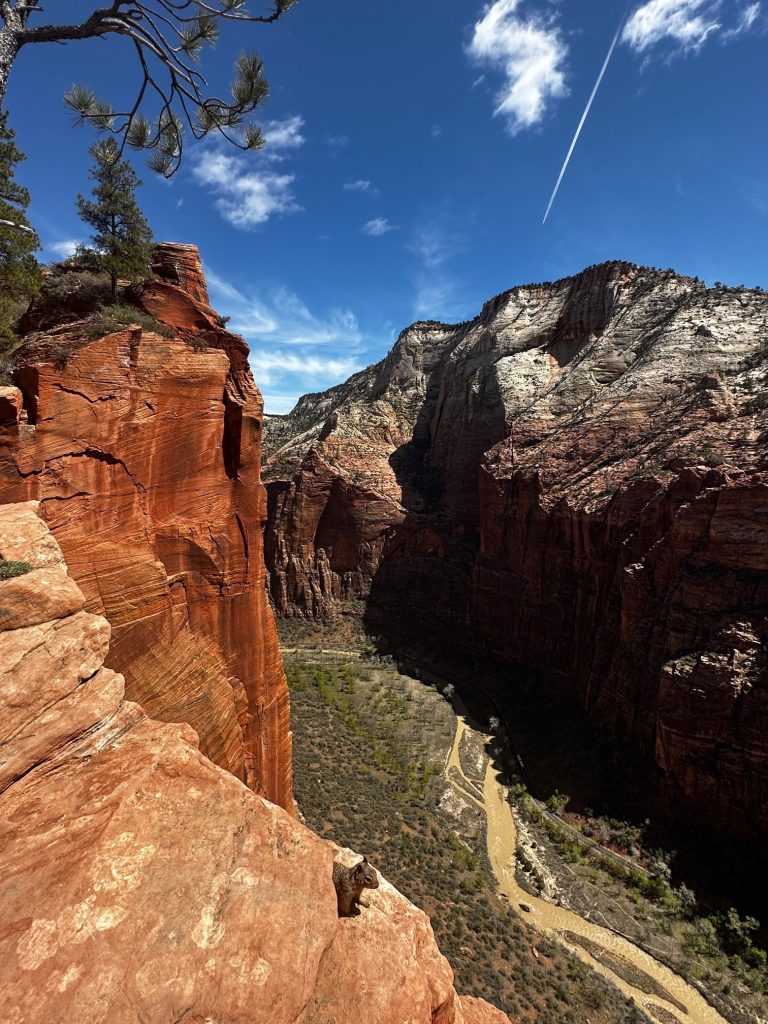 Walk along the Riverside Walk (from the Temple of Sinawava): There was so much snowmelt that the Narrows hike was unfortunately closed. But, we did have the opportunity to do the Riverside Walk to where that trail starts.
Drive the Zion to Mt. Carmel Scenic Highway: Drive east from Zion Canyon on the Mt. Carmel Scenic Highway and you'll pass through the Zion-Mt. Carmel Tunnel, a 1.1-mile tunnel that was built in the 1920s!
Head down to Colorado City to hike Water Canyon: Friends recommend we visit this canyon, and it did not disappoint. We also picnicked at nearby Maxwell Park afterward.
Camp at the Hurricane Cliffs Designated Dispersed Camping Area: This was a beautiful area with hiking and mountain bike trails and towering cliffs. See the note below for more info.
Notes: The dispersed camping areas near Zion were quite busy, and it took us a while to find a spot. Once we did, we decided to set up our old, crappy college tent as a space-saver. This way we didn't have to find a new spot each day. Also, when staying on public land, be aware of what other kinds of activities are happening. On our last day in Zion, we woke up to a mountain bike race going right past our campsite. We had to beg the race organizers to let us out of the loop!
Looking back, we wish that we'd spent even more time here! We learned about a few things that we'd love to do in the future and want to share them with you:
Hike Angel's Landing: We'd absolutely love to return and do the full Angel's Landing Hike, a narrow high-elevation hike supported by chains. This hike requires a permit. You can apply for the lottery several months ahead of time or the day before. Sadly, I did get the permit for the lottery in advance, but I put in the wrong dates. I will double-check that in the future.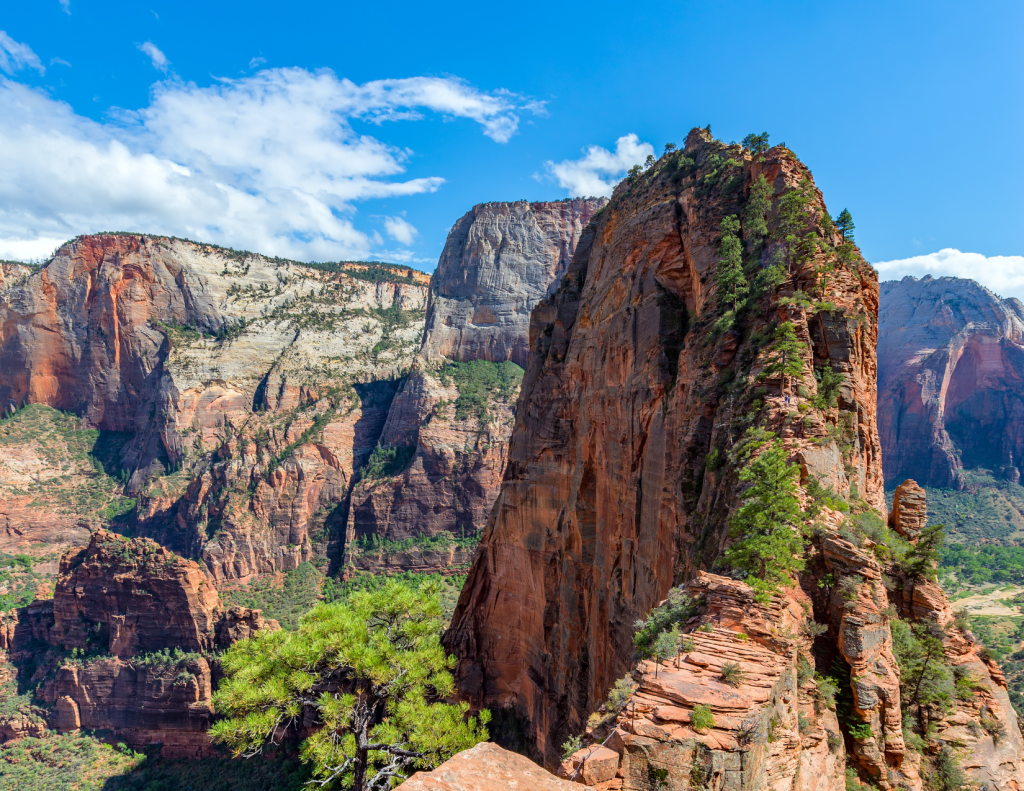 Hike the Narrows: This hike brings you up Zion Canyon along the Virgin River. Because there was so much snow this year, the water level was way too high to do this safely. I would imagine that if we wanted to do this hike, we'd need to return in the fall when the water levels would be lower.
Hike the Canyon Overlook Trail along the Zion-Mt. Carmel Highway: This looked like a beautiful short hike, but we were traveling this way after doing the strenuous West Rim Trail, so we weren't ready to do another hike.
Explore the East Rim Trail: We made it over to the east side of the park on our very last day in Zion as we were traveling toward Bryce Canyon. The scenery over here was incredibly beautiful. I'd love to explore this area more in the future.
Visit the Kolob Canyons Area: We spent our time exploring Zion Canyon, but we've heard that the Kolob Canyons are just as beautiful! We'll definitely be exploring this area of the park next time.
Bryce Canyon National Park
After we left Zion, we headed to Bryce Canyon National Park. Bryce Canyon is famous for having the largest collection of hoodoos – tall, thin spires of rock formed by erosion.
When planning the trip, we didn't realize that Bryce Canyon was at 8,000-9,000 feet of elevation. So, a visit in late April still meant there was quite a bit of snow, but we still made the most of our time there.
Here are the best things we did in Bryce Canyon:
Hike the Queen's Garden Trail down into Bryce Amphitheatre: This hike was SO COOL. Every turn we made, there was another cool rock formation to see. Because the other trails were still closed, we did this hike as an out and back.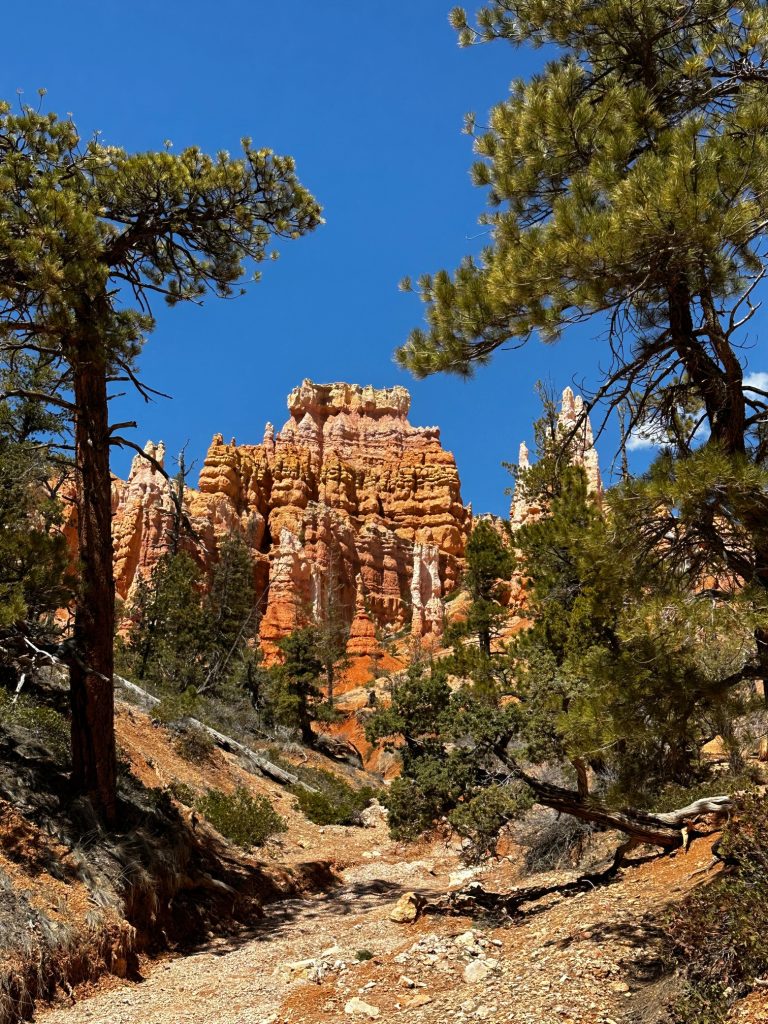 Explore the canyon rim between sunrise and sunset points: This was an incredibly beautiful area overlooking a canyon full of hoodoos!
Drive the South Scenic Drive: Though the last few miles were still closed because of snow, we were able to explore most of this beautiful area seeing hoodoos, arches, and other rock formations.
When we return to Bryce Canyon in the future, we would choose to come later in the year when there would be less snow. Here are a few things that we have on our list for the future:
Complete the full Navajo Loop: this trail would have made the Queen's Garden Trail into a loop, but it was unfortunately still closed because of snow.
We'd also love to do some backcountry hiking, most of which was also closed to snow during our stay.
Grand Staircase-Escalante National Monument
We weren't originally planning to spend any time here. Because of the snow at Bryce Canyon, we decided to leave a day early and explore Grand Staircase-Escalante as we headed to Capitol Reef National Park. We only spent a day here, but it whet our appetite. We'd love to spend more time here in the future.
Here are a few things that we did:
Drove Scenic Byway 12: This is an incredibly beautiful drive that goes through Grand Staircase and into Capitol Reef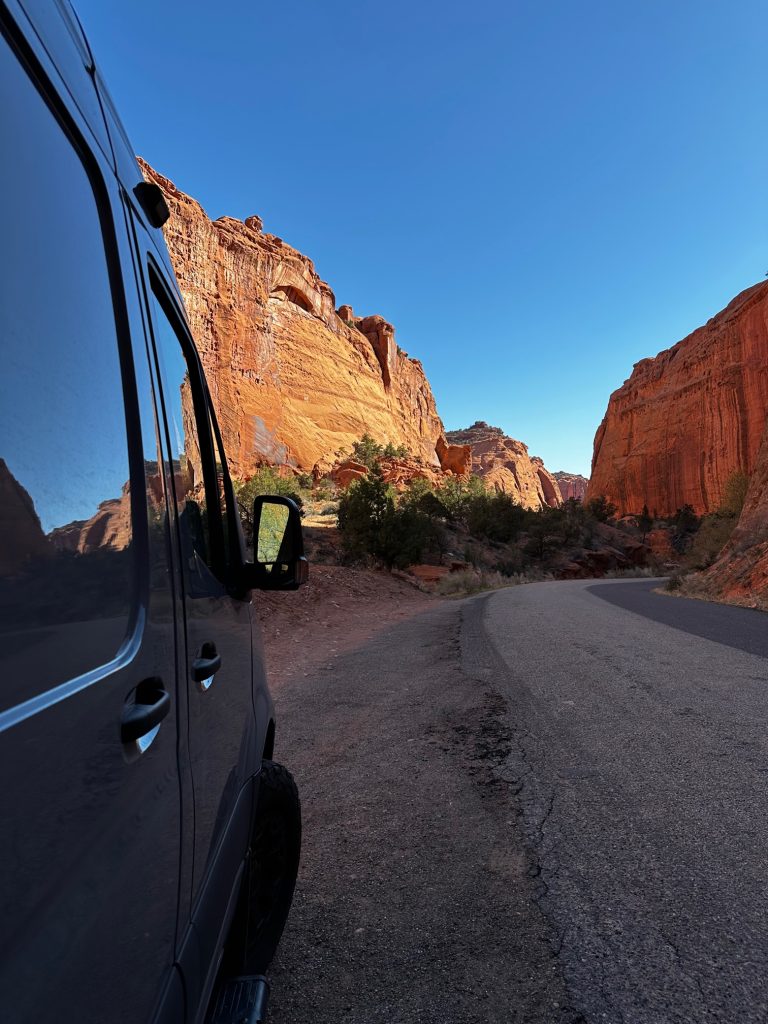 Explored the scenic drive along the East Burr Trail Road: This drive was stunning as we drove through Long Canyon and stopped to explore singing canyon, a slot canyon that's only 100 feet from the road.
We'll definitely be back to explore this area more. Here are the things we learned about that we'd love to do in the future:
Capitol Reef National Park
Because we drove along the East Burr Trail Scenic Road in Grand Staircase-Escalante, we had the opportunity to enter Capitol Reef National Park on the south side and got to see a part of it that not as many people venture into.
Capitol Reef's main feature is a waterpocket fold, which is a wrinkle in the earth's crust that runs for 100 miles. Along this, there are cliffs, canyons, natural bridges, arches, and even slot canyons. The landscape was incredibly varied, and I feel like I could spend a lot more time there.
Here were our favorite things in Capitol Reef:
Looping the Waterpocket Fold: By entering the southern part of the park on East Burr Trail Road, we had the opportunity to drive over the fold and drive along it all the way up to the main road that runs through Capitol Reef. It was a dirt road, but our two-wheel drive van could handle it just fine. Also, because we did this, we had the opportunity to hike a fun slot canyon, Headquarters Canyon, along the drive.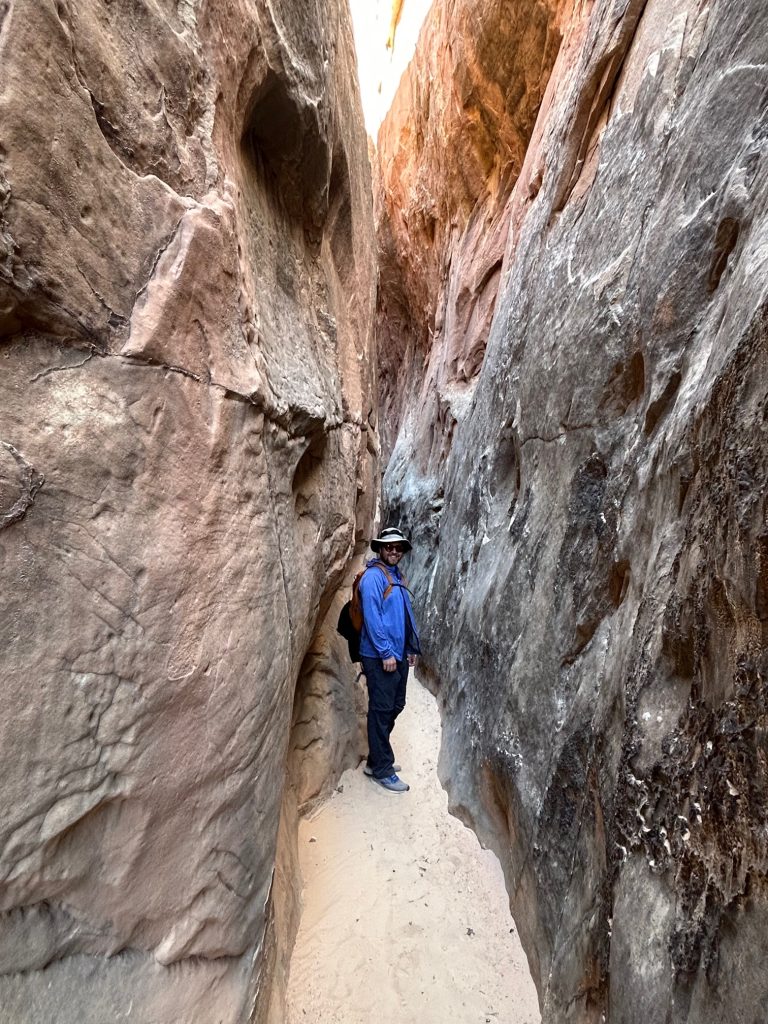 Going Hiking: There were so many incredible hiking trails in Capitol Reef. We enjoyed Hickman Bridge (a natural bridge), Cassidy Arch, and Cohab Canyon (a canyon with a bunch of small slot canyons off of it).
Driving the Capitol Reef Scenic Drive all the way down to the Capitol Gorge
Camping at Baes Lewis Flat Dispersed Camping on the west side of Capitol Reef
With more time in Capitol Reef, we would do a lot more hiking! I'd love to do the Rim Overlook Trail, Grand Wash to the Narrows, and more!
Goblin Valley and the San Rafael Swell
We originally planned to go to Goblin Valley State Park because we thought there was a disc golf course that Corey wanted to play. Unfortunately, that disc golf course was no longer there, but we still enjoyed our time.
Here were our favorite things in the San Rafael Swell:
Camping at the Little Wild Horse Road Dispersed Camping area (right outside of Goblin Valley State Park): We had a massive campsite all to ourselves.
Hiking the Little Wild Horse Slot Canyon: this was such a fun hike through a slot canyon that was only 18 inches wide in some places! We tapped into our inner child to scramble over boulders and do some light canyoneering.
Explore Goblin Valley State Park: To be clear, this was an interesting place to explore, but you don't need more than a couple of hours. We also camped for one night at this park. In the future, we'd much rather camp outside of the park.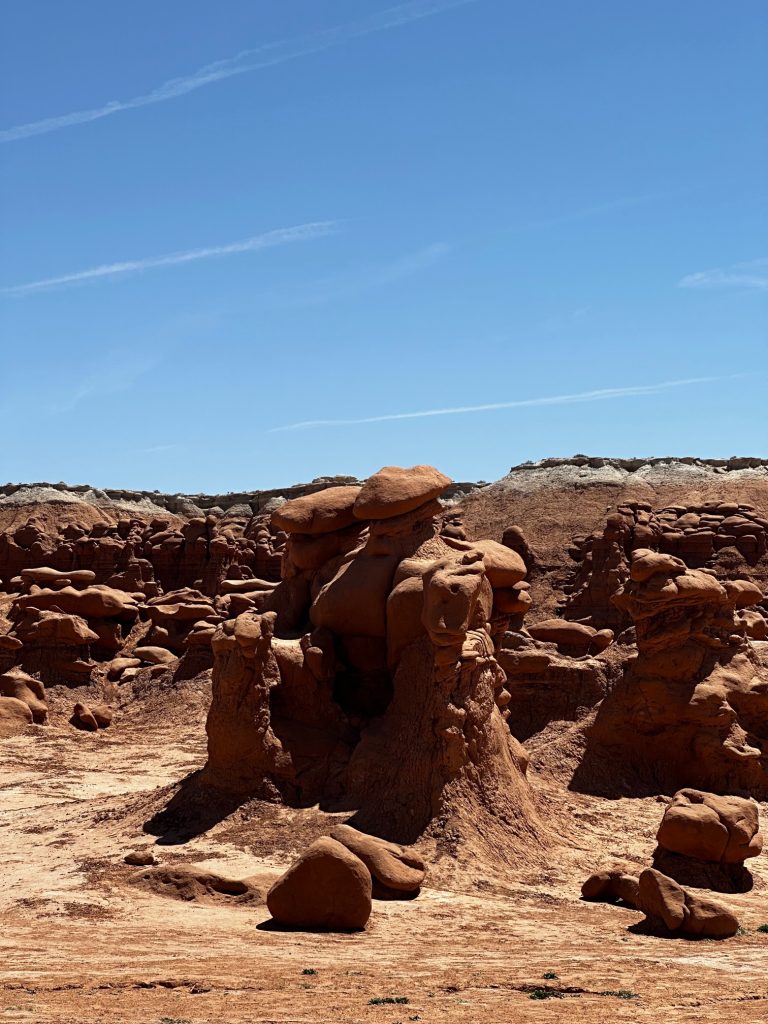 Canyonlands National Park
Our final stops in Utah included the Moab area, which includes both Canyonlands and Arches National Parks.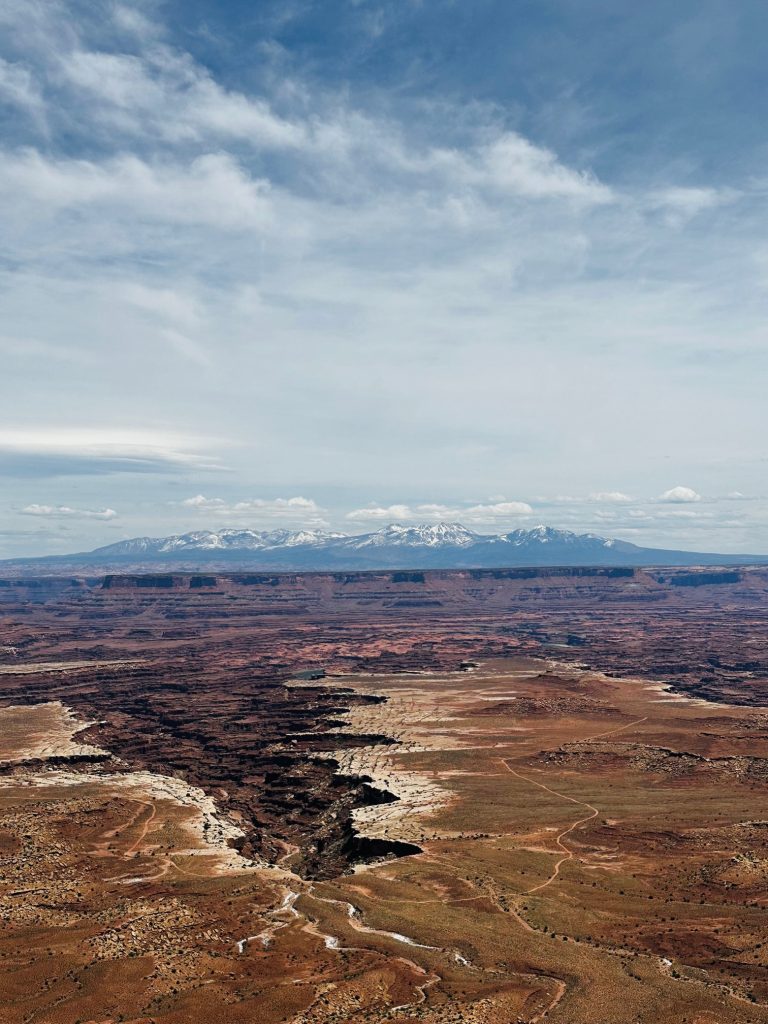 Canyonlands is one of my favorite parks to date. When you look out at it, it seems like there are canyons inside of canyons as well as incredible rock formations as well. Canyonlands is a massive national park with many different sections. We stayed in the Island of the Sky section of the park for our entire time here.
Here were our favorite things to do in Canyonlands:
Take the scenic drives in the Island of the Sky district: Make sure to stop at all of the overlooks and do the short hikes. We did this over a few days and chose a particular area of the park to explore each day.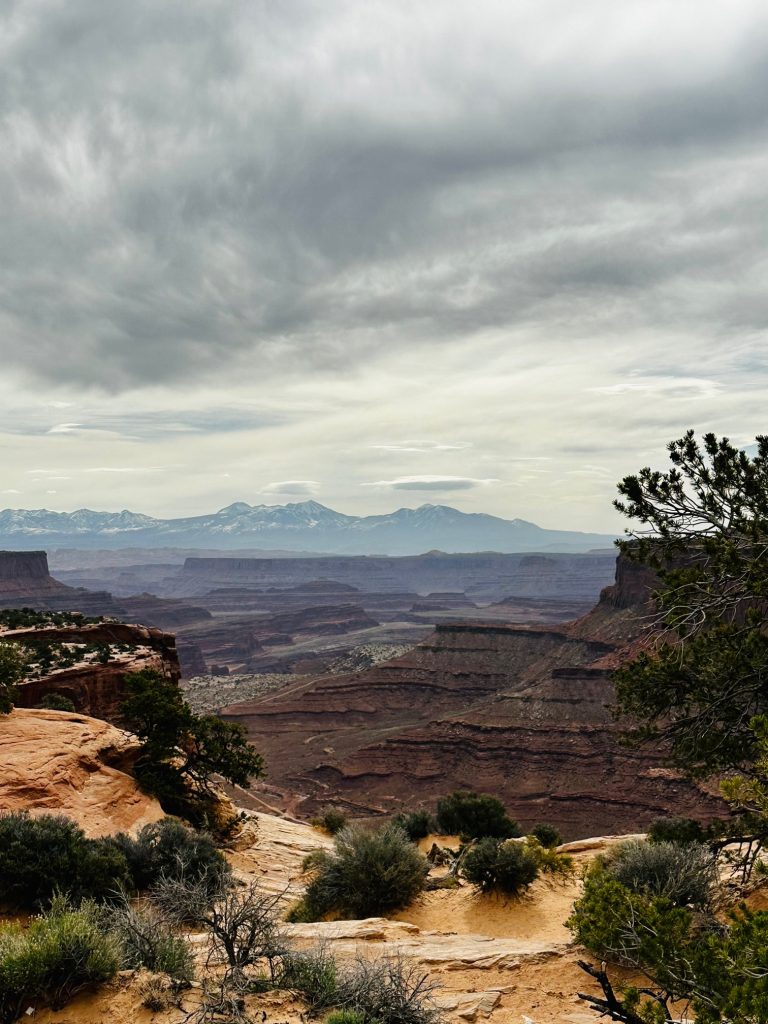 Our favorite hikes were Grand View Point, the White Rim Overloook, Whale Rock, and Mesa Arch. Since we were with my parents, we chose to not do any of the strenuous hikes below the rim.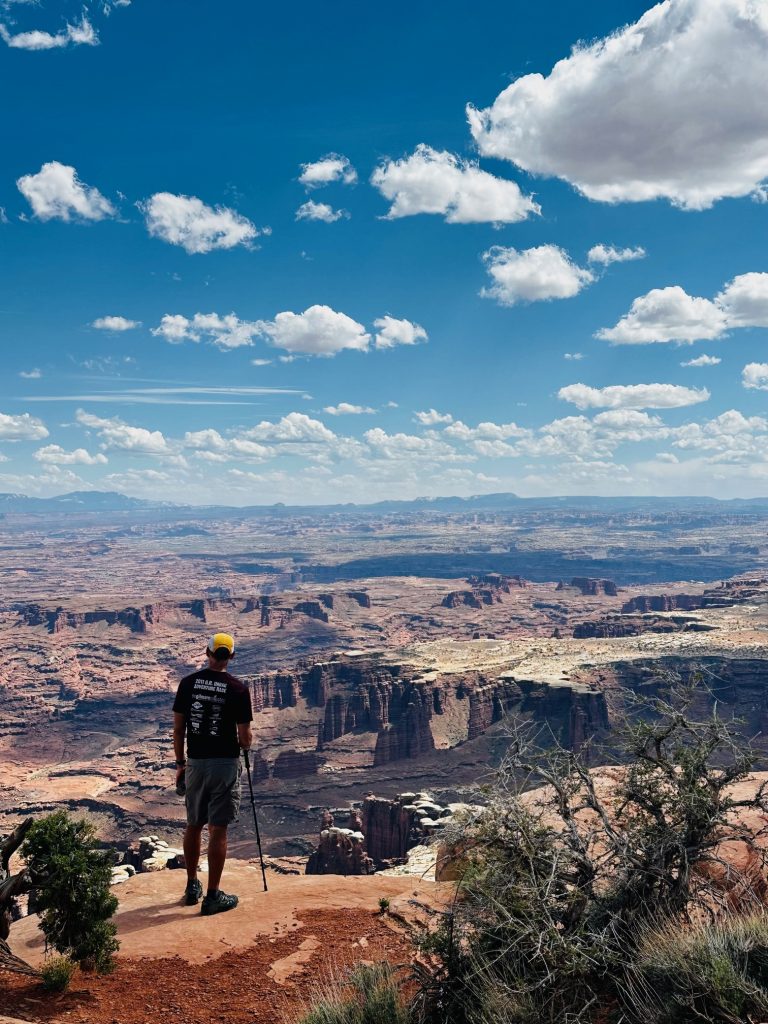 Drive the Shaeffer Trail and Potash Road: Because these are 4×4 roads, we rented a Jeep for one day from Twisted Jeeps. It was incredible to explore these off-the-beaten-path areas below the rim.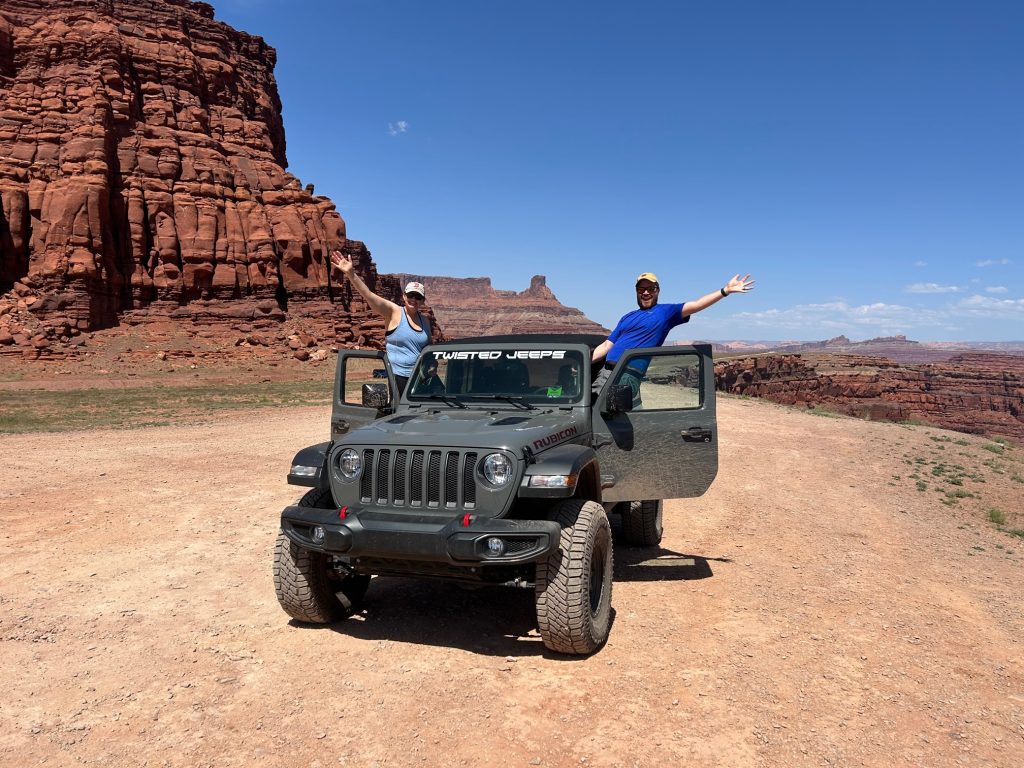 Drive down the road and check out Dead Horse Point State Park: This is technically not part of Canyonlands, but it has similar views and is incredibly beautiful.
There are so many things we'd love to do next time we're in Canyonlands, such as:
Explore a new section of the park such as the Needles. We were able to see the Needles from many places in Island of the Sky, but it would have taken two hours one way to drive there!
Drive the White Rim Road: Having a 4×4 (and a permit) is required to drive this 100-mile road down in the canyon. In the future, we'd love to rent a Jeep for a few days to do this full drive.
Do additional hiking: We didn't have the opportunity to hike Aztec Butte, and we'd love to hike below the rim as well.
Arches National Park
Arches National Park has the densest concentration of natural stone arches in the world. In fact, there are over 2,000 known natural arches within the border of the park. Beyond arches though, you can also find soaring pinnacles, massive rock fins, and giant balanced rocks.
Here were our favorite things to do in Arches National Park:
Stay at the campground: While we usually prefer dispersed camping, we decided to stay at the Devil's Garden Campground (the one campground within Arches), and it was awesome! We had an incredibly private spot amongst rock formations. And, the best part, we didn't have to worry about getting a timed entry pass into the park every single day.
Take the scenic drive to all of the overlooks: Similar to other larger parks, we chose a section of the park each day to explore. We'd stop at the overlooks and do all the short hikes.
Take a short hike and get up close to the arches: You can see many of the arches along short hikes, including the windows, turret arch, double arch, broken arch, tapestry arch, sand dune arch, and landscape arch.
Hike the Devil's Garden: This was our favorite hike! We only did about 6 miles of it out to Double O Arch, but it was a fantastic way to see a bunch of arches, scramble over boulders, and walk on the top of rock fins! My inner child was very happy on this hike!
Hike up to Delicate Arch to watch the sunset: Delicate Arch is the largest arch in the park, and you can take a 3.2-mile, moderately strenuous trail to go all the way up to the top. We did this at sunset, and it was really cool to see how the colors changed with the sun.
Because we spent 5 days staying at this park with my parents, we feel like we did almost everything that there was to do in the park. The one thing that we didn't do was explore the Fiery Furnace section of the park. This area is like a maze to explore with slot canyons, rock fins, and several hundred arches. Sadly, we learned a little too late that you need to get a permit for this hike, and you can apply for the permit 7 days before. Next time, we'll know!
Here's What We'd Do Differently
Overall, we had an incredibly time exploring Utah. It truly felt like a bucket list experience. There are only a few things that, looking back, we wish we'd have done differently. We're happy to share these things with you, so that you can take them into account as you plan a trip to Utah.
We spent so much time in the national parks that we didn't have time to explore the other natural wonders that the state has to offer. In the future, we'll definitely spend more time in the state parks near St. George, in Grand Staircase-Escalante, and the Moab area.
Knowing what we know now, we'd have visited Bryce Canyon later in the season. Even though it's in Southern Utah, it's a such a high elevation that there was still a lot of snow. We'll be excited to go back here sometime in the summer or fall to get the full experience.
We'd recommend stocking up on groceries as much as possible when you are in Moab, St. George, Hurricane, Salt Lake City, or whatever large city you are launching from. In between there are few stores, and it would be generous to call them grocery stores. It was incredibly challenging to find food that would make up full meals, and it was incredibly expensive. At one place a small jar of jam was seriously $11!
Enjoy Your Utah Road Trip
If you've never been to southern Utah, I can't recommend a road trip more highly! Growing up, my family never took road trips. As an adult, I've been amazed at all the scenery and cool things there are to see between stops! I hope you get to experience Utah in all of it's splendor someday soon!