Recently, we've written a lot about spending money. We are all for spending money on things that you value.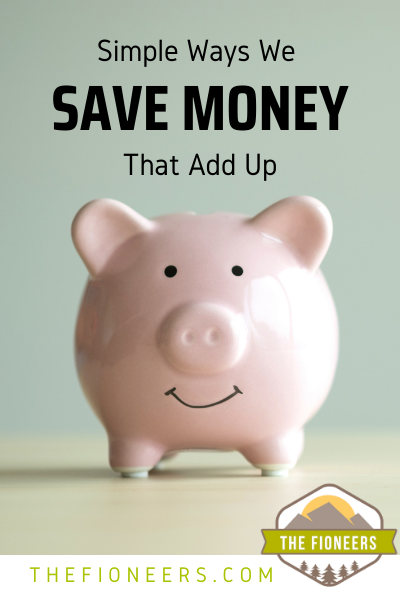 In 2021, we bought a Mercedes Sprinter Cargo van. And, we are currently paying a professional to build it out into a campervan. We took an epic week-long trip to Napa in November with all our best friends for a wedding and did not worry about the cost.
Over the last year or so, I've invested a lot of time and money into my health. I have chronic pain issues, and I want to be pain-free. I've spent money on acupuncture and specialized physical therapy that wasn't covered by insurance. And, I worked with a nutrition coach to help me with some GI issues I was having.
All this was money well spent.
But, it's important to be clear about why we have money to spend on the things that we value.
We've increased our income over time.
As we've increased our income, we did not succumb to (too much) lifestyle inflation.
We cut costs on the things we don't value.
We look for ways to get the same quality for less.
We've already written posts about how we've kept our big expenses low.
Housing: We live in a small 2-bedroom condo that sufficiently meets our needs.
Transportation: Since we've always lived in urban areas, we've always been a one-car family (with one short period where we had two). We've always bought used cars and saved up so that we could pay for them in cash.
Food: We do our best to limit our restaurant meals because we know that eating at home is much more economical. We base meals on the things we already have, buy in bulk, and get most of our groceries from Imperfect Foods (which rescues surplus food or food with cosmetic imperfections that would otherwise go to waste).
But, it's important to note that only 60% of our regular spending is in these three big categories. But, a whole 40% of our spending happens in other categories, such as shopping, insurance, travel, entertainment, hobbies, clothing/shoes, health/medical, subscriptions, pet care, gifts, personal care, phone/internet, etc.).
In this post, I want to share the key ways that we keep our spending low in the categories that make up the remaining 40% of our budget.
Simple Ways We Save Money that Add Up
To be clear, we aren't the most frugal people out there. But, we've gotten to a level of spending that feels good to us based on our income and our long-term financial goals.
Here are the ways we save money on the things that fall into the 40% of our spending.
DIY: Do-It-Yourself (within reason)
Limit subscription services
Shop around
Borrow instead of buy
Buy fewer high-quality items
Use travel rewards
Do-It-Yourself (within Reason)
There are certain things that we hire a professional to do for us. But, we've saved significant money by choosing to do things ourselves.
For example, when we first moved into our condo, our 2-unit condo association was paying for landscaping, lawn mowing, and snow removal. And, it was expensive! We were paying hundreds (if not thousands) of dollars each year for these services. Soon after moving into the condo, we discussed this with our downstairs neighbors. We convinced them that it was worth it to do our own yard work and snow removal. There were some upfront costs, such as buying a lawnmower and snowblower, but these paid for themselves within a couple of months.
We also wanted to level our backyard to put in a patio. We got a few professionals to come out and give us quotes. The lowest quote that we got was $17,000! So, we decided to watch YouTube videos and do it ourselves. We rented a walk-behind earth-mover. We bought all the materials and had them delivered to our house. Then, we proceeded to do the work over the course of 5 weekends. The total cost was less than $2500 for rentals and materials, and we split the cost with our downstairs neighbor.
Here are a few other examples of things we've done ourselves:
Painted the walls and ceilings before we moved into our condo
Replaced a belt on our dryer when it stopped working
Replaced our garbage disposal when the old one started leaking
I cut Corey's hair rather than having him go to a barber or salon (it saves money and time!)
Limit Subscription Services
The average person spends $273/month on subscription services. That's over $3,200 each year! I recently added it up, and we spend about $500/year on subscriptions. 
As I was thinking about subscription services, I did a bit of research and learned that there are three main types of subscription services.
Curated Boxes: Companies will pull together products based on a particular theme and send them to you. Examples of this include Stitch Fix, Hello Fresh, Bark Box, etc.
Autoship: A company will send something automatically based on a schedule. Examples of this include magazines, newspapers, services like dollar shave club, etc.
Access: When you pay to get access to something for a period of time. Examples of this include streaming services, Amazon Prime, skillshare type services, gym memberships, etc.
We do not have any curated box subscriptions. While these sound fun, I am an aspiring minimalist. I really don't want more stuff, especially since I'm likely to either send it back or eventually get rid of it.
We have a small number of things that are on auto-ship. For example, I have an over-the-counter medication that I take daily for a medical condition. I set this up to be auto-shipped to me on a monthly basis so that I don't forget to buy it. As a bonus, it's actually cheaper to have it auto-shipped.
The key thing is to make sure you actually need the thing you are having auto-shipped. For example, I had protein powder on auto-ship at one point, and we ended up having a backlog of them. Later, we canceled the auto-ship for that because we didn't actually need it (although we did eventually use the protein powder). I also think that if I did something like dollar shave club, I'd probably spend a lot more than I currently do on shaving supplies.
The vast majority of our $500/year that we spend on subscriptions are for access.
Here are the subscriptions that we currently use:
Hulu/Disney Plus – $20/month or $240/year
Amazon Prime – $139/year
Instacart Express – $99/year
AC/Heater Maintenance Subscription – $33/year
We don't have a gym membership because we work out at home and love to be outside.
We don't have cable TV. To watch sports, Corey uses a digital antenna and other free services. To keep our costs low on streaming, we opt to use one or two streaming services at a time. If we decide we want to have Netflix again, we will likely cancel another service. We don't watch enough TV to need more than one or two at a time.
We got the Instacart Express membership after realizing that the fees we were paying would more than cover the membership. You might be thinking that it would be cheaper to just go to the grocery store ourselves. True, but there are a few reasons Instacart makes sense for us. Our neighborhood grocery store is a Whole Foods, so it's very expensive. To get to another, cheaper grocery store, I'd need to drive at least 20 minutes in city traffic. And, doing grocery shopping online keeps me from impulse buying.
Lastly, you might be wondering why we pay an annual subscription for AC/Heater Maintenance. This is a downside of living in a big city. Demand is high, but supply is low. There aren't enough people who can do these types of repairs. With a membership, we get proactive AC and heater maintenance every year. We also are guaranteed to get someone out to our house quickly if something goes wrong. We learned this the hard way. Before having this membership, it took us almost 6 weeks one summer to get someone to our house to repair our AC.
Shop Around
We have been able to save significant amounts of money by shopping around for all kinds of insurance (and switching every few years): car, homeowners, and condo insurance. The same is true for home internet. By switching internet providers, we have taken advantage of entry offers for new customers.
Lastly, when we plan large purchases (such as travel or appliances) in advance, we can take advantage of discounts or other deals. For example, a few years ago, we knew our kitchen appliances were old and becoming obsolete. Instead of waiting for one of them to die completely (and then scrambling to figure it out), we decided to wait for a deal to replace them. This allowed us to save quite a bit.
Borrow Instead of Buy
If we can borrow something, we usually opt to do so instead of buying it. We borrow books from the library if we don't expect to read them more than once (or the waitlist isn't too long). We borrow board games from friends. When we need a particular tool to do something around the house, we ask around to see if one of our friends already has what we need.
This week, we got a text from a friend about a new tool that he's added to the "communal tool shed."
Buy Fewer Higher Quality Items
We don't buy a lot of clothing or shoes. Since I'm self-employed, I don't need to buy nice work clothes. Nobody cares if I wear the same things every week! When we do buy clothes, we are starting to buy higher-quality items that will last longer.
Another thing that has helped is switching to reusable items. While this doesn't impact our wallets a whole lot, it does help the environment. We use reusable water bottles, coffee mugs, food containers, etc. We also use a fabric shower curtain that can be washed instead of a plastic shower curtain.
Use Travel Rewards
We love to travel, but we also know that travel can be very expensive! This is why we love using travel rewards. We open a few credit cards each year, which provide us with points that we can use toward hotels, airfare, rental cars, etc.
For example, we didn't need to worry about how much we spent when we went to Napa in November because most of our big costs were covered. We got our flights for free using JetBlue points (from a JetBlue credit card we had opened previously). We got a free car rental for the entire week by using Chase Ultimate Rewards Points (that we got from our Chase Sapphire Preferred Card). The bride and groom booked a house for the wedding party for the week, so we didn't need to pay for lodging. Because of this, we didn't need to sweat how much money we spent on food, wine tastings, wine, and other activities.
We were also able to use points to take a spur-of-the-moment trip in 2021 to visit Corey's grandmother who was only expected to live for a few more weeks. Having points to cover these costs makes the decision to go very easy.
Travel rewards are one way that you can have the same experiences for less.
Saving More Money Takes Time and Energy
One important thing to note is that saving money can take time and energy.
Doing our own lawn maintenance and snow removal takes time.
Shopping around and buying higher-quality items takes time and energy for research.
Borrowing things requires reciprocal relationships with people who are willing to share.
Using travel rewards requires intentionality to look ahead to future travel and discipline to pay our credit cards off on time.
You might not have the time and energy to use all these strategies. If you are just getting started, I'd encourage you to focus on the areas where you'll get the most bang for your buck: housing, transportation, and food.
If you do have time and energy (and want to reduce your spending even more), I'd encourage you to focus on one area at a time. You don't want to burn yourself out.
A few years ago, I heard someone say, "Only make changes that you'd be willing to sustain forever." They were specifically talking about health habits in response to the yo-yo effect that people often see with their health. The person who recommended this knew that long-term sustainable habits would lead to long-term health.
The same is true for our finances. Focusing on a small number of things at a time can help us to maintain our progress long-term.