We just got back from our very first campervan road trip, where we spent 6 days exploring Vermont.
We were planning to be in Ecuador for the FI Chautauqua. Sadly, it was canceled because of a national strike and civil unrest. We were bummed to not get to Ecuador. But, we took this opportunity to take a road trip in our newly converted campervan!
We were originally planning to stay in Vermont for three nights and then head to New Hampshire for the last two nights. By day two, we realized we were having too much fun in VT. There was so much more we wanted to see and do.
So, we changed our plans and figured out how to stay for the rest of the week.
Where Did We Stay?
One question we often get asked is, "Where do you stay in your campervan?"
Since we are still fairly new to vanlife, we decided to stick to mostly traditional campsites for the trip. For the first two nights, we stayed at Smuggler's Notch State Park Campground in Stowe, VT.
Staying here allowed us to explore the beautiful smuggler's notch area, play disc golf, and visit Moss Glen Falls. As a bonus, we had excellent cellular service at the campground. It's on our list of potential places we could work in the future.
For the next two nights, we stayed at Little River State Park in Waterbury, VT. This campground was more centrally located, so it allowed us to explore more of Waterbury, including Ben and Jerry's Ice Cream Factory, and do some more hiking. Surprisingly, cell service was spotty (even with our signal booster), so working from here in the future would not be an option.
Because we switched gears in the middle of the week, our original campsite wasn't available for the second night. So, we needed to switch campsites. After checking out of our first spot in the campground, we drove five minutes parked at the Waterbury Reservoir and relaxed in the van with this view for a few hours.
It was a challenge to find a traditional campground with an opening on Friday night, so we decided to look at what Harvest Hosts had to offer in the area.
Harvest Hosts is a membership program that provides access to a network of wineries, breweries, farms, museums, and other locations where you can stay overnight (as long as your RV has a bathroom). We paid $85 (15% off) for an annual membership that provides us with access to over 3,000 free camping locations. The hosts benefit by gaining more foot traffic and customers.
Through the Harvest Host app, we ended up finding Morse Farm Maple Sugarworks, where we stayed on Friday night. It was a really neat (and beautiful) place. After sampling 4 different types of maple syrup, we got to try maple-flavored ice cream, maple kettle corn, and maple candy. Maddie even got a maple and peanut butter dog bone.
The best thing though was the view.
If you have a self-contained RV and are intrigued by Harvest Hosts, you can use this link to get 15% off. Hopefully, we'll see you on the road!
Best Things to See and Do in Vermont
Whenever we write posts about travel, we think it's equally important to share the things that we'd recommend doing and also share the things that we'd skip. We want you to see and experience the absolute best things and not waste time doing things that are just okay!
Hiking/Beautiful Scenery:
We absolutely love hiking and the outdoors. Over the last few years, it's been tough because I've been struggling with a foot injury. I had surgery on my foot three months ago, and I'm still recovering. This meant that we could only do hikes that were approximately 1 mile or less.
Our favorites were:
Hiking to Moss Glen Falls, which is the tallest waterfall in Vermont! The best part, it's only ¼ mile from the trailhead making this an accessible hike for people of all ages and ability levels.
Exploring Smuggler's Notch, which is a narrow pass through the Green Mountains that's lined with 1,000 foot cliffs! It's called Smuggler's Notch because Vermonters carried on illegal trade with Canada at various periods of time. Fugitive slaves also used the notch as an escape route to Canada. We drove the 3.5 mile winding scenic road and hiked through the caves.
Relaxing at the Waterbury Reservoir, which is 6 miles long and bordered by state forest lands and two state parks. After checking out of our first camping spot at Little River State Park, we drove here and hung out for the morning. It was beautiful and relaxing.
Breweries and Cideries:
Vermont is home to some of the best breweries and cideries in the world! We aren't huge beer people, so we stuck to cideries. Since we know that most people like beer though, we'll share what we know to be some of the best breweries as well.
Stand-out Breweries and Cideries in Vermont include:
Food and Drink
When traveling in our campervan, we like to make the vast majority of our own food. We have a full kitchen that includes a dorm-style fridge, induction cooktop, sink with running water, and plenty of food storage. This allows us to save money and eat healthier while traveling.
To be honest, we had some pretty gourmet meals on this camping trip. We did a taco night, a pizza night, and even cooked hobo dinners (foil packets with sausage, potatoes, carrots, onions, and peppers) over the fire.
We did partake in some awesome food and drink in Vermont, so we definitely need to tell you about our favorites:
Activities
It's very likely that you'll start seeing a trend in the places we travel. We (at least partially) travel for disc golf. While I haven't played disc golf in a while because of my foot injury, Corey is a huge disc golf enthusiast. Once my foot heals from surgery, I'm hoping to get into it as well.
Vermont is home to some of the best disc golf courses in the world! In fact, our main reason for going to Vermont in the first place was to visit Smuggler's Notch Disc Golf. They have two 18-hold disc golf courses that are ranked #6 and #14 in the world!
Corey played both of them (over two days). Maddie and I relaxed in the van or outdoors for a couple of hours during that time. It was lovely.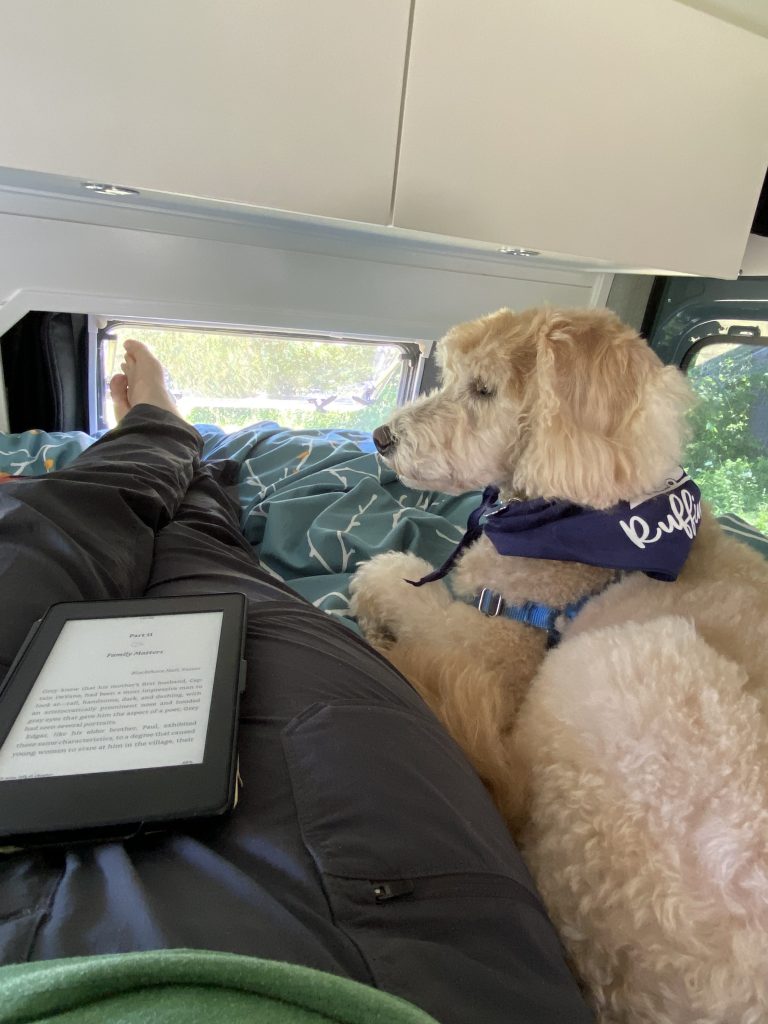 During our trip we also visited two other courses:
The disc golf course at the Trapp Family Lodge (of the von Trapp Family Singers and Sound of Music)
Center Chains, a disc golf course in a public park in Waterbury Center, VT. This one is more your "run-of-the-mill" disc golf course, but still a lot of fun.
In addition to disc golfing and hiking (see above), we spend time doing relaxing things we often do while camping and on vacation:
Playing board games or card games
Building a campfire
Reading books
This was definitely not a vacation we felt like we needed a vacation from when we returned. We had a lot of opportunities to chill out and relax.
What to Skip on Your Vermont Roadtrip
Many people who write about travel just tell you about the good, fun, exciting things. We think it's important to give you a realistic picture and tell you about the things we wouldn't recommend as well.
There were a few hikes that we did simply because my mobility was limited by my recent foot surgery.
Instead of doing the more ambitious Camel's Hump hike, we hiked the Camel's Hump View Trail. To be honest, we aren't sure what the view was that we were supposed to have seen. There were supposed to be viewpoints and vistas, but it's possible that you can only see those in the winter when there are no leaves on the trees. It was a nice nature walk, but we would recommend doing a more ambitious hike if your body can handle it.
We had a similar experience with Hubbard Park (and the Hubbard Park Tower) in Montpelier. We hiked up to the highest point within this city park and climbed at least 5 flights of stairs to get a view of the tree tops and a few mountains in the distance.
To be clear, it was beautiful. But, the description told us that we'd be able to overlook the beautiful city of Montpelier. That was unfortunately not the case. I'm glad we did it because it was one of the few sub-1 mile hikes that I could do. But, once I can walk and hike for longer distances, I would definitely prefer a different hike.
On the food and drink side of things, we did actually skip a few recommended things that we'd done on previous trips to Vermont.
Cabot Farmer's Store – Cabot cheese is indeed from Vermont, but the Cabot Farmer's store is literally just a store that sells cheese. Besides the very funky flavors, you can buy the majority of these cheeses at the regular grocery store.
Cold Hollow Cider Mill – We don't love tourist traps, and this is one of them. It could be worth a quick stop to buy some fresh-pressed apple cider. Beyond that, unless you want to buy trinkets or souvenirs, you can skip it.
Where are we Headed Next?
We loved Vermont and can't wait to hit the road again! This past weekend, we spent a long weekend on Cape Cod at Nickerson State Park, which is one of our absolutely favorite camping spots! It was a lot of fun to meet up with my parents in their own campervan!
In a few weeks, we're headed out on a three-week Canada road trip extravaganza up to New Brunswick, Prince Edward Island, and Nova Scotia. We're excited to get a taste of what longer trips in the van feel like.
Stay tuned over the next few weeks for the continuation of our vanlife series.
I'd encourage you to go check out Part I: Why Vanlife now.
In the next few posts, we'll share more about:
The features and configuration of our campervan (and answer questions like "what's the bathroom situation?")
The breakdown of costs (both for the build and the ongoing costs)
What traveling in a campervan is really like
If you have any questions you'd like us to answer in this series, drop a comment below!