We just got back from (what felt like to us) an epic 3-week road trip up to Maritime Canada! If you aren't familiar with the term "Maritimes," this means the Atlantic provinces of Canada. This includes New Brunswick, Prince Edward Island, and Nova Scotia.
This was our first big road trip in our new campervan. In fact, three weeks is the longest vacation we've ever taken, at least since we graduated from college and started working. We know this is the first of many and that we'll extend the trips to longer lengths over time.
We thought 3 weeks was a perfect amount of time to visit Maritime Canada! We had a wonderful time, but it also left us wanting more time to experience these beautiful places. If you have less time, I'd encourage you to stick to fewer destinations and really savor each one.
And, if you live in another part of the country, I'd also encourage fewer destinations. Your drive to the Canadian border will likely be longer than ours was (which clocked in at about 6 hours).
In this post, I'll share:
Our 3-week Maritime Canada Itinerary
What to see AND what to skip
What we'd do differently next time we go there (which will hopefully be soon!)
3-Week Maritime Canada Road Trip Itinerary
For this itinerary, I'll break down the time spent in each region or province. I'll include where we slept as well as key activities you could consider!
For your reference, here is our brief itinerary:
Day 1 – Travel day through NH and Maine on our way to Canada
Days 2-6 – New Brunswick
Days 7-11 – Prince Edward Island
Days 12-17 – Northern Nova Scotia and Cape Breton Island
Days 18-21 – Southern Nova Scotia
Days 22-23 – Travel days through Nova Scotia, New Brunswick, Maine, and New Hampshire on our way back to Boston
Let's get into more details so that you can plan your own road trip to the Maritimes!
Day 1 – Travel through NH and Maine on our way to Canada (1 day)
Whenever you take a road trip, you need to account for the travel time to get to your intended destination. We knew that we didn't want to drive more than 4-5 hours in a day (if we could help it), so we decided to stop in Maine on the way up.
In Maine, we opted to stay overnight at a Harvest Host. Harvest Hosts is a membership where we pay about $85/year to have access to over 3,000 free camping locations. The locations include wineries, breweries, farms, etc.). If you want to participate in this membership, you need to have a self-contained RV (which basically means that you need a bathroom inside the rig).
If you have an RV and want to check out Harvest Hosts, click here to get 15% off your first year.
In Maine, we stayed at Stone Tree Farm and Cidery. It was a beautiful, quiet location in Unity ME.
When traveling through Maine, here are some of the activities that you could consider:
Days 2-6 – Explore New Brunswick (5 days)
Our first real stop was New Brunswick. We spent most of our time along the southern coast near the Bay of Fundy, which famously has the highest tides in the world. We spent the first few days exploring Fundy National Park before heading up to spend time with friends (who we met through the blog) in Shediac.
Sadly, we ended up having a bunch of warning lights come on in the van on our way to Shediac. Fortunately, we were only 20 minutes away from a Mercedes dealership when it happened. Luckily, it was just a faulty sensor that was easy to replace. But, we did end up spending one night sleeping in the Mercedes parking lot and an extra day in New Brunswick while we waited for the part.
Here are the places we stayed in New Brunswick:
3 Nights – Pointe Wolf Campground at Fundy National Park (highly recommend)
1 Night – Mercedez-Benz dealership in Moncton, NB (would not recommend…)
1 Night – "Mooch-camping" in the driveway of friends we met through the blog in Shedia, NB (I always highly recommend staying with friends!)
Over the 5 days we spent in New Brunswick, we did a lot of fun activities:
For us, traveling in a van means that we make the vast majority of our food. Yet, I am happy to share that we ate one meal out at the Muddy Rudder in Alma, New Brunswick. Before the trip, I was bummed that I wouldn't be able to eat poutine in Canada (since potatoes make me sick). But, the Muddy Rudder made me poutine with sweet potato fries!
Days 7-11 – Explore Prince Edward Island (5 days)
After getting the van repaired, we headed to Prince Edward Island a day and a half later than we had hoped. We adapted our schedule and still had a wonderful time.
We decided to explore both the eastern and central parts of the island. PEI is such a small island and everything is fairly close together. Once we got onto the island, we never drive more than an hour to get from one place to another.
First, I'll share where we slept:
1 Night – Red Point Provincial Park on the Eastern shore of PEI (HIGHLY recommend! I'll share more below).
1 Night – Bogside Brewing through Harvest Hosts (This spot was just okay).
3 Nights – Stanhope Campground at Prince Edward Island National Park (This was a great campground, but would not recommend it if you have a dog).
Over five days on PEI, we did a lot of fun activities and saw a lot of beautiful sites. Here are a few I'd recommend:
Hike the Greenwich Dunes at PEI National Park: This was hands-down the most beautiful hike we did on the Island. It's a 2.7-mile out and back trail across the dunes, boardwalks, and floating bridges.
Go to Basin Head Provincial Park Beach: We spent some time on this beach experiencing the "singing sands," which was really just a squeak with each step because of the high silica content. It was fun and beautiful. We were there on a cloudy day, so it wasn't very busy.
Hike or bike the Robinson Island Trail System in PEI National Park: This was a 2-mile loop around Robinson Island with many beautiful vistas and views of mainland PEI.
Bike along the PEI National Park Bike Trail from North Rustico to the Cavendish Cliffs and Avonlea Village: This 15-mile (out and back) bike trail goes along the northern/central coast of PEI. You'll stop along the way to see beautiful vistas of the coastline and cliffs. You'll end the ride at the Anne of Green Gables tourist sites. To be honest, we didn't care at all about seeing this touristy stuff. We just stopped for ice cream! We rented bikes from Outside Expeditions in North Rustico.
Play Disc Golf at Hillcrest Farms: This was the highlight of PEI for Corey (and the main reason we went there in the first place. This disc golf course was ranked the 2nd best in the WORLD in 2021. If you are into disc golf, you'll definitely want to check it out.
We did end up eating out a few times during our time on PEI. Here are a few of the places we enjoyed:
Cows Ice Cream: Some people say Cows is the best ice cream in Canada. We couldn't say because we haven't had all the ice creams in Canada, but It was pretty darn good.
Bogside Brewing: While this wasn't a great place to sleep, they did have awesome food and great cider. The brewery hosted two restaurants – pizza and BBQ. We had the BBQ, which was very good. We've heard that the pizza is some of the best on the island.
Fin Folk Food: One day, we headed to the beach and saw this fish shack nearby. We decided to get lunch and did not regret it!
Days 12-17 – Explore Cape Breton Island in northern Nova Scotia (6 days)
After leaving PEI, we headed over to Nova Scotia to Cape Breton Island. We had heard that driving the Cabot Trail and visiting Cape Breton Highlands National Park was going to be the highlight of our trip. They were right. It was the highlight of the trip. We were absolutely amazed at the beauty that we saw around every turn.
When we were in Northern Nova Scotia, we slept in the following places:
1 Night – Caribou-Monroes Island Provincial Park – this was a stopover halfway between Prince Edward Island and Cape Breton (this campground was fine but we wouldn't go out of our way to stay here again).
2 Nights – Broad Cove Campground which is in the eastern part of Cape Breton Highlands National Park (HIGHLY recommend)
3 Nights – Cheticamp Campground which is in the western part of Cape Breton Highlands National Park (would NOT recommend; see more on this below)
During our 6 days in Cape Breton, we saw and did so many incredible things. Here are some of the highlights:
Explore the Cabot Trail: The Cabot Trail is a 186-mile highway that weaves through Cape Breton Highlands National Park and along the shore of the Atlantic and the Gulf of St. Lawrence. We stopped at all the overlooks. Our favorites included: Lakies Head, Green Cove, Beulach Ban Falls, Wreck Cove, Cap-Rouge, and La Bloc. Because the Cheticamp campground was so bad, we would often just drive to an overlook or another beautiful spot to hang out when we weren't hiking rather than go back to the campground.
Hike in Cape Breton Highlands National Park: We hiked every day we were there! Our favorite trails were the Freshwater Lake Look-Off, the Coast Trail from Black Brook Beach, MacIntosh Brook Waterfall, the (famous) Skyline Trail, and Le Buttereau. Since I'm still recovering from my foot surgery, all of these are easy or moderate hikes of less than 4 miles.
Stop in Inverness to walk their boardwalk: Someone we met recommended we do this! It was on our way off of the island, so, of course, we made a quick stop. We walked along a beautiful boardwalk with the beach and crashing waves to our left and a beautiful golf course to our right.
There were very few restaurants (or really much civilization) up near Cape Breton Highlands National Park. So, we only visited one restaurant called Mr. Chicken in Cheticamp, NS. We ate their famous fried chicken for dinner one night. To be honest, it was just okay. But, we also got ice cream there (as it's one of the few ice-cream shops in the area), and we'd highly recommend it for that.
Days 18-21 – Explore Southern Nova Scotia (4 days)
After leaving the majesty of Cape Breton Island, we decided to explore southern Nova Scotia. This included visiting a famous lighthouse, strolling around a town that's also a UNESCO heritage site, and visiting our fourth national park of the trip.
When we were exploring Southern Nova Scotia, we stayed in the following places:
1 Night – We "mooch-camped" in friends' (who we know through the blog) driveway in Dartmouth, NS (on the outskirts of Halifax). (We always recommend staying with friends!)
1 Night – Lightship Brewing through Harvest Hosts (HIGHLY recommend; this was one of the coolest places we stayed on the whole trip, not just one of the best Harvest Hosts)
2 Nights – Jeremy's Bay Campground in Kejimkujik National Park (It was a nice campground, but I'm not sure we'd recommend it. See below for more!)
Our favorite activities in Southern Nova Scotia were:
Visiting the Lighthouse at Peggy's Cove: This iconic lighthouse is one of the most visited and most photographed places in Nova Scotia. You can spend hours exploring the rocks and watching the waves and tide.
Strolling through Lunenburg: Lunenburg is one of the only urban communities that's designated as a UNESCO World Heritage Site. Visiting here, you'll see brightly painted houses that were built in the 18th century still standing. There was also some awesome food and drink here!
Explore Kejimkujik National Park: Located on the shores of Kejimkujik Lake, there were so many things to do, including hiking, biking, swimming, canoeing, and other water sports. They even have dozens of backcountry campsites that you can rent a canoe (rentals located inside the park) to get to. Our favorite hike was to Peter Point, a small, secluded beach.
Day 22-23 – Drive from Nova Scotia to Boston with a stop in New Brunswick (1.5 days)
This is the boring part. After leaving Southern Nova Scotia, we took one and a half days to drive back home to Boston. On the way, we slept at Granite Town Farms Wild Blueberries in St. George, NB through Harvest Hosts. It was an okay place to stay – a few notches above a Walmart parking lot, but it served our purpose.
We stopped to play Disc Golf both days (in Nova Scotia and in Maine) and got home with enough time to unpack, clean the van, and hang out with some friends.
What You Absolutely Must See in the Maritimes!
We hinted at the things we absolutely loved (and didn't) above. And, I want to tell you more about why we loved and didn't love things. Here's the inside scoop.
Nova Scotia
#1 – The Cabot Trail
We recommend spending at least three days exploring the Cabot Trail and Cape Breton Highland National Park (we spent 5 days).
While driving the Cabot Trail, stop at all the overlooks (or even spend hours hanging out at them, as we did). Our three favorite hikes were the Skyline Trail, the Coastal Trail from Black Brook Beach, and the Freshwater Lake Lookoff. If you want to camp, we'd definitely recommend staying at Broad Cover Campground on the easter side of the park.
#2 – Lunenburg
The other thing we'd highly recommend doing in Nova Scotia is to stop in Lunenburg! If you have a Harvest Hosts Membership, we'd definitely recommend staying at Lightship Brewing. If you don't, we'd recommend a visit there.
You get to enjoy great food and beer or cider while overlooking the harbor and town. To be clear, we didn't feel like we needed to spend more than an afternoon and evening here to get the full experience.
Prince Edward Island
#1 – Greenwich Dunes in PEI National Park
This was my favorite hike on Prince Edward Island. It is a must-see!
#2 – Stay at Red Point Provincial Park
If you are into camping, I'd recommend staying at Red Point Provincial Park near Souris, which is on the northeastern side of the island.
When you stay here, make sure you book one of the spots that are right on the water (9, 10, 20, 21, 22, 23, 25, or 26). If you can't get one of these spots, you may want to skip this campground.
#3 – Get Cows Ice Cream
As shared above, Cows has been voted the best ice cream in Canada. It is somewhat commercialized, and I'd compare it to Ben and Jerry's in the United States. But, the ice cream is very good! You'll find locations in Charlottetown and Cavendish.
#4 – Play Disc Golf at Hillcrest Farms
As shared above, Hillcrest Farms was voted the 2nd best disc golf course in the world in 2021 (coming in right after Maple Hill in my home state of Massachusetts). Corey loves disc golf and playing this course was one of the highlights of his trip.
New Brunswick
#1 – Visit the Hopewell Rocks Provincial Park
There is a kayaking adventure company (Baymount Outdoors Adventures) right within the park, and I'd recommend doing their high tide kayaking tour. We had the opportunity to kayak right next to these incredible rock formations on the highest tides in the world. Then, just a few hours later, we were walking the ocean floor 40-50 feet below where we had kayaked earlier in the day. It was incredible!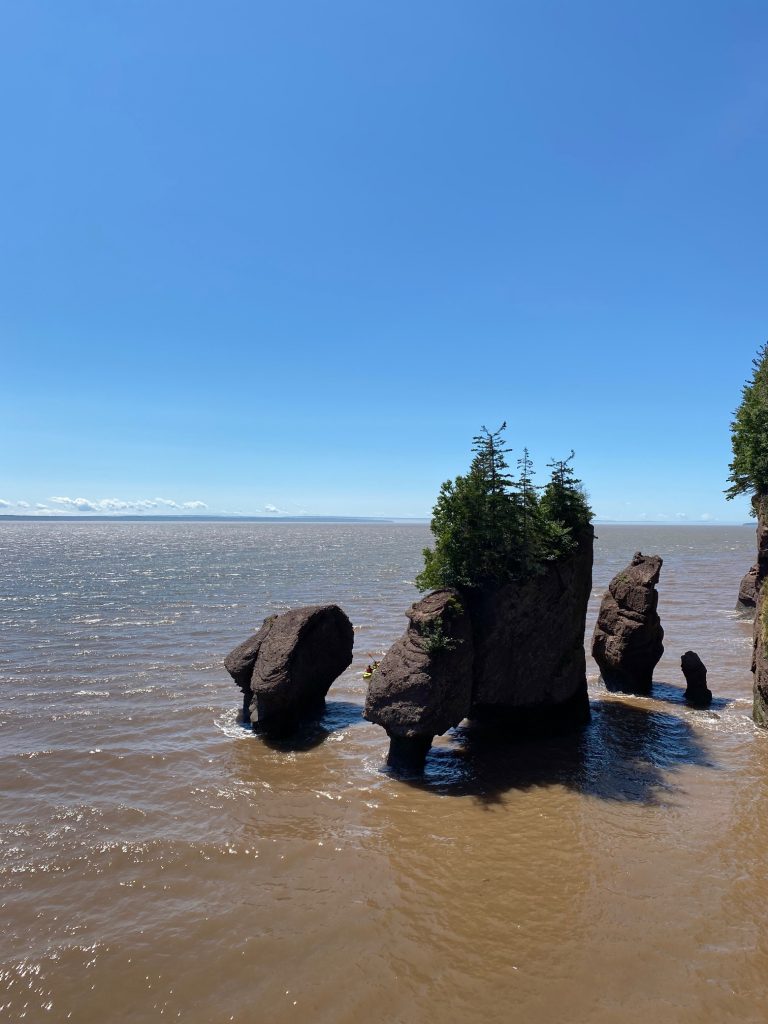 When you go here, you'll want to make sure to visit at both low and high tides. When you pay for admission to the park, your pass is good for two days for this exact reason. If you can't see both low and high tide in one day, you definitely want to go back the next day!
#2 – Drive the Fundy Trail Parkway
This 19-mile scenic drive goes right along the Bay of Fundy directly south of Fundy National Park. The parkway and its trails, overlooks, and bike paths are maintained by a nonprofit organization.
#3 – Hike the trails at Fundy National Park
Fundy National park was a beautiful place to visit! My favorite thing was when we hiked down to Pointe Wolf Beach and both low and high tides! It was incredible to see the difference just a few hours apart!
What to SKIP in your trip to the Maritimes
Whenever we travel, we think it's important to share the things that we didn't like and what we would have done differently. That way you can avoid our mistakes and enjoy your trip even more. Let's talk about what we'd skip.
Nova Scotia
#1 – Cheticamp Campground in Cape Breton Highlands National Park
Walking to the bathroom on the first night, we heard someone say, "This isn't a campground; it's a parking lot." And, we thought that described Cheticamp quite well. It's a glorified parking lot with firepits (at most – not all – campsites) and a few trees. One night we made a campfire, and our firepit was ten feet away from the car of the people at the next campsite.
In fact, we were so disappointed with this campground that we actually did some research to see if we could find another campground instead. Unfortunately, it was the weekend so everything was already booked. We compensated by spending as much time hanging out in beautiful locations as possible and only coming back to the campground to sleep.
If you want to stay on the western side of the Cape Breton Highlands, we recommend looking into Mkwesaqtuk/Cap-Rouge Campground or Corney Brook Campground instead.
#2 – Kejimkujik National Park
I hesitate to put this on the list of things to skip because it was actually a pretty good place to stay. My main reason for skipping it is that it just felt like "normal camping." It wasn't distinct from the camping we can easily do within a few hours of our home.
If you happen to be in southern Nova Scotia, you'll definitely enjoy your visit here. But, if you don't have another reason to visit southern Nova Scotia, I'd recommend skipping it.
One thing to note is that Kejimkujik National Park is Nova Scotia's only Dark Sky Preserve. We did not get to experience this because it was cloudy for our entire visit. Had we gotten to see the stars it's possible we might feel differently. But, we did have the opportunity to do some star gazing on Prince Edward Island, which was fairly dark as well. We even saw some shooting stars there one night.
Prince Edward Island
#1 – The Scenic Coastal Drives
Do NOT take the scenic coastal drives on Prince Edward Island, unless it happens to be on your route anyways. The PEI tourism board makes it sound like these are amazing ways to see the sites. When I read about it, I was definitely picturing something like the Cabot Trail in Nova Scotia or the Fundy Trail Parkway in New Brunswick.
In reality, you'll just be driving through farmland most of the time. Once in a while, you might drive through a pretty area. But, it's not worth driving an extra distance. I'd recommend simply choosing the places you want to go and driving straight to them. You'll see the same number of cool things doing that.
#2 – Staying at PEI National Park (if you have a dog)
When planning our trip to PEI, we did not realize that dogs weren't allowed on any national park beaches in PEI. And, they are very strict about it.
For three days in PEI, we stayed at Stanhope Campground which was within PEI national park. It would have been a lovely place to stay had we been able to take our dog to the beach. Unfortunately, we had to leave the national park and find a public or provincial park beach, so that we could take our pup.
In the future, we would choose to stay at a provincial park, so that we could enjoy the beach without needing to drive 20 minutes.
New Brunswick
The only thing we'd have skipped in New Brunswick was sleeping at a Mercedes-Benz Dealership. I am hopeful that this will not happen to you in the future! But, if you have a Sprinter van and have engine trouble in New Brunswick, please know that there is an MB dealership in Moncton. And, they will let you stay overnight in their parking lot.
What We'd Do Differently Next Time in Maritime Canada
There are a few things that we wouldn't necessarily skip, but we'd do differently.
#1 – Spent more time in PEI and less time in Southern Nova Scotia
Southern Nova Scotia, specifically Kejimkujik National Park, was the least exciting part of our trip. If we could do it over again, we'd spend less time in southern NS and more time exploring PEI. We would have loved to explore Charlottetown and Summerside, PEI's two largest "cities."
We missed out on a few things we had hoped to do since our trip was shortened because of our engine issue. Even having one more day wouldn't have allowed us to see everything we wanted to. We'll definitely be back to PEI at some point.
#2 – Bring my Bike
There are so many awesome bike trails in PEI that we didn't get to experience because we only rented bikes for one day. When I go back to PEI, I'd want to bring my bike, so that I can bike the Confederation Trail System. It's a decommissioned railway line that extended for hundreds of kilometers from east to west with branch trails going north and south as well.
#3 – Arrive at Peggy's Cove in Southern NS earlier
When we arrived at Peggy's Cove (Nova Scotia's most iconic lighthouse) around 9 AM, it was already packed with people. There were even multiple tour buses.
During the visit, I learned that the visitor center allows RVs to stay overnight in their parking lot. If I come back through southern Nova Scotia again, that is exactly what I'll do. This will allow us to be the first people there in the morning.
#4 – Check the event schedule for each Harvest Host
We made the mistake of not doing this for our first two Harvest Hosts. When we arrived at Stone Hill Farm and Cidery, we were informed that karaoke was about to start. Luckily, there was a poor showing and only two songs were sung. The rest of the evening was relaxing and quiet.
When we arrived at Bogside Brewing, we learned that there was a live band. We had seen on the Harvest Host App that the brewery closed at 10, so we didn't think this would be a problem. Then, we saw the fine print. On the bottom of their sign below the closing times, it said, "or until the party ends." The band was actually pretty terrible and played until around 11:30 PM.
In the future, we will look to see what events are being held at the Harvest Host locations to ensure that we aren't taken unawares.
We LOVED Maritime Canada and Will Definitely be Back!
Not only were the sites incredibly beautiful, but we also met some really fun and incredibly nice people. We enjoyed hanging out with some new friends we met through the blog in all three provinces!
When I go back to the Maritimes, here's what I'd love to do most:
Spend more time exploring Hopewell Rocks in New Brunswick and its counterparts in Nova Scotia (Burntcoat Head Provincial Park and Cape Chingneto Provincial Park).
Drive the Cabot Trail during the peak of fall foliage! It was already one of the most beautiful drives in the world. The only thing that could make it more beautiful would be the fall foliage!
Stay right on the water at Red Point Provincial Park in PEI for many days in a row!
Have you been to the Maritimes? What else would you suggest doing?