In 2018, we started our pursuit of financial independence. At the time, our main motivation was location independence. We wanted to travel and explore the world without needing to worry about limited vacation time or asking permission.
At the time, we assumed that we'd probably need to reach FI before making this a reality.
In a blog post in December of 2018, we wrote this.
"If we happen to make enough money from entrepreneurial ventures that we enjoy, it's possible that we might reach location independence before we reach FI. But, we only want our entrepreneurial venture to be things we enjoy, so we are okay if this doesn't happen before we reach FI in about 8 years."
Wow! How things can change in just a few years.
In 2018, being a location-independent entrepreneur felt like a lofty goal that was completely out of reach. We still assumed we'd need to reach FI first.
Now in 2023, I'm excited to share that we are officially location-independent.
Over the last 4 ½ years since we started our FI journey, I've built a business that I love that can cover our expenses. This means that Corey will quit his job in the next month, and we'll hit the road in our campervan as location-independent entrepreneurs.
What is Location Independence?
There are a lot of misconceptions about location independence. This is why it's important to define the term and share the different variations that exist.
Location Independence: You can live anywhere in the world because your professional life doesn't tie you to a particular physical location.
Some people think that location independence is synonymous with the term digital nomad. It's not. A digital nomad is location independent, but all people who are location independent are not digital nomads. (It's the typical math problem: all As are Bs, but not all Bs are As.)
Let's discuss the different variations of location independence:
There are so many options to live a location-independent lifestyle before reaching full FI.
Full location independence looks different for different people. Not everyone wants to sell everything they own, hit the road, and live out of a suitcase for the rest of their life. Though, that is certainly an option.
Here are some different structures for location independence:
Nomadic Travel: You can choose to travel full-time without having a home base. Nomadic travelers may travel around the world by planes, trains, cars, or RVs. They tend to be minimalist and have only what they need.
Home Base + Travel: You can choose to keep your primary residence and travel as often (or as little) as you want. You are free to take shorter week-long trips or longer months-long voyages.
Seasonal Living: You can choose to live in a different location based on the seasons. Some people travel south in the winter chasing sun (snowbirds) and others travel north for the winter chasing snow (snow bunnies).
We're Location Independent; Now What?
We've become location independent through entrepreneurship. We can run our business from anywhere in the world, as long as we have an internet connection.
In 2023, Corey is taking a mini-retirement (or sabbatical) to recover from burnout, enjoy adventures, and decide what he wants to do next. Technically, this would make his location independence temporary. But, I'd be very surprised if he ever went back to a traditional, location-dependent job, so I'm not sweating it.
Originally, we weren't planning for Corey to quit his job until 2024 or later. Fortunately, we decided to build our campervan out sooner. Having a vision of what life would look like after quitting made it a lot easier for Corey to take the leap.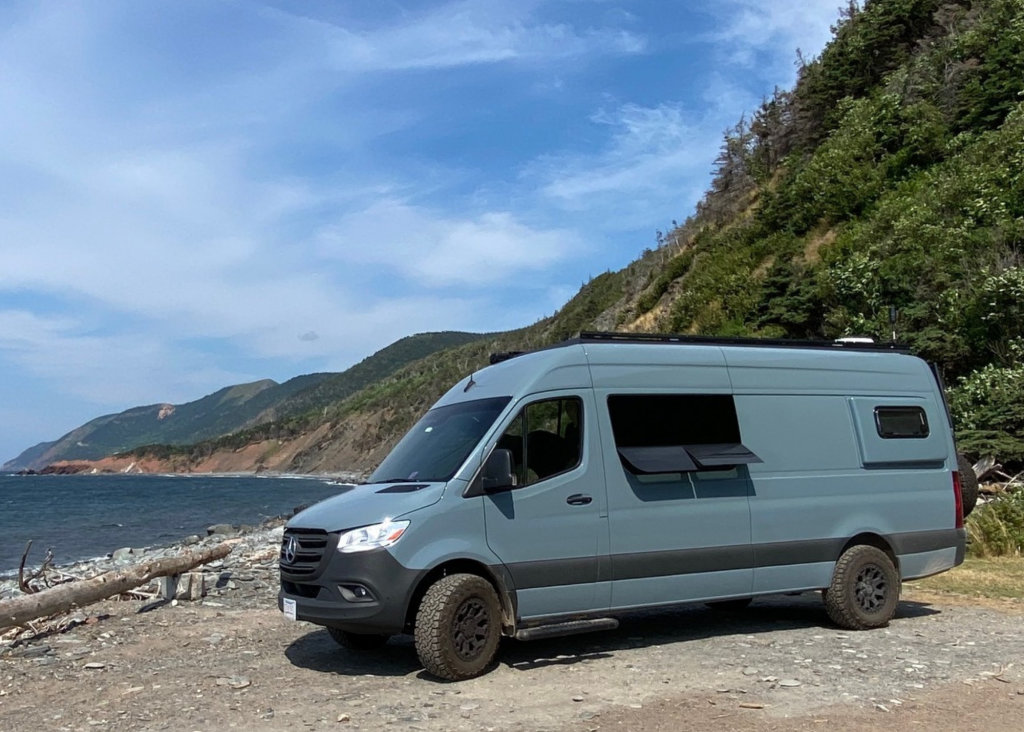 For now, we've decided that we're following the home base + travel structure. We aren't sure we ever want to be fully nomadic. We have a strong community in Boston, where we currently live. When we're home, we'll focus on building our community here.
Since we no longer have limited time off (and don't need to ask permission), we can travel as often as we want for as long as we want. We can work from the road, and return home when we are ready.
Our 2023 Plans
In 2023, we're doing a combination of spending time:
Traveling in our campervan for months at a time
Traveling internationally for shorter stints
Spending quality time at home
We're approaching it all as an experiment. We'll ask questions, learn as we go, and adjust based on what we learn.
Here's what we know about 2023.
January-February: Preparation
Corey will wrap up his job and officially resign sometime in the next 4-6 weeks. This will give us the opportunity to pack up our van and prepare for our biggest road trip yet.
March-June: Epic Roadtrip
In mid-March, we will be hitting the road on an epic 3-month road trip.
During this time, we'll be:
Visiting friends and family
Attending some FI-focused events, like EconoMe
Exploring national parks and other beautiful sites
Hiking to our hearts' content
Working from beautiful locations
Here are just a few of the places we'll be visiting:
New Mexico – White Sands, Bandelier, and Chaco Canyon
Arizona – Monument Valley, Antelope Canyon, Sedona, and the Grand Canyon
Utah – Zion, Bryce Canyon, Capitol Reef, Goblin Valley, Canyonlands, Dead Horse Canyon, and Arches
Washington – We'll be heading to Vancouver, WA to visit family.
Idaho – Shoshone Falls, Sand Point, and Coeur D'Alene
Montana – We'll only be hitting the southwest corner on this trip, and will check out Blodgett Canyon, Bozeman, and Paradise Valley
Wyoming – Yellowstone and the Grand Tetons
Colorado – Rocky Mountain National Park, Longmont, and Colorado Springs
We will be visiting friends and family all along the route. If you live near any of these places (or you'll be traveling through), let us know! We'd love to meet up with you.
As shared above, I will also continue to work part-time from the road. Our initial plan is to try out exploring in the morning and working in the afternoons on non-travel days. We think this will give us a good combination of exploration, relaxation, and work. We'll let you know what we learn.
July-Early September: Home (besides a trip to Ecuador)
This year we want to be back home in late June because some of our best friends will be having a baby in early July. We want to be there to support them through this major life transition. Our friends are very important to us, and we want to invest in them intentionally when we are home.
During this season, we are also planning to head to Ecuador for 1-2 weeks at the end of July for the FI Chautauqua. This is going to be an amazing event from July 29-August 5th! The speaker lineup for this week is ON FIRE (pun intended). We're excited to join a bunch of amazing speakers, including JD Roth (Get Rich Slowly), Tanja Hester (Our Next Life, Work Optional, and Wallet Activism), and Jess and Lauren (Bitches Get Riches).
NOTE: Tickets for this intimate, all-inclusive retreat just went on sale, and we'd love for you to join us!
Now that Corey is no longer working, we'll have the opportunity to spend some extra time in Ecuador once the retreat wraps up.
Last year, we needed to book a red-eye to get home right after the retreat, so that he didn't use up too much vacation time. We're very happy we don't have to do that this year.
September-October: Road Trip to and between Conferences and Events
This fall, we have two events that we'll be attending:
The Slow FI Retreat (Winter Park, CO): We're putting on a retreat to hang out with 35 other folks who are designing unconventional, expectation-defying, and joy-filled lives along their path to FI.
FinCon (New Orleans, LA): We'll be heading to New Orleans to hang out with other financial content creators and hone our craft.
Note: There are still a few tickets left for the Slow FI Retreat (September 28-Oct. 1), and we'd love for you to join us!
Because we can, we're planning to road-trip it. We'll leave in mid-September and spend some time getting out to Colorado. Then, we have three weeks between the two events, so we'll take our time and explore the area between Colorado and New Orleans.
On the way home from FinCon, we're planning to seek out the beautiful fall foliage in the Great Smoky Mountains.
November-Dec: Home + Holiday Trip to Visit Family
Looking ahead, we're excited to have time to enjoy the comforts of home when we are here. We'll have another month and a half at home before we head to Michigan to visit my family for the holidays.
To be honest, I don't know if we'll come back home in early 2024 or if we'll hit the road straight from Michigan to travel elsewhere. It'll depend on what we learn from our travels this year.
World, Here We Come!
We don't know what the future holds (in a good way). 2023 will be a year of experimentation.
We have a ton of questions that we want to answer over the course of the year:
What pace of travel do we like best?
What are our favorite places?
Where do we want to go next?
What type of places do we like to park and sleep?
How do we work effectively from the road?
Do we ever want to be fully nomadic?
Do we want to rent out our house when we are traveling?
Alternatively, do we want to rent out our van when we aren't using it?
I'm excited to be on this journey.
We'll keep you updated as we answer these questions over the course of the year. If you have any questions or want to meet up with us (at one of the events or elsewhere) along our journey, please don't hesitate to reach out! We'd love to meet you!