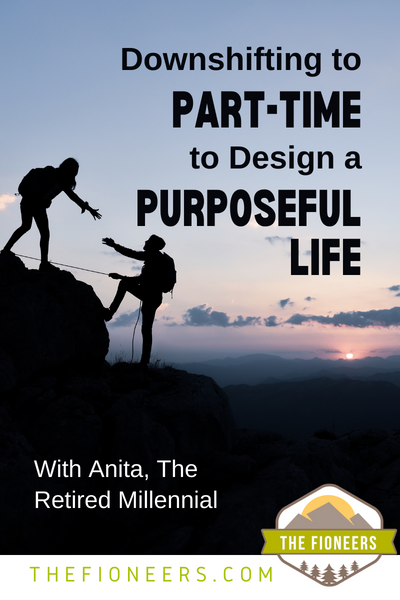 I'm so excited to bring you the next Slow FI interview with Anita, who is also known as The Retired Millennial online. I met Anita earlier this year as she was considering a transition to part-time work. A few months later, I had the opportunity to work with Anita as a client in Design a Life You Love, my signature group coaching program.
It's been such an honor to have a front-row seat as Anita has designed her life around her new part-time role and seen the explosive growth of The Retired Millennial. I'm always amazed to see what happens when people decide to be more intentional and proactively create space for the things they want most.
Anita is a great example of this. But, instead of me giving away her whole story upfront, let's get into the interview.
1. Tell me a little bit about you.
My name is Anita. I'm also known as The Retired Millennial online. I have a background in computer science education and software engineering. I'm a first-generation American, college graduate, engineer, and stock market investor!
I love spending my time learning, creating personal finance and early retirement content, and hanging out with my boyfriend and 4-year-old Border Collie.
I accidentally discovered early retirement in early 2020 when I was enrolled in a local personal finance program. After going down an early retirement rabbit hole, I decided to document my own journey to early retirement.
Since that point, I have been able to reach Coast FI. Reaching this financial milestone is meaningful because I am now able to take a little more control over my time and environment. As a result, I downshifted my career to part-time so that I could build a more purposeful life.
2. Tell me more about your decision to work part-time. Why did you decide to make this transition?
Before I started a career, I looked at my options through the lens of flexibility. I studied computer science not just because it was in high demand. I also know that it would offer a higher chance of working remotely, which meant I would have a little more control over my time and environment.
After much introspection, I realized that my software engineering job was essentially a means to an end. Realizing that made me feel uncomfortable. I started to wonder what a career and life designed around purpose instead would feel like.
After experiencing the death of 7 people I personally knew in 2021, it became a little harder to not explore my other options. My perspective on work slowly morphed into a moral responsibility to do more with my time and talent. I could either do what society and my family expected of me or what I really wanted to explore (entrepreneurship in personal finance education and content creation).
Working part-time was a practical next step towards a more purposeful career and life. I took a part-time job for a state-wide initiative helping California community college and university students prepare for software engineering internships.
As someone who went through the organization's undergrad programs, it feels very meaningful to be able to now serve as a mentor, guide, and educator. I also love that I can support the opportunity for upward mobility for more women and underrepresented minorities. It's a win-win. I have both a heart and skill connection to the work.
Because of the part-time nature of this role, I also have more time to focus on content creation and personal finance education, which is what I ultimately want to pivot toward. Downshifting at Coast FI allowed me to work toward this goal earlier. Instead of waiting another year to quit software engineering outright, working part-time allows me to take advantage of my financial position so that I can experiment with entrepreneurship.
3. How has the decision to work part-time allowed you to live a more purposeful life?
Downshifting to part-time work has improved my quality of life so much. Because I have more control over my environment and feel more aligned with my purpose, my life is starkly different from what it looked like a year ago.
When I first started my software engineering career, I didn't want to move and I was trying to optimize for work-life balance. At the time, my job options were slim as an entry-level software engineer. I started my career as a software engineer as a federal contractor for the U.S. Department of Defense.
I worked out of an old military hospital. The environment was not very inspiring, to say the least. Everything was what one would expect a government facility to look like. The former morgue is now the server room. The decor, furniture, and buildings were old and dusty. My cubicle was in an authorized personnel lab that had no windows, and very dim lighting. No joke: sheets of printer paper were covering the light bulbs. When the world started closing down with COVID, the silver lining was that I didn't have to be there for 8 hours a day anymore.
I appreciate and am grateful for everyone that maintains our country's defense systems. But, I also love that I don't have to work on or look at government software during some of the best years of my life.
My current life and work feel more aligned with my purpose. I have the headspace and whitespace on my calendar that I was looking for. As someone who is sensitive to stress, my body and mind also feel calmer. Because I have enough white space on my calendar, I get to challenge myself as a content creator and pursue my purpose, which makes my life more fulfilling and gives me inner peace.
Working for this higher-ed organization also grants me partially subsidized housing as a benefit. I love that in this version of my life I have access to a safe and beautiful neighborhood. My expenses are still low as they previously were, but now, even though my consistent income is lower, I added a few intentional expenses that I didn't have before, like quarterly massages.
Overall, my life now is more inspiring, beautiful, and challenging. I get to solve problems I care about, have enough time to work on my passion project, and even have enough time to rest.
4. In your opinion, what things in your life contribute most to your happiness and contentment?
I derive most of my happiness from having peace of mind. If I ever lose my peace, I also lose my happiness.
In a general sense, I get an overwhelming sense of peace from my belief in Divine design and provision. Knowing that I am enough, that everything I need to succeed in life is a built-in feature, and that I will always have what I need when I need it is my biggest source of calm and peace. This belief has given me the mental foundation to lead a slower and more meaningful life even when things are hard. As long as I'm doing my best, and making one good decision at a time, I know what is for me won't pass me.
In a more specific sense, I get so much happiness from learning, fostering community, playing with cute dogs, consuming healthy beverages, being in a beautiful environment, spending time with people that love me and that I love, and accomplishing my goals.
Working part-time has given me a happier life in that I feel so much more aligned with my human design at work. I also feel positively challenged as a content creator. And, I have the flexibility to rest more or work more, help my friends or family, and I get to be a homebody. My heart feels full, my body feels rested, and my work feels meaningful.
5. How did the decision to work part-time impact your financial goals or timelines?
Making this decision impacted my financial goals in the short term. For example, it did put a potential home purchase on hold for a few more years.
If I were to consider only the income from my part-time job, I could still reach FI in 12 years as opposed to 10 years. But, I haven't accepted that my part-time income will be my maximum income. I'm planning to ramp up my side business, and I hope that it will speed up my FI timeline significantly. In fact, my stretch goal is to reach FI in 5 years. I believe that by slowing down I will ultimately be able to speed up.
6. What enabled you to make this decision?
I am very sensitive to my inner peace gauge. If something feels off, I will take a leap of faith in the direction that aligns with my values and principles. If the math makes sense (even if it's not the most lucrative option), I will prioritize the decision that favors my peace of mind.
Before I even heard of FI/RE or Slow Life, I made lifestyle/career decisions that were unorthodox. For example, I declined a six-figure software engineering job from a large tech company in San Francisco after interning for them.
I also have the confidence that things will work out. Having achieved Coast FI helped. And, having the Slow FI community that values balance and financial savviness simultaneously has been encouraging.
7. How are you continuing to design your life?
Because I have more energy and time to work on content creation, I am intentionally looking to grow my brand, The Retired Millennial, and pursue its mission. My current goals for 2023 are to grow a tight-knit personal finance community online. I am creating a hub with forums, guides, and resources for anyone who wants to reach their first $1,000,000 without sacrificing a lifestyle that they feel fulfilled by. My goal for the coming year is to grow that hub to at least 1,000 active members. I would also like to grow my social media platform to 1 Million followers across all of my pages.
It's also worth mentioning that after going through the Fioneer's program, Design A Life You Love, I was inspired to start incorporating some elements of my dream life into my life today. For example, I've started spending more money on things I value, like quarterly massages at a local spa that has outdoor thermal therapy pools. I also make sure to have an individually poured great cup of coffee in the morning. While this might seem insignificant, is actually very special to me. Not only do I derive joy from it, but it helps me to start my morning with abundant thoughts.
On a personal note, in 2023, I also would like to work out for 20 minutes a day for at least 5 days a week and start a healthy mocktail hobby that I don't monetize, but simply just do for fun.
Being intentional with my time by planning out my year, quarters, months, weeks, and days allows me to move toward these goals.
8. Why and when do you think someone might consider "downshifting?"
Some good reasons are because you want to, need to, or can afford to.
You may want to take a risk on a new career or venture. You may have a new commitment, such as the need to care for a relative or child. Or, you might simply need a break from the corporate world for your physical or mental health.
The corporate world and/or full-time work will always be there if you decide you want or need to go back.
9. How did your pursuit of FI help or hinder this decision?
My pursuit of FI definitely helped me make this decision. Because of FI, I have enough saved and invested such that it will continue to work for me. I've also learned so much about personal finance, such as how my money will grow over time in the stock market and how my spending habits impact my overall goals.
10. What advice do you have for someone considering a similar decision?
Downshifting from a full-time software engineering job to a part-time role in a different field with a lower pay grade was more of a mental, emotional, and cultural challenge than a practical challenge. The three elements that helped me prepare and overcome all of the challenges related to the pivot were: identifying cultural expectations (whether it's societal or family related), understanding myself, and being financially prepared.
One helpful activity that I did was an Odyssey Plan activity. There are different ways to approach this, but the most helpful one for me came from Ali Abdaal on YouTube. He presented it as crafting three life paths for your next 5 years and asking yourself where you'd be if you followed:
What society expects of you?
What your family expects of you?
What you want to do?
This exercise was personally liberating for me and allowed me to make this unconventional career and life decision that I had felt stuck in.
If you're like me and you want to increase your happiness, then identifying and understanding your core strengths and nature shouldn't be skipped. I read the book You Turn by Ashley Stahl, a career expert. Her premise for starting a new career or pivoting careers is not to start on LinkedIn. Instead, start with yourself and choose a career based on who you are. I recommend doing some of the self-reflection exercises to become more aware of what activities bring you energy, and what skills you have that you're naturally great at. When you know this, you can apply these skills in virtually any field or industry, so your career options open up with this understanding.
The last important element of preparation is preparing financially. When you build a financial foundation, you can liberate yourself from doing what is practical and start doing what is purposeful. You can reach Coast FI by decreasing your expenses, increasing your income, and investing the difference. Coast FI is the point where you have enough money invested such that without needing to contribute a single penny more, you will be able to comfortably retire at a traditional retirement age of 65. This is a great milestone because you no longer need to make money to save for retirement. The luxury of being savings optional also presents more opportunities for how to use your time.
By understanding cultural expectations, being self-aware, and being financially prepared, you will be ready to downshift and lead a happy and purposeful life.
Thank you so much, Anita, for sharing your story with us.
From the interview, it's clear that Anita has always lived a life that prioritized peace and balance. But, in 2021, after she lost seven people who were dear to her, she realized that peace and balance weren't enough. She didn't want to do something now that was a means to an end. She wanted to explore her options and design a more purposeful life now.
For her, this has looked like transitioning into a part-time job helping more women and students of color increase their economic mobility by breaking into the technology field. And, because the job is part-time, she has time to focus on her health and well-being and create awesome content for The Retired Millennial. Through this, she is helping hundreds of thousands of people build wealth and gain freedom.
I love Anita's perspective on how this impacts her FI timeline. So many people assume that if they decide to work less, they will automatically make less money and lengthen their FI timeline. But, this is not necessarily the case. Anita is not assuming she'll make less. In fact, she's expecting that doing work she loves will catapult her toward FI more quickly.
This is a lesson that I'm slowly learning as well. I used to assume that I'd make a lot less money if I started my own business. But, there are so many examples of people starting their own businesses or doing freelance work, and they often make more money in less time. I truly expect to see this be the case for Anita as well!
Lastly, I wanted to touch on the Odyssey Plan activity that Anita mentioned that she learned from Ali Abdaal. I hadn't heard of this type of Odyssey Plan before, but it sounds like a transformational exercise.
Where would you be in five years if you followed:
What society expects of you?
What your family expects of you?
What you want?
We often don't look far ahead and ask where living a life of "shoulds" will take us. I wish I had asked these questions in my early 30s because I could have prevented a lot of challenges and mental health issues. I love seeing people proactively asking these questions before they get to a place of burnout.
If you'd like to stay in touch and follow Anita's Journey you can find her in the following places: