Corey and I just had our 13th wedding anniversary! I guess this means we are officially an old married couple now.
Kidding aside, I always like to reflect on big milestones. As I reflect back on our wedding day, I realize that both the moment we said "I do" and the planning process to get to that moment set a foundation for us to this day.
The process of planning our wedding was a true reflection of who we are and our values. We wanted to have a beautiful day that we could spend with close family and best friends and not break the bank in the process.
I am lucky that my parents were in a financial situation to support our wedding. They provided us with a budget of $15,000 and anything we didn't spend, we got to keep.
This was a genius move on their part.
Since we got married right after college, our first opportunity to spend a large amount of money had guardrails and an incentive to spend less.
Our wedding day was beautiful, and we embraced a money-saving mindset and optimized almost everything. This set a strong foundation for starting our financial life together and more recently, getting on the same page regarding financial independence.
10 Frugal Wedding Ideas
For our 13th anniversary, I'd love to share our 10 best frugal wedding ideas.
1. Location, Location, Location
Typically, the largest wedding cost is the venue. People often spend thousands or tens of thousands of dollars. Some surveys say the average cost of a wedding venue is between $12,000-14,000.
We chose to do our wedding in my aunt and uncle's backyard (for free), cutting down on one of the largest costs. My aunt and uncle live on a property in rural Michigan that is absolutely stunning. This is no surprise given that their hobbies are gardening and outdoor art.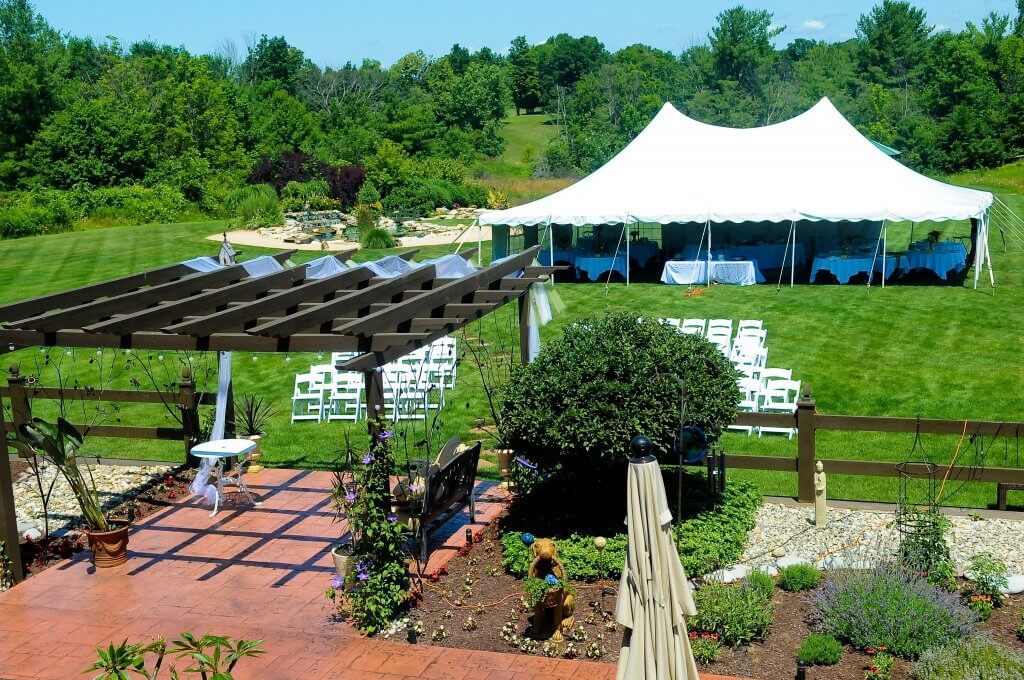 They have been featured in Better Homes and Gardens, so when they offered to host our wedding for free, we jumped at the chance.
2. Keep Your Guest List to the Most Important People in your Lives
Another large cost is the catering and event rentals, such as tables, chairs, linens, etc. If you can limit the number of guests, you can keep costs lower.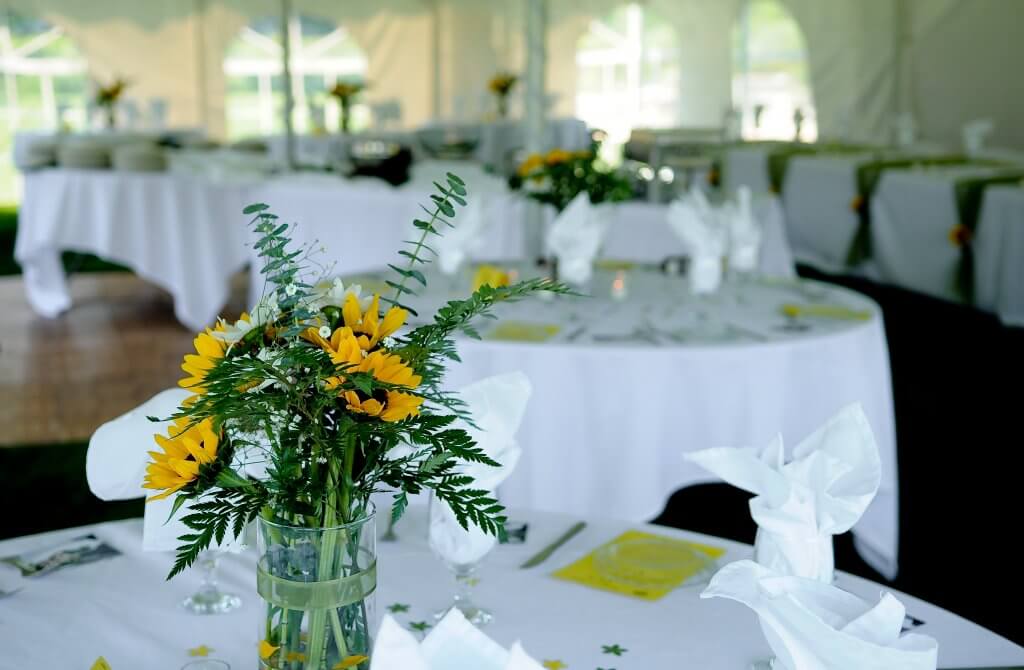 It wasn't too challenging to keep our guest list short. Corey's family lived across the country, and we chose to do a separate reception "open house" for his extended family and friends. We also went to college in Tennessee, so only our closest friends actually traveled the distance to Michigan to attend.
Because of these factors, we were able to easily keep our guest list to around 60 attendees.
3. Instead of Buying a Dress, Consider Having One Made
I knew exactly what kind of dress I wanted. I was delighted when we found out that a family friend, who is also a seamstress, made wedding dresses.
I chose the pattern. We went together to the fabric store to choose all of the fabrics and other materials.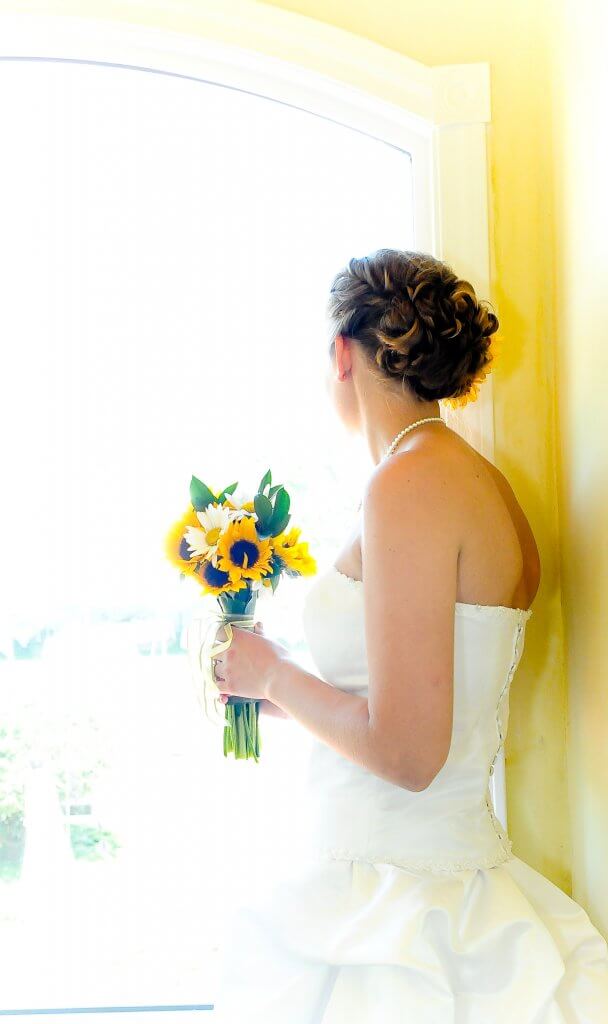 At the end of it, I had a custom gown that was made exactly for me, and it cost me $300 since she only charged me for materials and time.
When I think about how the average cost of a wedding dress in the United States is around $1,800, I realize that mine was a steal!
4. Design your own Invitations
Invitations tend to be a smaller wedding expense and typically cost around $530. The best thing that you can do to cut costs on invitations is to design them yourself.
We feel like we have enough of a "design eye" that we designed the invitation ourselves. We bought the paper that we wanted from a wholesale distributor. Luckily, my mom has a friend who ran a print shop nearby. Because we were only printing in black and white, he was willing to print our invitations for us for free since the cost was negligible.
I honestly have no idea how much our wedding invitations cost since it was a negligible expense and much less than the average.
5. Buy Bulk Flowers
According to The Knot, the average cost of wedding flowers in 2021 was over $2,300!
Luckily, we did not need to spend much money on decorations because we chose to do our ceremony and reception in a beautiful outdoor setting.
We did have flowers for bouquets, table centerpieces, and boutonnieres.
There were two things that allowed us to keep our spending on flowers low. First, I was very lucky to have an artistic friend who offered to do our flower arrangements as a wedding gift, as long as we bought the flowers. She had done some floral arrangements previously, so I knew she did good work.
We bought bulk flowers wholesale through Costco for a fraction of the price of getting them from a florist.
6. Hire an Up-and-Coming Photographer
Capturing the memories of our wedding day was very important to us, so we wanted to make sure we hired a great photographer.
We knew a woman who specialized in wedding photography who charged about $2,500-$3,000. We loved her work but knew we didn't want to spend that much money.
We did some research and found that her assistant photographer was in the process of starting his own wedding photography business. We were able to hire him at a fraction of the cost.
For photography, we paid $1,000 for him and another assistant photographer to be there for our full wedding day (from getting ready to the end of the reception). They even threw in a bonus engagement shoot, which we did a few months before the wedding.
7. Cut Costs on Hair, Make-up, and Nails
Right after Corey and I got married, we went to teach English in Nicaragua. Therefore, we had a great excuse for people to not give us actual wedding gifts (plus, we're not really gift people anyway).
For one of my bridal showers, instead of giving gifts, people all contributed money toward a gift card for the salon that we could use for hair and make-up on the wedding day. This gift covered hair and make-up for me and all of the bridesmaids.
We decided not to get our nails done. Since all of my friends were coming from out of town, they stayed with me for a few days before the wedding. We all stayed up and painted each other's nails the night before. We had fun, created memories, and saved money by not doing manicures or pedicures.
8. Don't Hire a DJ
Since we're not particularly fond of dancing, we decided not to hire a DJ. While we did have some dancing at the reception, it wasn't the focal point, so we decided that creating a playlist would work just as well.
A family member, who was also the band director at a local high school, borrowed the school's sound system for us to use for both the ceremony and reception. It worked out very well.
Our reception was a lot of fun. We spent time with family and friends, walked through the gardens, enjoyed great food, and danced a little bit.
9. Keep Food and Beverage Costs Low
If you include the costs of the rehearsal dinner, catering, the cake, and drinks, it can add up to a lot of money. The average cost of wedding catering alone is around $7,500 for a 100-person guest list!
One thing that we did was to keep our guest list short. However, this was not the only way we optimized.
Rehearsal Dinner
Instead of going to a restaurant, we decided to do a barbecue immediately after the rehearsal on-site at my aunt and uncle's house. We bought all of the food from Costco. Since everyone had come in from out of town, they were all on-site helping us all day, so a few people put together the kabobs and other food we would eat for dinner.
Catering
We didn't skimp on catering for the reception, and thus, it was our largest expense. We hired independent caterers that served a really lovely buffet. The cost of food was about $50 per person but since our guest list was on the smaller side, we kept the costs between $3,000-4,000.
Cake
Neither of us loves cake, but we really enjoy cheesecake. Instead of ordering an expensive wedding cake, we served cheesecake from Costco. If you've never eaten Costco cheesecake, do yourself a favor and buy one the next time you go.
The caterers put all of the cheesecakes on beautiful platters and even made a special berry sauce that people could drizzle over their slices. It was beautiful and cheap, and no one had any idea we were serving Costco cheesecake.
Another family member made us a small cake specifically for the cake cutting ceremony since we did very much want to smash the cake in each other's faces. (I really wanted to include a photo of us smashing the cake in each other's faces, but unfortunately, all of the cake smashing photos show our faces!)
Alcohol
Sometimes it seems like a wedding is more exciting because everyone is a little tipsy. However, we decided not to have alcohol at our wedding.
While cost savings was a small part of it, the more important reason was that a number of people who attended were alcoholics. It was important to me that family members who were recovering would be able to come and enjoy the day. I also didn't want anything to go awry.
Given that we didn't have a huge focus on dancing at our wedding, this actually worked out just fine. Since all of our closest friends had come in from out of town, we had been able to celebrate with them the entire week leading up to our wedding.
If I were to do this again, I would make the same choice.
10. Travel Hack Your Honeymoon
People will often take a big honeymoon after the wedding. This often translates to high costs. I certainly love to travel and encourage people to spend money on travel if it's something they value. But, we have figured out ways to travel for cheap or free.
At the time of our honeymoon, we were finance newbies, and therefore, knew nothing of credit card rewards. We had a family member gift us the use of their timeshare as our wedding gift.
We got to spend a fun week at a beautiful resort in Puerto Vallarta, Mexico. Our only costs that week were flights, food, and activities.
On the way back, we offered to give up our seats on an overbooked flight. Usually, this means you get back later. To our surprise, we were put onto an earlier flight on a different airline in FIRST CLASS on top of being given $500 travel vouchers EACH.
Your Frugal Wedding Can be Beautiful
When I reflect back and describe my wedding to people, they usually think that we were frugal to the extreme. They can't believe that we didn't serve alcohol or that we went to such lengths to save money.
At the time, this just felt normal to us.
Since we got married soon after graduating from college, we were used to living frugally and optimizing every purchase. Neither of us had a full-time job yet. In fact, we were about to move to Central America where we would teach English and get paid $60/month + room and board.
Therefore, every dollar we spent felt like a fortune.
We had a frugal wedding that was so "us". It was beautiful and fun, and it allowed us to start our life together with a financial cushion that helped us combat stress about money from the very beginning.
Here's to many more years together!